4
MIN READ
It is a really funny story. We stayed in this amazing place totally unplanned and just for one night. We got to Gili T the day earlier and left the same day. At that time there was series of earthquakes in Indonesia and visiting Gili T wasn't a great idea. In this way, we ended up going to Nusa Lembongan much earlier than originally planned. It turned out that so many other tourists had exactly the same idea and everything was fully booked. We were already on our way so we didn't have any other choice than to just go with the flow. While on the boat, I texted a hostel that I found on hostelworld. It came back that it was fully booked, but an amazing man at the hostel sent me a screenshot of another place which was the only one with a spare space for one night. We contacted Sukanusa Luxury Huts straight away via Whatsapp and booked our place. It was one of the best last minute experiences. Let me introduce you to place to stay when travelling to Nusa Lembongan – Sukanusa Luxury Huts.
Where to stay while travelling to Nusa Lembongan?
Let me give you a sneak peak into these beautiful Indonesian huts.
Sukanusa Luxury Huts Location
This place is located at Jungut Batu , 80361 Nusa Lembongan, Indonesia, which is next to the main road and the most crowed part of the island. Just next to it, you can easily rent a motorbike for IDR 80.000 for a day if you would like to see Yellow Bridge and other parts of the island.
Sukanusa Luxury Huts Costs
The place normally costs IDR 750.000 per night. However, we got a last minute discount as we didn't want breakfast and our final price was IDR 600.000 per night. The original price includes breakfast, you also get towels, shower gel and a hairdryer. It is worth every single cent, believe me.
Sukanusa Luxury Huts Room Conditions
The huts have two levels. On the ground floor you have a sofa with a table in an open space and an amazing bathroom. On the second floor, you have a balcony with chairs and a table and a bedroom with a huge king bed size. You also have a TV and air-conditioning. Moreover, you have your own little swimming pool. It looks amazing and it feels amazing!
Sukanusa Luxury Huts

Restaurant
The complex has a nice restaurant, but I didn't use it as I am big fan of street food places, so I cannot share with you any details. We just grabbed a coffee over there in the morning 🙂
Sukanusa Luxury Huts Place And Attractions
The place is awesome. I would say it is perfect for couples. You have your own stylish little hut with a swimming pool. The whole complex is well planned and cute. You will also find a communal big swimming pool in the main part. Also, the staff are super friendly! I was so happy staying there just for one night.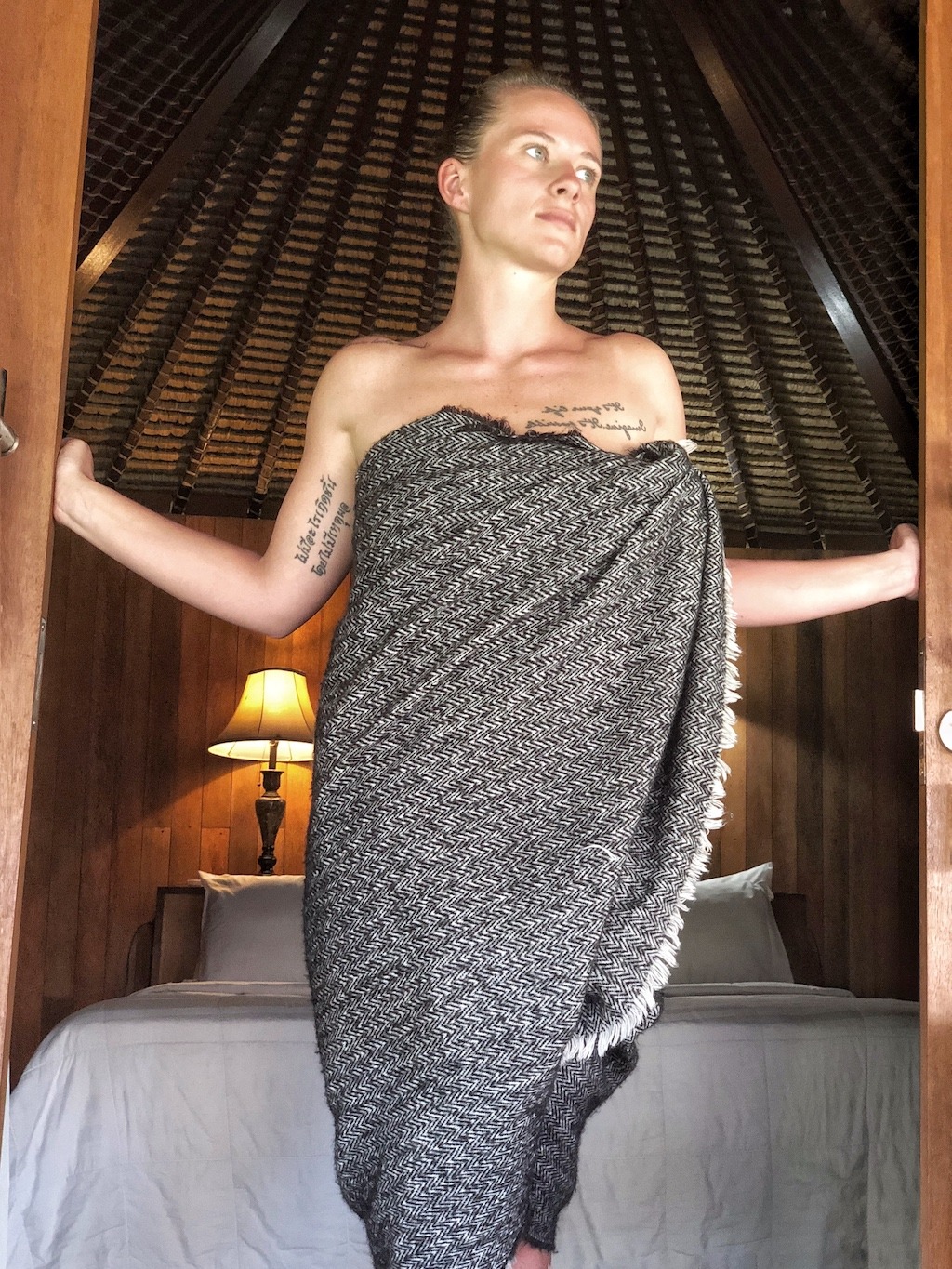 Where to find and book this hostel?
Check out Sukanusa Luxury Huts via Booking.com.
You can also call or Whatsapp
 +6281 236 700 778 or +6287 860 023 778
or send an email
 [email protected].
Check them out also on Facebook Sukanusa Luxury Huts.
I hope you enjoyed my place to stay when travelling to Nusa Lembongan – Sukanusa Luxury Huts. If so, please, share and comment. And if you are looking accommodation in different parts of Indonesia, check out Lokal Bali Hostel, Gypsy Moon Bali and Kosta Hostel.
---
SUBSCRIBE TO TRAVELLING NEWSLETTER!
Would you like to get information when new travelling article is available?
Subscribe to the newsletter and be up to date!
---
Disclosure: Just to let you know, some of the links in this post are affiliate links and if you go through them to book the place I will earn a small commission, no worries, it will not cost you more. Notice, I only recommend place which I really like and links in this post are only additional thing for me. I have been staying in so many places but I wrote only about few of them. So far nobody used my links so I would be happy if you will be the first one haha.
---
JOIN ME ON INSTAGRAM!
---
Other FROM PLACE TO STAY RECOMMENDATIONS SERIES
---
PIN ME!

---
Editor – Natasha Jay O'Neil, please contact Natasha directly for queries related to her services.
Zaneta loves challenges so deciding about career path she has chosen typical male industry. Woman who codes. Every 1-2 years she lives in different part of the world. Gym dates is something what she specialised in. Healthy lifestyle, extreme sports and motorbikes have stolen her hear years ago.