4
MIN READ
I have been planning to go to Coron for a year already, but the flights to Coron were really expensive. Luckily I found cheap flights and a cheap ferry at the beginning of June. As soon as I booked the flight and ferry, I checked quickly for hostels. I found a newly opened hostel on hostelworld.com with an amazing view and it just stood out from another places. Let me tell you about my new discovery – place to stay when travelling to Coron, Philippines – Hop Hostel!
Where to stay while travelling to Coron, Philippines?
Let me share with you our experiences in Hop Hostel, White Palace 🙂
Hop Hostel Location
The hostel is located at Calle Nueva Poblacion 5, Coron, Philippines, which is 30 minutes by van from the airport or 10 minutes by tricycle from the port. While taking a tricycle from the port you should pay no more than PHP100. They sometimes ask for PHP200, don't take it.
Hop Hostel Costs
We stayed in the Basic 12 Bed Mixed Dorm for 4 nights. The total costs via hostelworld were PHP5432.00 for 4 nights for 2 people. It seems to be around PHP679 per night per person.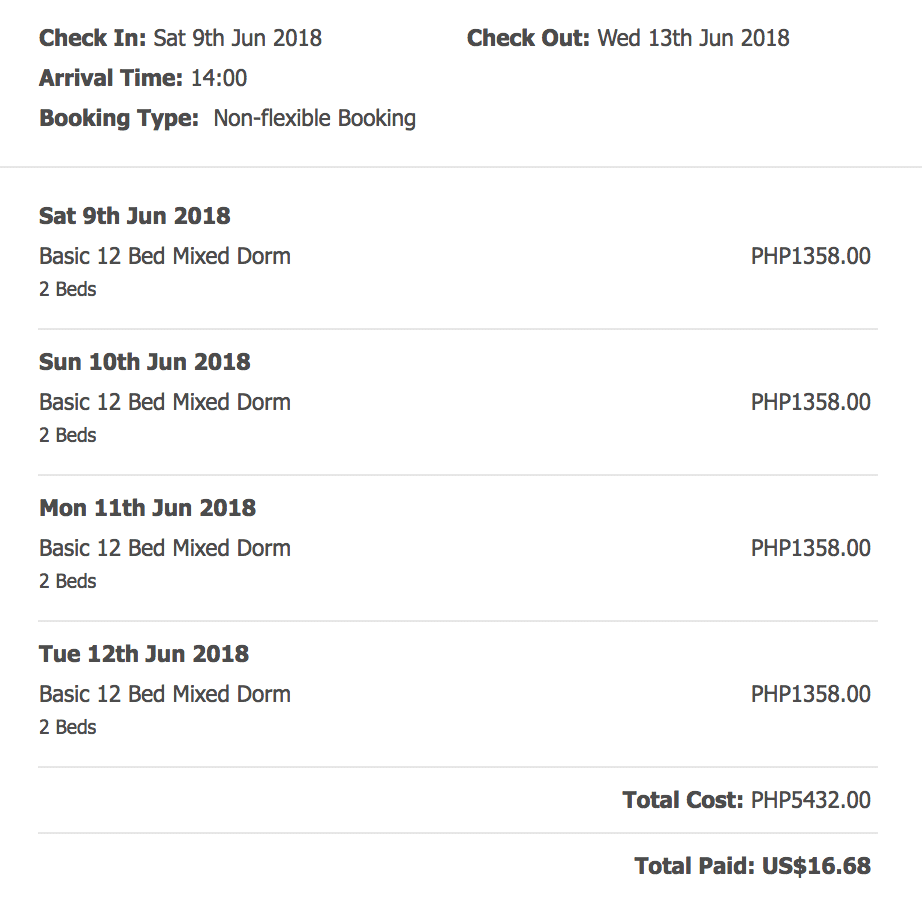 Hop Hostel Room Conditions
The conditions of the beds were amazing, it had curtains which is great because it gives you some privacy, they also have double beds in the dormitory! Unfortunately you don't get towels so remember to take one with you. The room was cleaned everyday and the staff were super friendly.
Hop Hostel Restaurant
The hostel has a really nice restaurant with local and international meals. The prices in the restaurant were quite good as compared to prices in other hostel's food places. Average price was between PHP150 and PHP250. You pay as you order. You can choose between the breakfast menu which was delicious, through to the lunch and dinner menu. You also can get banana bread which was my favourite one!
Another important point is that the hostel offers free dinner every day, you just need to sign in before 4pm. The dinner is around 5:30pm.
Hop Hostel Place
The place is literally amazing. It has a rooftop with bar, chairs, tables and an amazing view! The restaurant has comfy chairs and pillows with board games to get from the reception. You just need to leave them your ID, games are for free. The hostel also has a mini cinema, again, you need to leave them your ID to get the control and hard disk with the movies. Check out my pictures.
Hop Hostel Attractions
While staying there for 4 nights, every evening we could enjoy different attractions. On the first night, there was a yoga classes, you just need to rent a mat for PHP50 but classes are for free. The next day they had a Hot Spring tour which cost PHP300, much cheaper than if you would go there by yourself. This price already includes the entrance fee PHP200 and transportation. In case you want to go there by yourself, you need to pay around PHP400 for tricycle (both ways, they will wait for you) plus PHP200 for entrance fee. Every day they organise different tours and attractions like movie night, parties, pub crawl and so on.
Where to find and book hostel?
Check out Hop Hostel via Hostelworld or Hop Hostel via Booking.com.
You can also call
  +639178560303/+639285202351
or send email
  [email protected].
Check them out also on Facebook Hop Hostel.
I hope you enjoyed my recommendations for place to stay when travelling to Coron, Philippines – Hop Hostel. If so, please, share and comment. And if you are looking for activities in Coron, check out things to do in Coron, Philippines while it is raining.
---
SUBSCRIBE TO TRAVELLING NEWSLETTER!
Would you like to get information when new travelling article is available?
Subscribe to the newsletter and be up to date!
---
JOIN ME ON INSTAGRAM!
---
Disclosure: Just to let you know, some of the links in this post are affiliate links and if you go through them to book the place I will earn a small commission, no worries, it will not cost you more. Notice, I only recommend place which I really like and links in this post are only additional thing for me. I have been staying in so many places but I wrote only about few of them. So far nobody used my links so I would be happy if you will be the first one haha.
---
Other FROM PLACE TO STAY RECOMMENDATIONS SERIES
---
PIN ME!

---
Editor – Natasha Jay O'Neil, please contact Natasha directly for queries related to her services.
Zaneta loves challenges so deciding about career path she has chosen typical male industry. Woman who codes. Every 1-2 years she lives in different part of the world. Gym dates is something what she specialised in. Healthy lifestyle, extreme sports and motorbikes have stolen her hear years ago.