4
MIN READ
Are you an Instagram fan? Influencer? This place is for you. This stylish hostel is an attraction on its own. I found it last minute, like the day before and booked the last two beds. The hostel is just so cute. It has a cosy and comfortable climate and is the perfect place to meet new people and make friends. It has an international young crowd around the place, mostly people who have arrived to enjoy surfing or yoga classes. Let me introduce you to place to stay when travelling to Canggu, Bali – Gypsy Moon Bali.
Where to stay while travelling to Canggu, Bali?
Let me give you a sneak peak into Instagram paradise.
Gypsy Moon Bali Location
The hostel is located at Jalan Batu Mejan No. 10A, Canggu, Kuta Utara, Badung Regency, Bali 80351, Indonesia, which is a bit far away from the main street. We took a taxi from Canggu center and paid around IDR 40.000 to get to the hostel. The place is difficult to find as there are no signs, however you can see their trash bin with the name of the hostel next to the road 🙂
The place is around 30min walk from the beach and the main part of Canggu. You can rent a motorbike for IDR 70.000 per day for your convenience, just ask the staff.
Gypsy Moon Bali Costs
The beds costs IDR 300.000 per night. It was already fully booked when we arrived. For one night for two people we paid IDR 600.000. The price includes a really basic breakfast which includes eggs, toast, coffee and fruits. You will also get towels and lockers.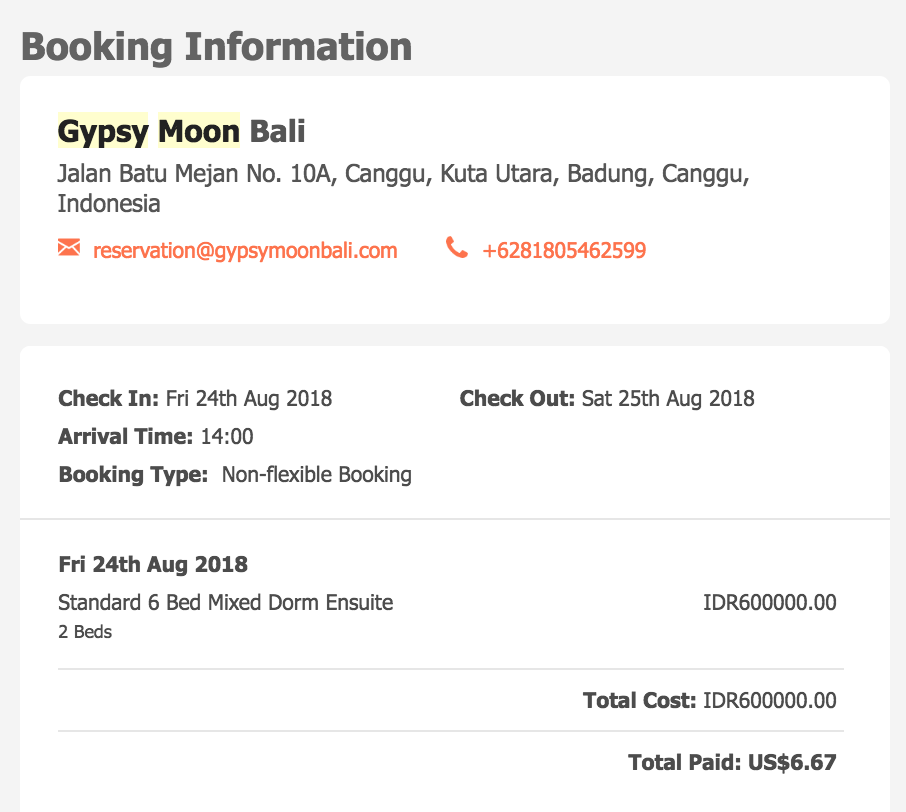 Gypsy Moon Bali Room Conditions
They are amazing! They have three dorm rooms and one private room. All of them look super cute and stylish. It is a typical Instagram kind of place. Whitened furniture, full of Indonesian styled decorations. You have a little curtain on top of the beds and a proper big curtain on the ground beds. Each bed has its own socket and locker. In the room, you can find a big bean bag chair and your own bathroom with stylish accessories and shower gel and shampoo.
Gypsy Moon Bali Place
Again, it is an Instagram kind of place. Stylish dining room with a big table and huge sofa with many pillows. An open space connected to the swimming pool outside. Next to swimming pool it has many pillows, a little sofa and a rocking looking chair. Additionally, there was a little hut next to the swimming pool for bit of relaxation. You can also find a cute kitchen with free drinking water. Access to the fridge is only for staff, if you need to use it, just ask. An amazing place, I loved it so much.
Gypsy Moon Bali

Attractions
The hostel is its own attraction. You can relax on the sofa in the living room reading a book. You can enjoy your time sitting with your friends in the dining area eating snacks. You can chill at the swimming pool laying on the sofa. The place is that great that you can just be there and chill.
Where to find and book this hostel?
Check out Gypsy Moon Bali via Booking.com, Gypsy Moon Bali via Hostelworld.com or Gypsy Moon Bali Website.
You can also call
 +62 818 05462599
or send an email
 [email protected].
Check them out also on Facebook Gypsy Moon Bali.
I hope you enjoyed my place to stay when travelling to Canggu, Bali – Gypsy Moon Bali. If so, please, share and comment. And if you are looking accommodation in different parts of Indonesia, check out Lokal Bali Hostel, Sukanusa Luxury Huts and Kosta Hostel.
---
SUBSCRIBE TO TRAVELLING NEWSLETTER!
Would you like to get information when new travelling article is available?
Subscribe to the newsletter and be up to date!
---
Disclosure: Just to let you know, some of the links in this post are affiliate links and if you go through them to book the place I will earn a small commission, no worries, it will not cost you more. Notice, I only recommend place which I really like and links in this post are only additional thing for me. I have been staying in so many places but I wrote only about few of them. So far nobody used my links so I would be happy if you will be the first one haha.
---
JOIN ME ON INSTAGRAM!
---
Other FROM PLACE TO STAY RECOMMENDATIONS SERIES
---
PIN ME!

---
Editor – Natasha Jay O'Neil, please contact Natasha directly for queries related to her services.
Zaneta loves challenges so deciding about career path she has chosen typical male industry. Woman who codes. Every 1-2 years she lives in different part of the world. Gym dates is something what she specialised in. Healthy lifestyle, extreme sports and motorbikes have stolen her hear years ago.