4
MIN READ
A couple of weeks ago we finally managed to visit Oslob. It has been a place on my bucket list in the Philippines for one year already. When in May last year I arrived to the Philippines for the first time I started from Manila, Sagada and ended up in Boracay. My next destination was supposed to be Oslob, but my plans changed when I met my Filipino … 😉 And never went to Oslob in the end. After one year, we managed to go there together. We stayed in a hostel which I would love to recommend you, I think it is my TOP hostel from around the world. Are you ready? Place to stay when travelling to Oslob, Philippines – Noordzee Hostel!
Place to stay when travelling to Oslob, Philippines – Noordzee Hostel
Let me share with you my experiences in this amazing hostel. It is a great place to stay when you travel to South of Cebu.
Noordzee Hostel Location
The hostel is located at Cebu South Road, Boljoon, Cebu, Philippines. While taking bus from Cebu to Oslob, ask driver to drop you at the hostel, giving him the name of the hostel is enough. From the hostel to Oslob is around 30-40minutes bus ride. It is totally worth it! When you want to go back to Cebu, you ask the security guy to stop the bus for you. How easy is that?
Noordze Hostel Costs
We stayed in Basic 9 Bed Mixed Dorm for 4 nights. Total costs via hostelworld was PHP5592.00 for 4 nights for 2 people. It seems to be around PHP699 per night per person.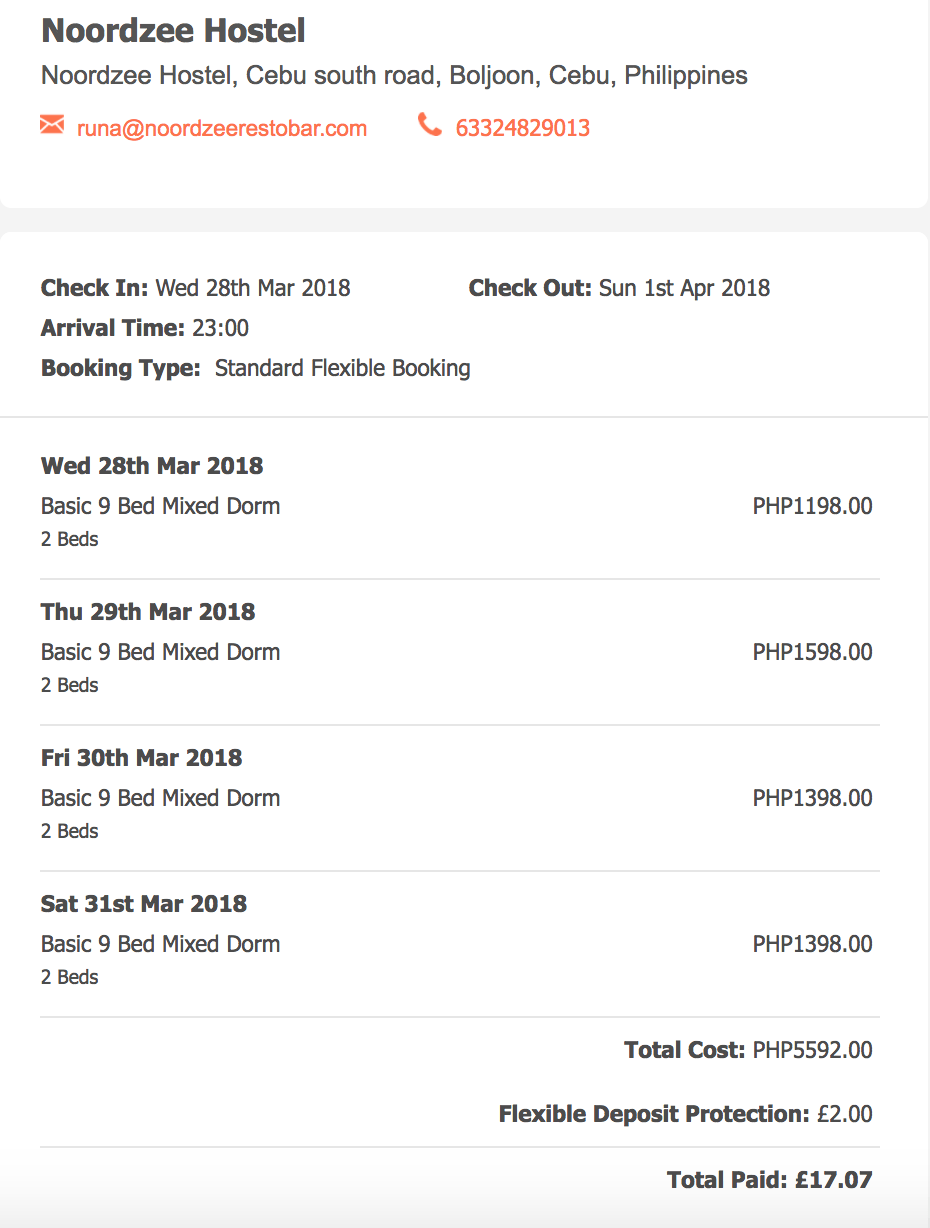 Noordzee Hostel Room Conditions
The conditions of the beds were good, we got towels, pillow and covers. Every day our dormitory was cleaned properly for around 2 hours with a warning sign to allow cleaners to take their time. There were also beautiful two bedroom wooden cottages on the beach. Not sure about the price, but feel free to check it out via the links at the end of this blog post.
Noordze Hostel Restaurant
The hostel has a really nice restaurant with international meals. The prices in restaurant are a bit expensive. Average price was between PHP250 and PHP350. The possibility which I enjoyed the most was allowance to order food and wait for it at the beach beds. You pay for all your orders at the end of your stay. However as we were on budget, we have found a cheap Filipino restaurant 10 minutes walk on the right from hostel. The prices in the local restaurant were around PHP150 for a big meal.
Noordze Hostel Place
It is one of the most beautiful places I have ever stayed at. Restaurant, bar, infinity swimming pool, beach beds, beach cottages and much more. Amazing hostel to stay with private beach. What else do you need? GYM! GYM at the BEACH?! It was my favourite place where I could workout with natural equipment! Check out my pictures.
Noordze Hostel Attractions
While staying there for 4 nights, every evening we could enjoy different attractions. First night there was a big bonfire. The next day we could ask for grilled chicken on beach barbecue and the last day we could dance to DJ's hits and eat fresh free coconuts. Additionally you can rent snorkelling equipment at the hostel or motorbike at the neighbours for PHP600 for 24 hours. You can also book manicure, pedicure or massage. This hostel has everything that you would like to have for your holidays!
Where to find and book hostel?
Check out Noordze Hostel via Hostelworld or Noordze Hostel via Booking.com.
You can also call
  63324829013
or send email
  [email protected].
---
SUBSCRIBE TO TRAVELLING NEWSLETTER!
Would you like to get information when new travelling article is available?
Subscribe to the newsletter and be up to date!
---
Disclosure: Just to let you know, some of the links in this post are affiliate links and if you go through them to book the place I will earn a small commission, no worries, it will not cost you more. Notice, I only recommend place which I really like and links in this post are only additional thing for me. I have been staying in so many places but I wrote only about few of them. So far nobody used my links so I would be happy if you will be the first one haha.
---
JOIN ME ON INSTAGRAM!
View this post on Instagram
View this post on Instagram
---
Other PLACES RECOMMENDATIONS
---
PIN ME!

---
Editor – Natasha Jay O'Neil, please contact Natasha directly for queries related to her services.
Zaneta loves challenges so deciding about career path she has chosen typical male industry. Woman who codes. Every 1-2 years she lives in different part of the world. Gym dates is something what she specialised in. Healthy lifestyle, extreme sports and motorbikes have stolen her hear years ago.