5
MIN READ
Twice. I had been there twice already. The first time was in October 2017 with my best friend from the UK, a female only kind of trip. August 2018 was my second time, with my boyfriend. I love this hostel so much, to the point that I am planning to go back over there again. There is such a nice and friendly atmosphere in this place. Let me take introduce you place to stay when travelling to Kuta, Bali – Lokal Bali Hostel.
Where to stay while travelling to Kuta, Bali?
At the beginning of August, I messaged the hostel via Facebook Lokal Bali Hostel to book a place for me and my boyfriend. We got a room and even got a small discount! Let me give you a sneak peak into the amazing atmosphere of Lokal Bali Hostel.
Lokal Bali Hostel Location
The hostel is located at Jalan Kediri No 93 Kuta Tuban, 80361 Kuta, which is like a 15 minute walk from the airport. I have a feeling that it is difficult to find, especially during the night. I remember the first time, I landed at 11:30pm and was walking in the darkness alone, without the Internet trying to find the place. It was kind of hard, to the point that I started panicking where I will stay that night. You just need to go a little bit further than the Google map shows.
If you are coming from the airport, you will be "attacked" by taxi drivers asking you if you want a ride. No need, you just have a couple of minutes walk in safe Bali. As the hostel is located next to the airport, I highly recommend it for the beginning of your trip or for the end.
Lokal Bali Hostel Costs
Last year I stayed in dorms, this year instead, we stayed in a private room, in both cases only one night. As you can see, I have experiences from both perspectives. This year we got the following prices:  IDR 155.000 per person per night for the dorms and a private room was IDR 350.000 per night. Last year, I booked it via Airbnb Lokal Bali Hostel IDR 232,756 per person per night for the dorms. The prices didn't include breakfast but they include free coffee and tea.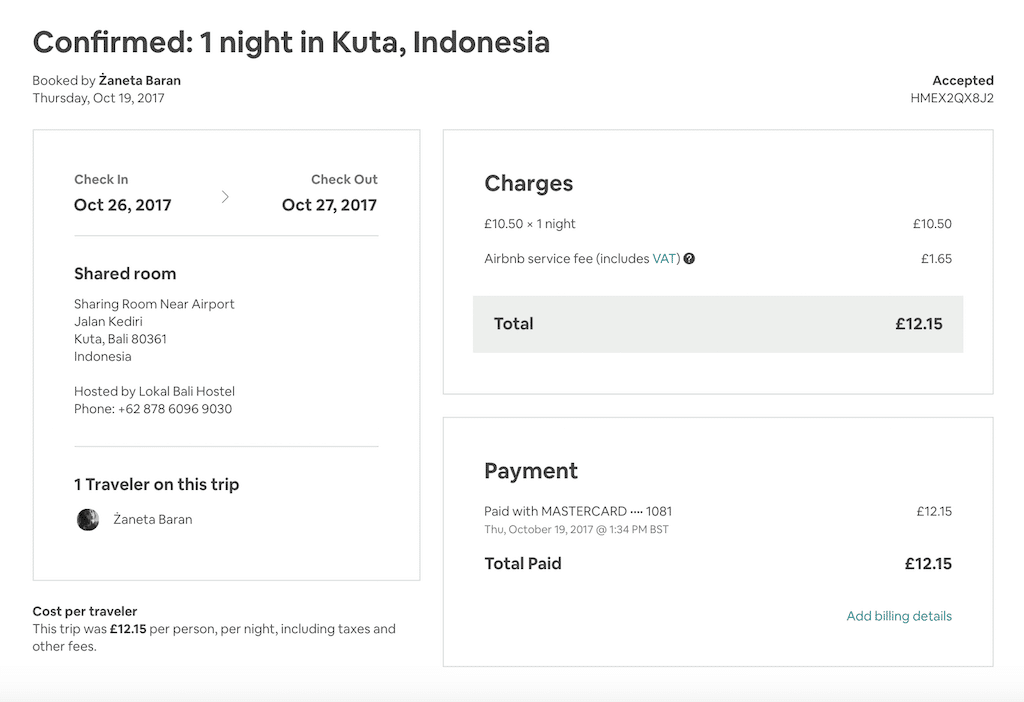 Lokal Bali Hostel Room Conditions
The conditions of the beds are amazing, each one has a curtain which is great because it gives you some privacy. You will get towels and lockers, but remember your padlock. Each of the beds have a socket next to it which is super convenient. The bathrooms are per room and they have shower gel and shampoo. The private room has its own bathroom and TV. You will also find one communal shower and one communal toilet, in case you have already checked out but want to re-fresh.
Lokal Bali Hostel Restaurant
The hostel has a really nice kitchen where you can prepare your own meals, but it also has a nice international menu. It is a little bit expensive and I love to eat at street food places, so I didn't try the hostel's meals. If you are on budget, just go out onto the street and 1 min away there are a couple of street food places, I love them so much.
Lokal Bali Hostel Place
The place is literally amazing. Big nice communal space with a TV and dining space with a huge table. Small swimming pool and cosy pillows. There is also a little hut kind of thing to chill in during the evenings. The hostel has a really nice design and you can also find a computer to use if needed. The Internet is pretty good so I would recommend it for remote work.
Lokal Bali Hostel Attractions
The hostel has a real family atmosphere, it is like a community. People come back all the time. You will see people checking in saying hi to the staff. This hostel is their place to start and finish the trip. As the place is really close to the airport, you can easily assume that a lot of travellers will stay there over night or two. It is a great place to meet people, work with a good Internet connection or just chill at the swimming pool. A typical relaxing place, perfect for a remote job.
The hostel will also organise for you the Grab service if you are going to Ubud. Ask at the reception as it will be much easier than booking via your international Grab account.
With the hostel, you can also book additional trips. However, I didn't use it, so I cannot share more details with you.
Where to find and book this hostel?
Check out Lokal Bali Hostel via Hostelworld, Lokal Bali Hostel via Booking.com, Lokal Bali Hostel Website and Lokal Bali Hostel Airbnb.
You can also call
 +62 361 4753707 or +62 819 03338388
or send an email
 [email protected].
Check them out also on Facebook Lokal Bali Hostel.
I hope you enjoyed my place to stay when travelling to Kuta, Bali – Lokal Bali Hostel. If so, please, share and comment. And if you are looking accommodation in different parts of Indonesia, check out Sukanusa Luxury Huts, Gypsy Moon Bali and Kosta Hostel.
---
SUBSCRIBE TO TRAVELLING NEWSLETTER!
Would you like to get information when new travelling article is available?
Subscribe to the newsletter and be up to date!
---
Disclosure: Just to let you know, some of the links in this post are affiliate links and if you go through them to book the place I will earn a small commission, no worries, it will not cost you more. Notice, I only recommend place which I really like and links in this post are only additional thing for me. I have been staying in so many places but I wrote only about few of them. So far nobody used my links so I would be happy if you will be the first one haha.
---
JOIN ME ON INSTAGRAM!
---
Other FROM PLACE TO STAY RECOMMENDATIONS SERIES
---
PIN ME!

---
Editor – Natasha Jay O'Neil, please contact Natasha directly for queries related to her services.
Zaneta loves challenges so deciding about career path she has chosen typical male industry. Woman who codes. Every 1-2 years she lives in different part of the world. Gym dates is something what she specialised in. Healthy lifestyle, extreme sports and motorbikes have stolen her hear years ago.