6
MIN READ
This post is the continuation of Thailand Birthday Gift Part 1.
Our another day in Phuket was really lazy. After long previous day, we have decided to wonder around. On the main road (turn right from Sira Grande Hotel), you can find small Rasta Bar. Really nice place.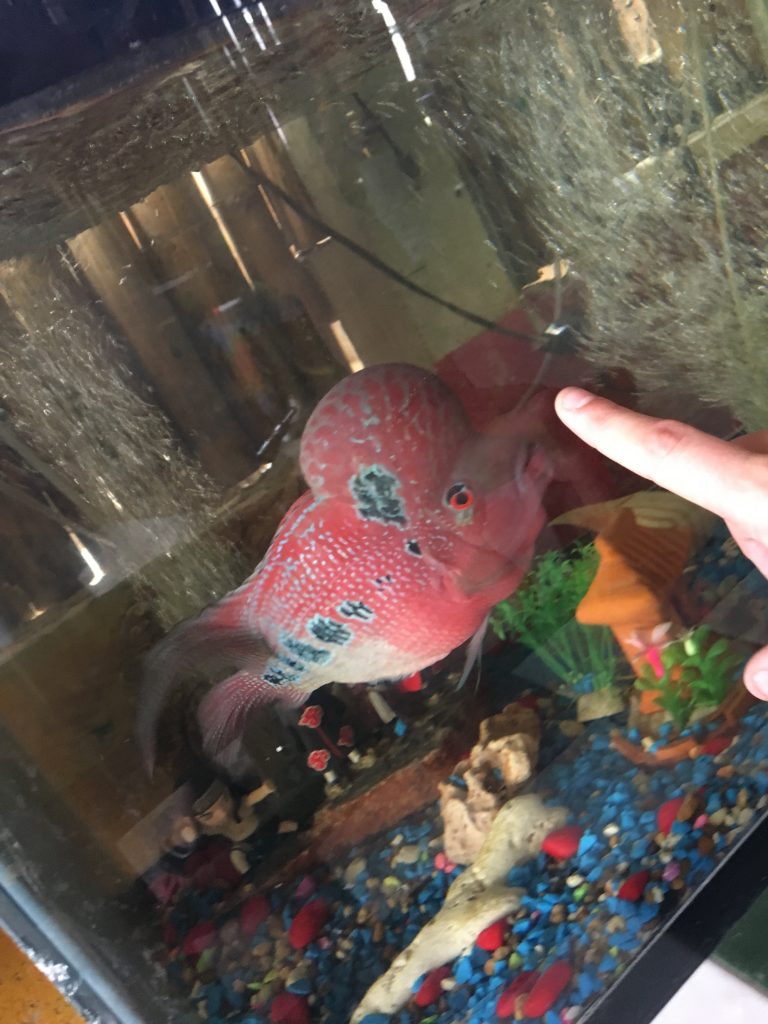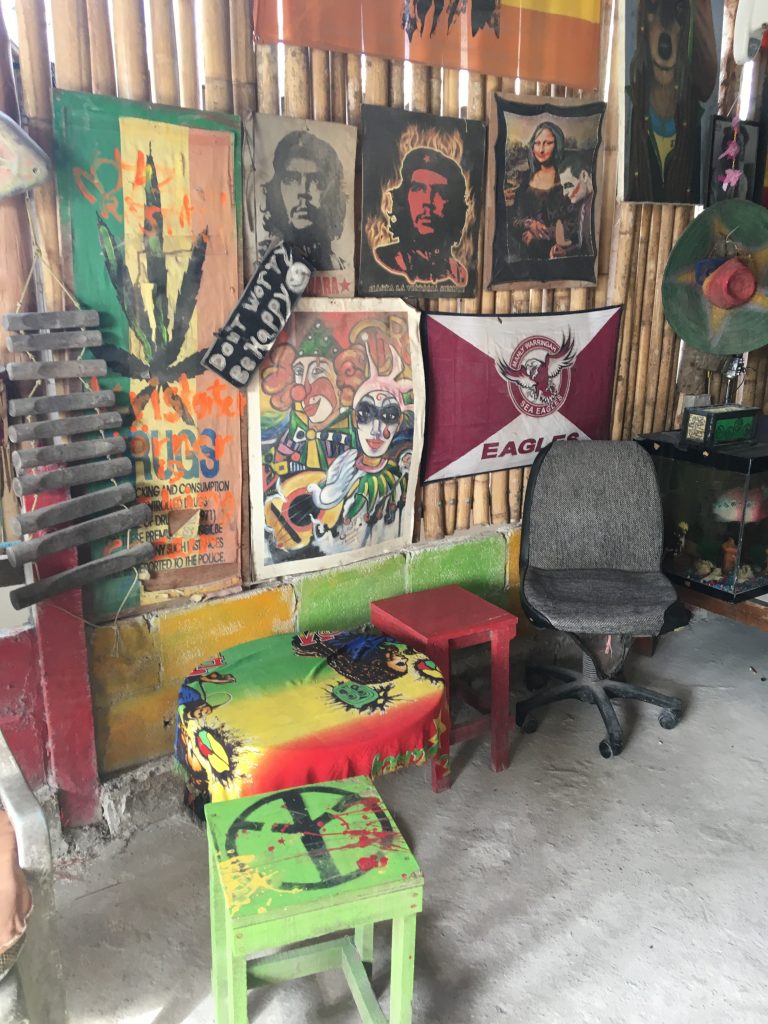 The same day, in the evening we have seen Muay Thai fights at Boxing Stadium Patagon which costed around 1200 bats per person. We have bought it at the same place as trip which I have mentioned in the previous post. I would recommend to try to buy it directly at the stadium, I believe it would be much cheaper than at local stores. Also I recommend to buy original Muay Thai shorts at the stadium, paradoxically they are much cheaper over there, as far as I remember around 300-500 bats. Notice, price of ticket includes Muay Thai T-shirt! We were so lucky as some of people left their T-shirts at the stadium and we just took them 🙂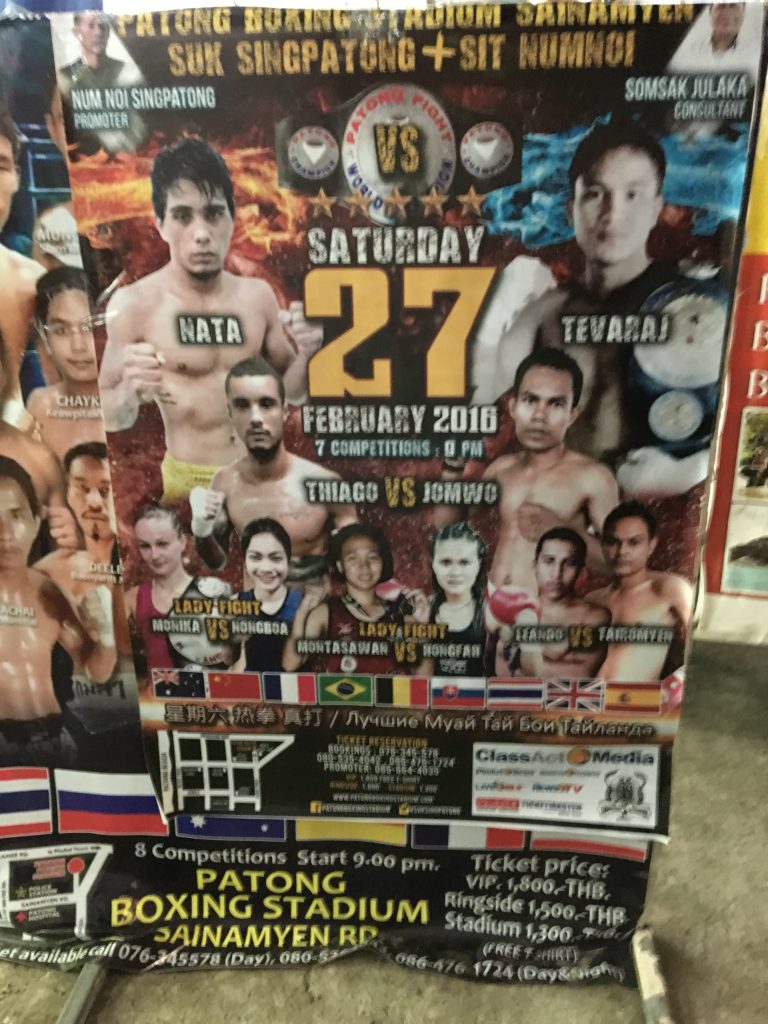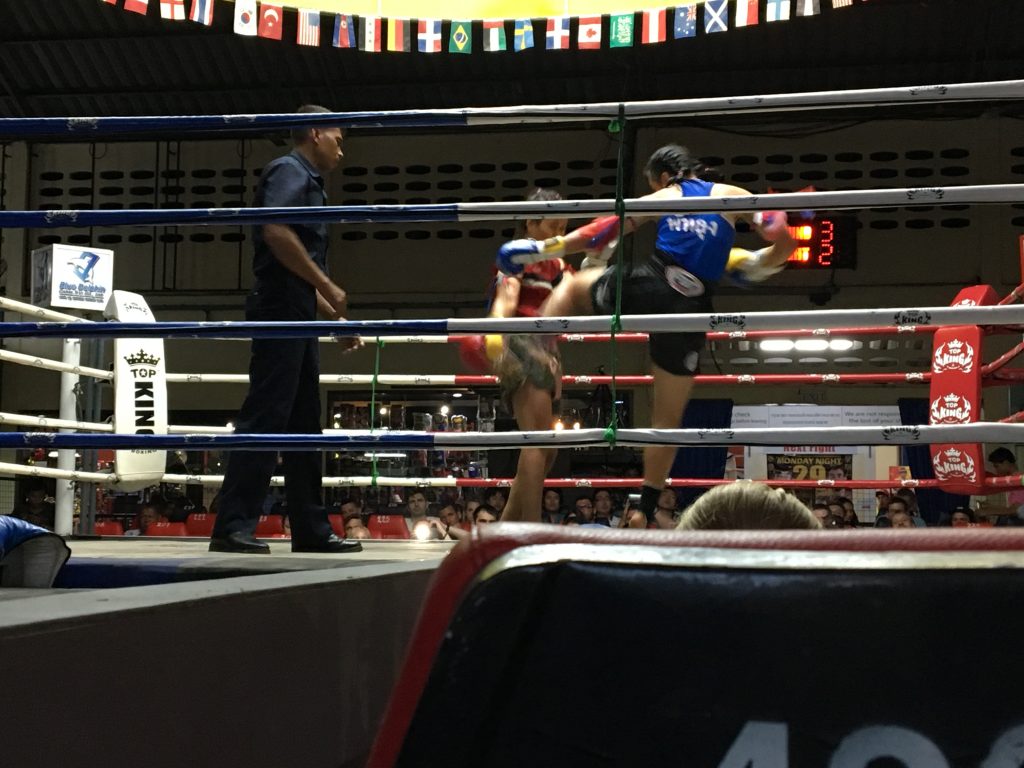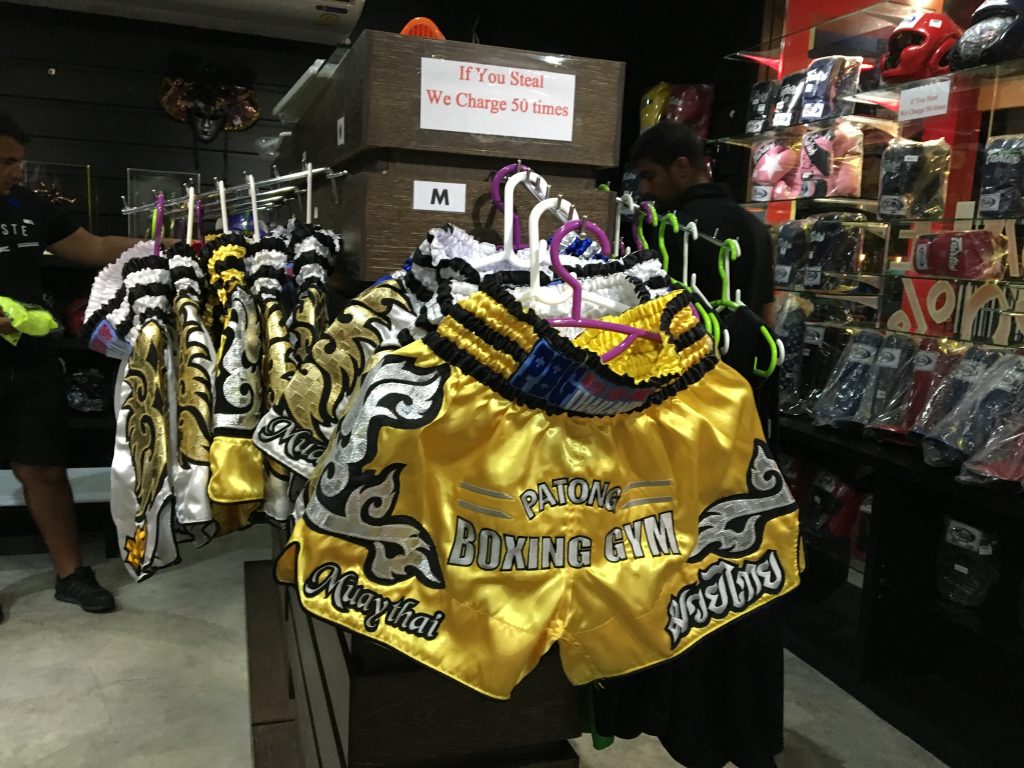 The whole next day, we have spent at the hotel, just to take a rest before another adventures! Pictures below show sky after storm.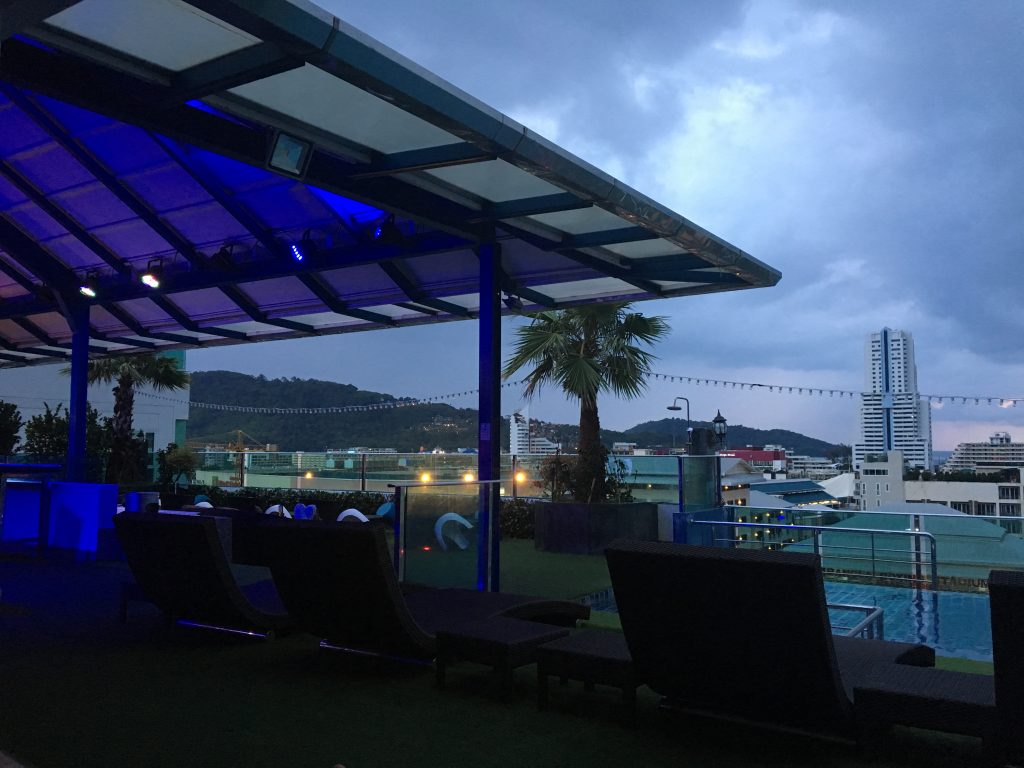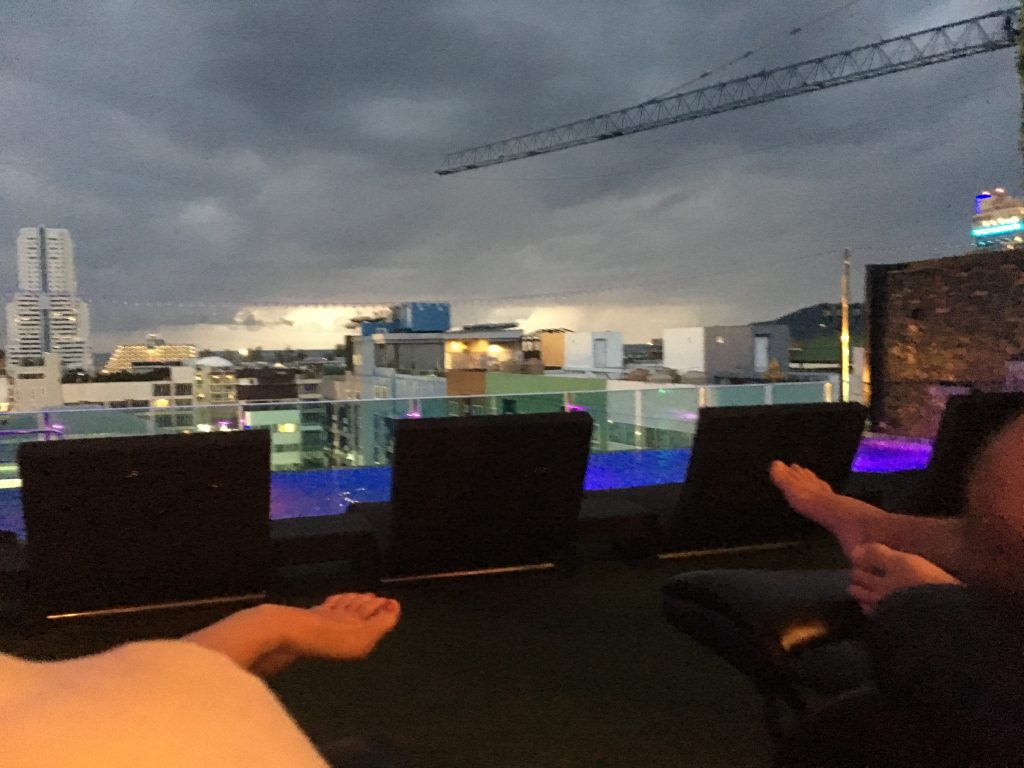 And typical Phuket's street…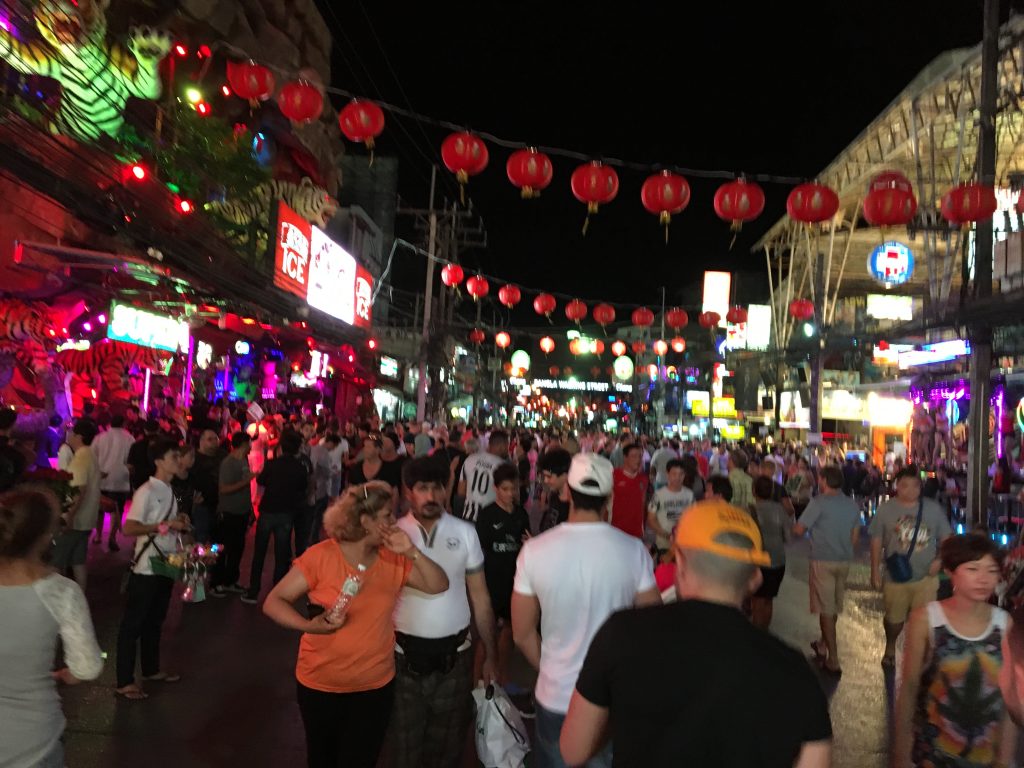 The next day, we have started our 2 days adventure of hitch-hiking! Sounds dangerous? Not for us! We are so lucky that we have started this day with a good breakfast as we didn't plan this trip, it was totally spontaneous decision. That's typical breakfast at the hotel – omelette, fruits (small bananas were awesome), salad and sweets.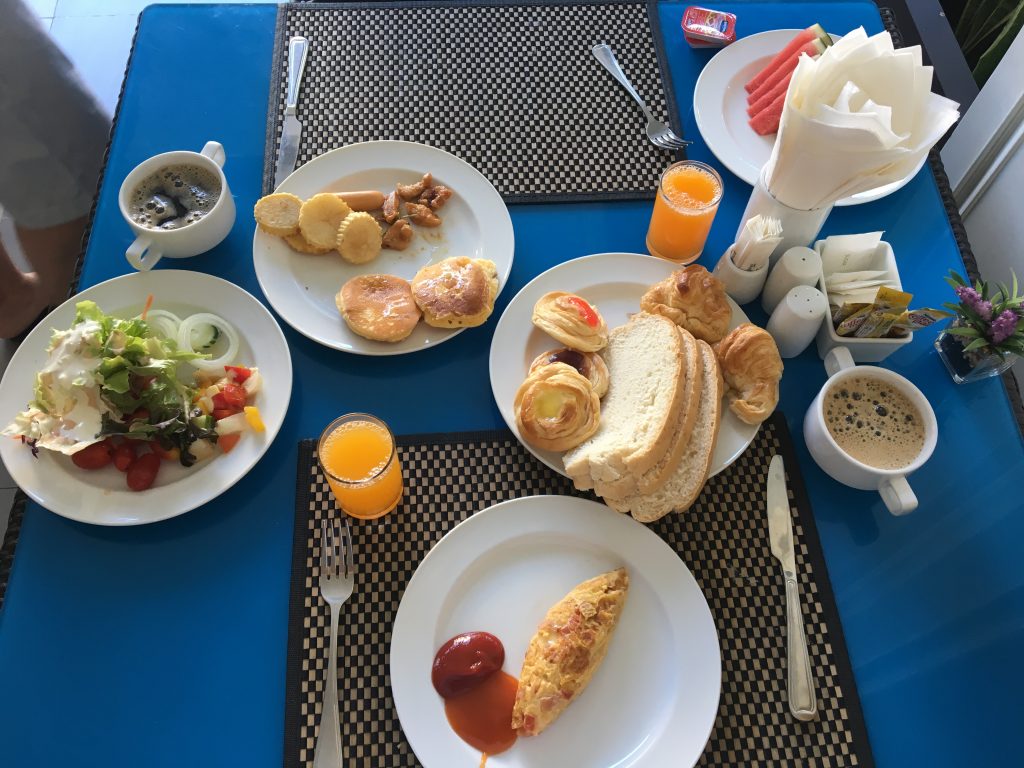 That day, we have decided to see Big Buddha! Because we wanted to do something different and we were not happy with prices of taxies, we decided to hitch-hiking! Our adventure began quite innocently…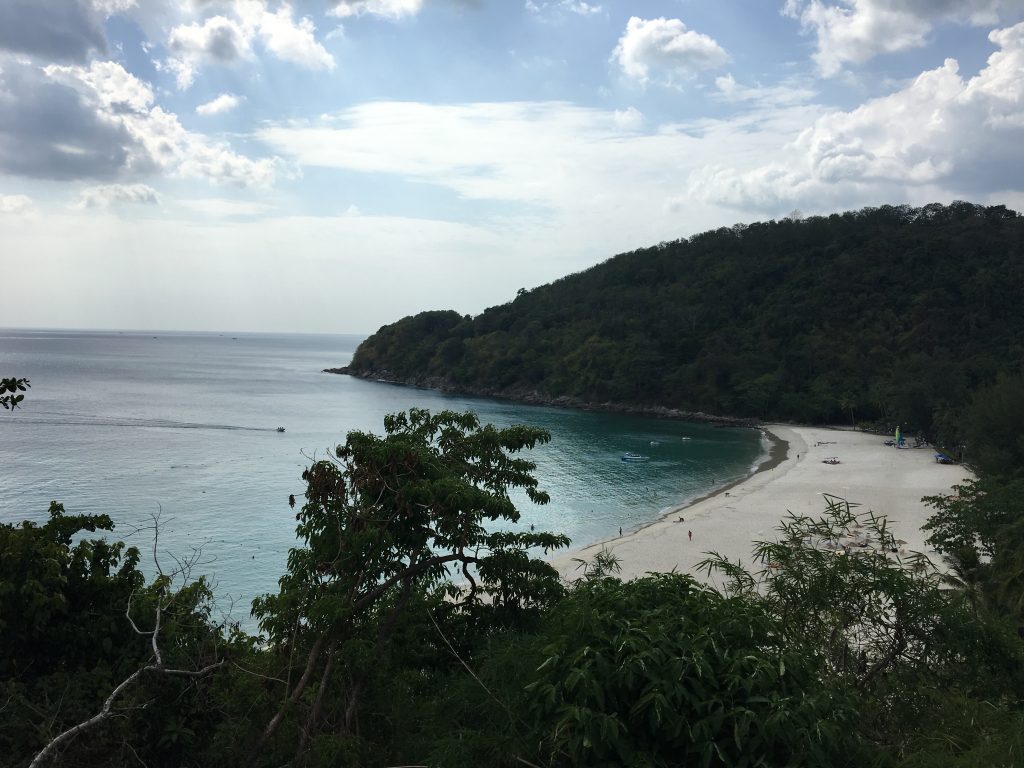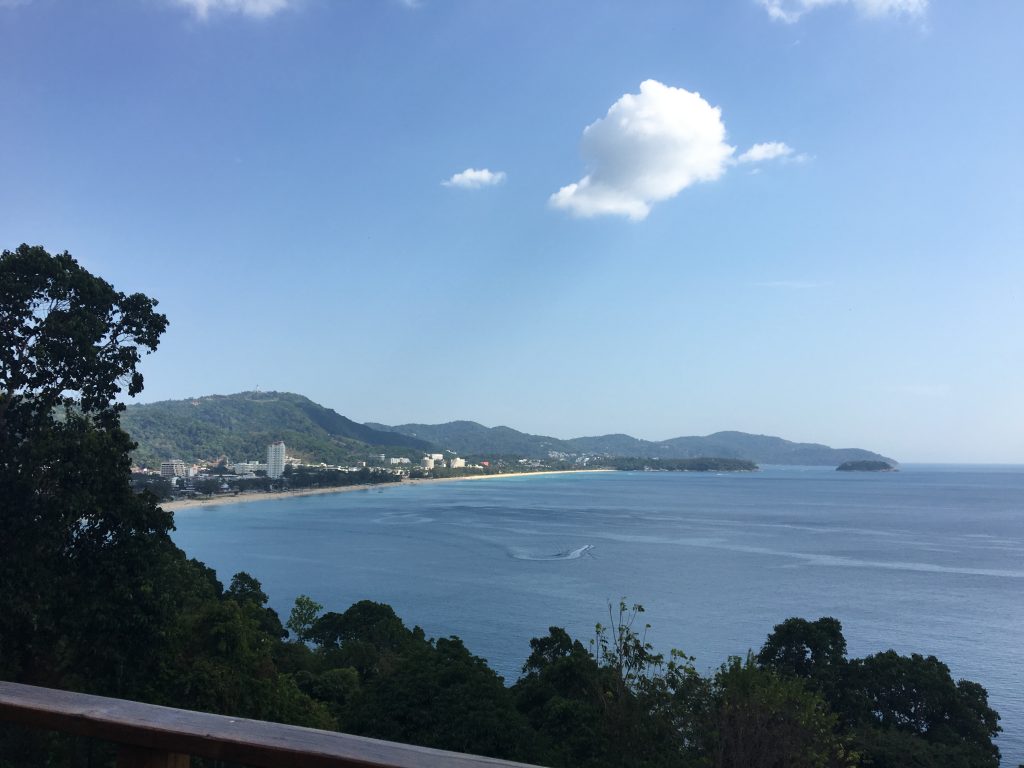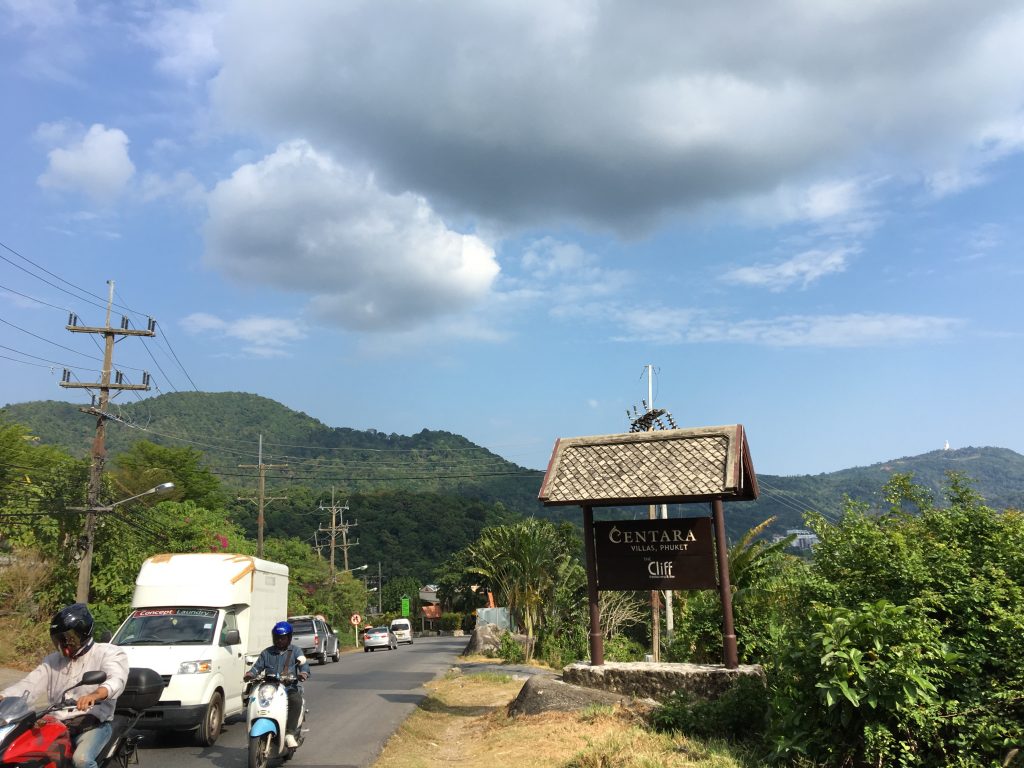 Then we have realised that the hills are bigger and bigger… And we were still walking and walking… because who else if not we! After hours of walking, we have stopped at some small restaurant for some sandwiches.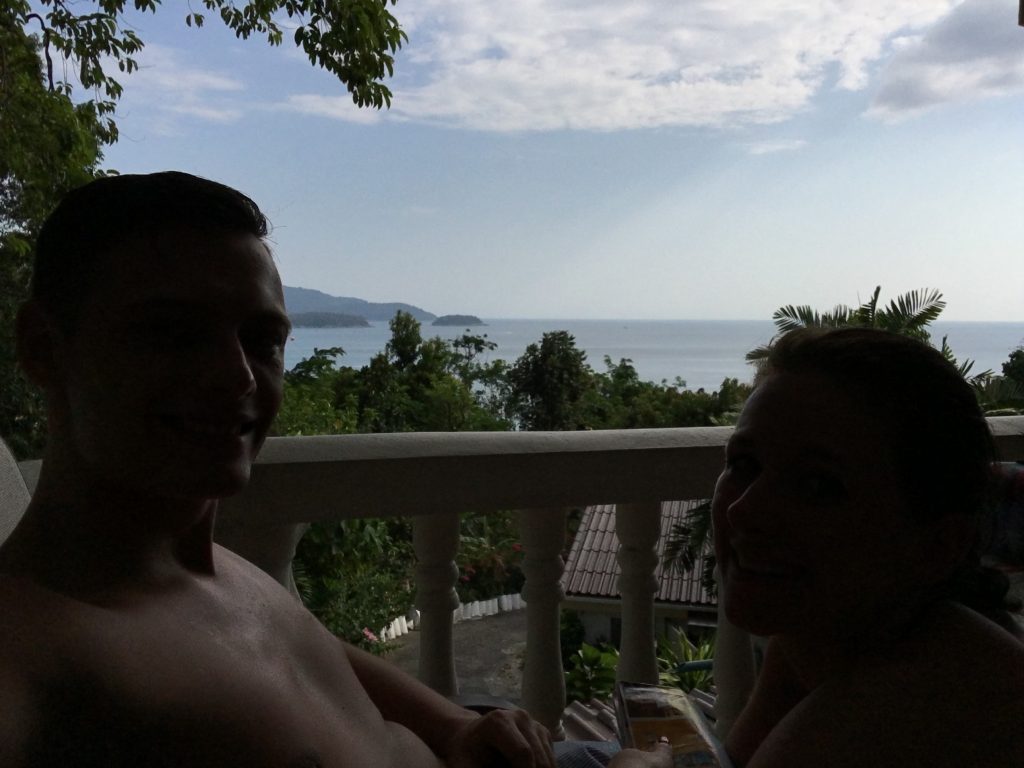 In the evening we have passed Karon Beach. There is anything better than this view?!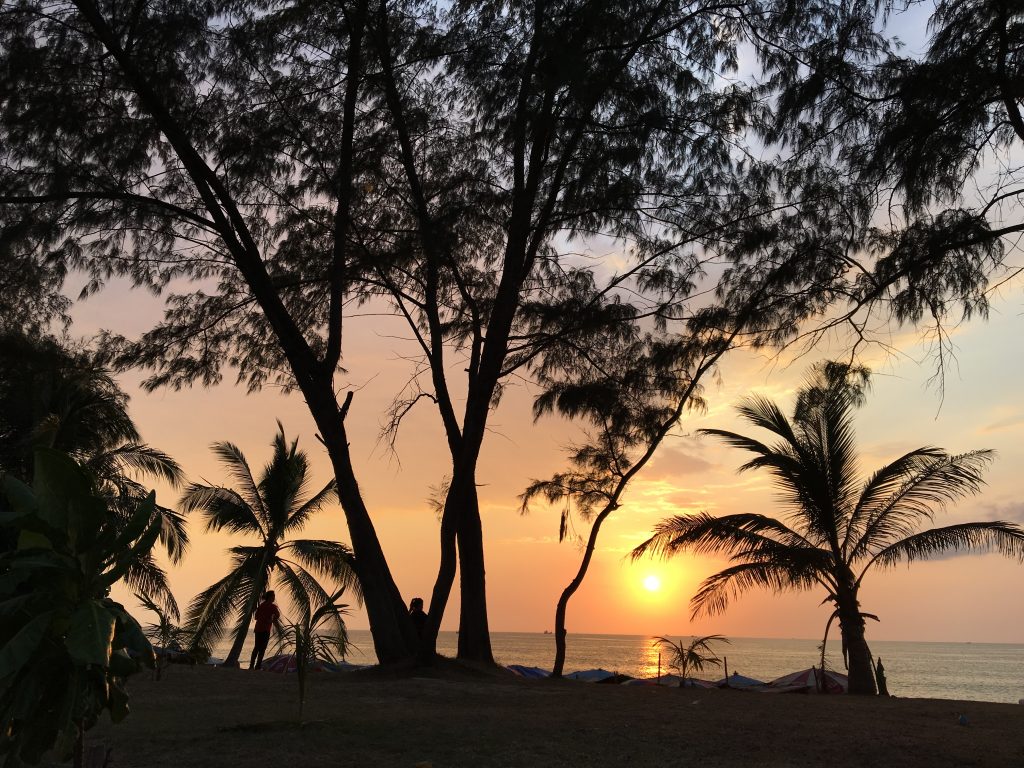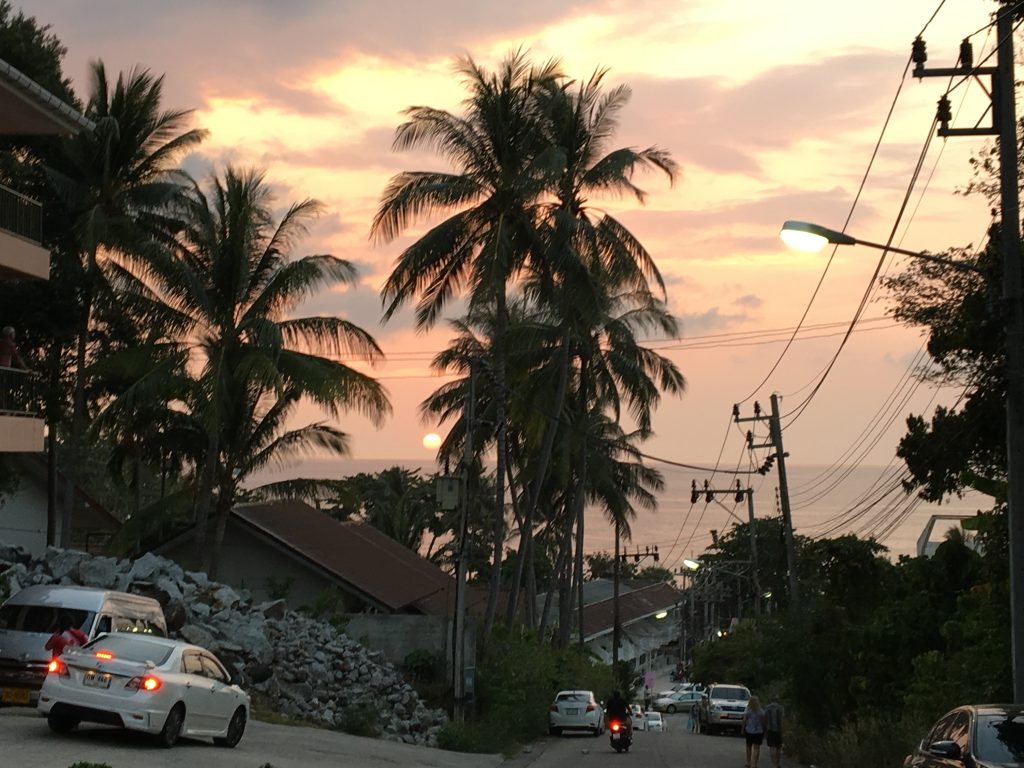 …And we have decided to sleep at Kata Beach. Nothing more dangerous but in the same time unforgettable. We didn't sleep almost all night because of horrible mosqitous! But we have used this time for self-defense lessons, it had to look so funny when my boyfriend was teaching me how to protect myself in the middle of the night at the beach. As we didn't have anything with ourselves, we used public mattresses to sleep on. After the whole night, we used public showers which costed 20 bats per person to refresh and continued our trip. You have to remember that sleeping on the Thai Beach is really dangerous.
We were so lucky to meet monks who took us on their truck and help us in our trip. They didn't talk to me, they didn't even look at me as I had shorts and bikini. You have to know that they cannot look at woman if these woman don't have covered legs and arms.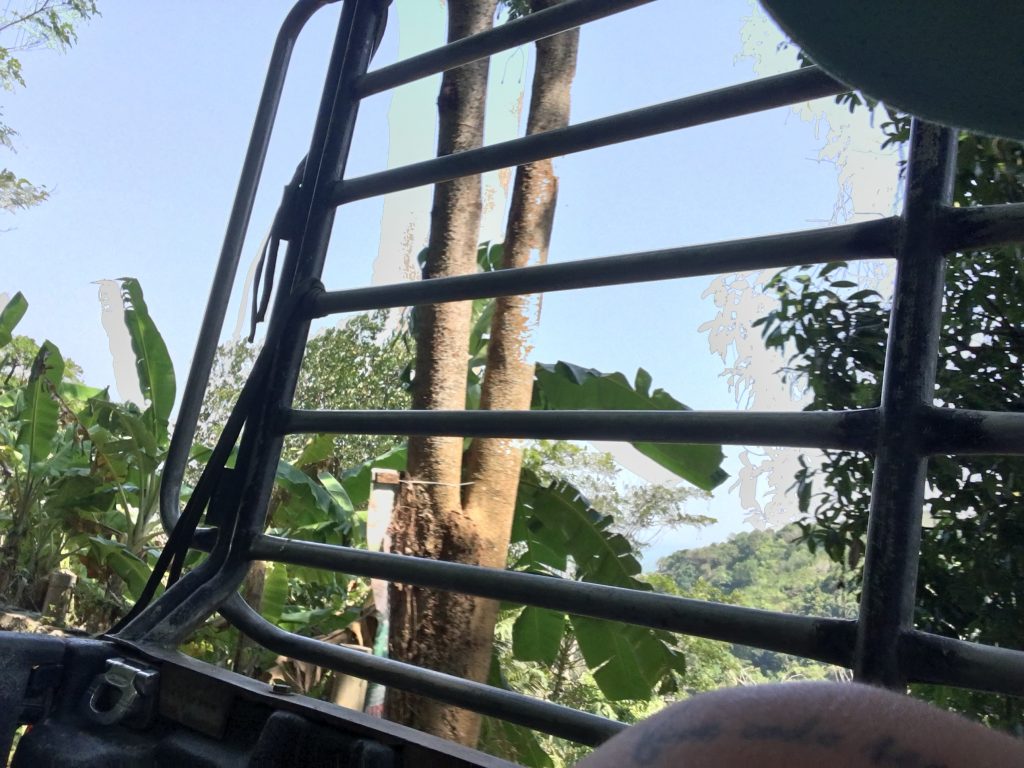 Finally, after long hot hours we reached Big Buddha! Remember to take some long dress and blouse with sleeves as women cannot go there in shorts and T-shirts. I am not going to lie, it was super hot and I was dreaming about getting rid of my towel which I used to cover myself.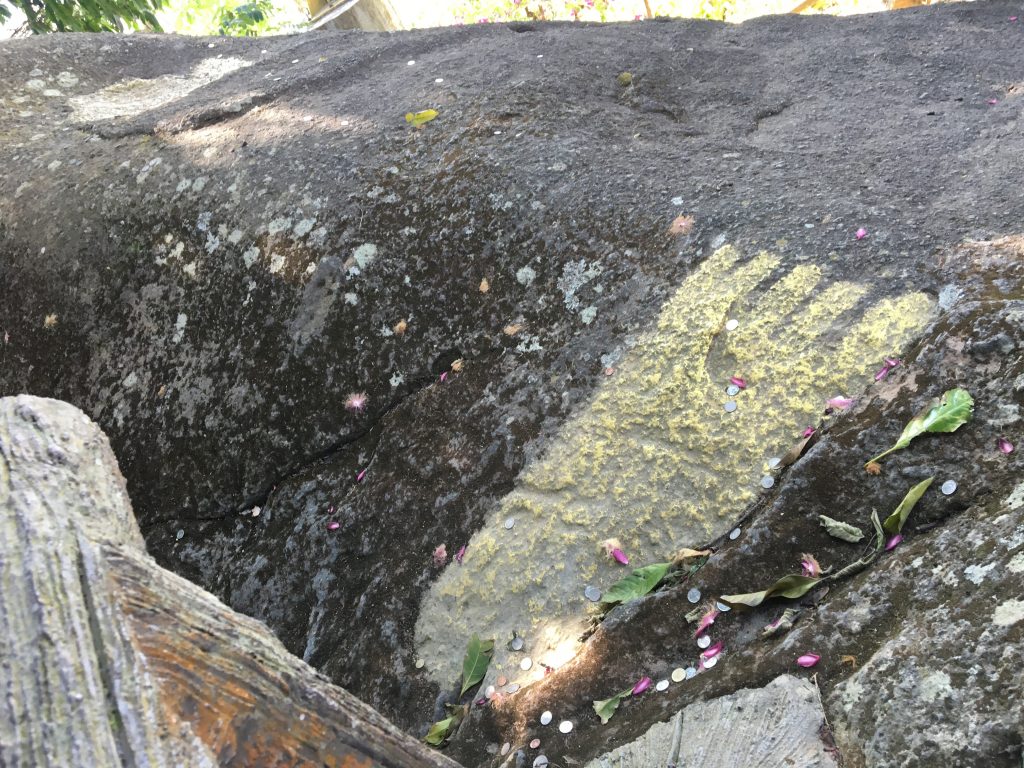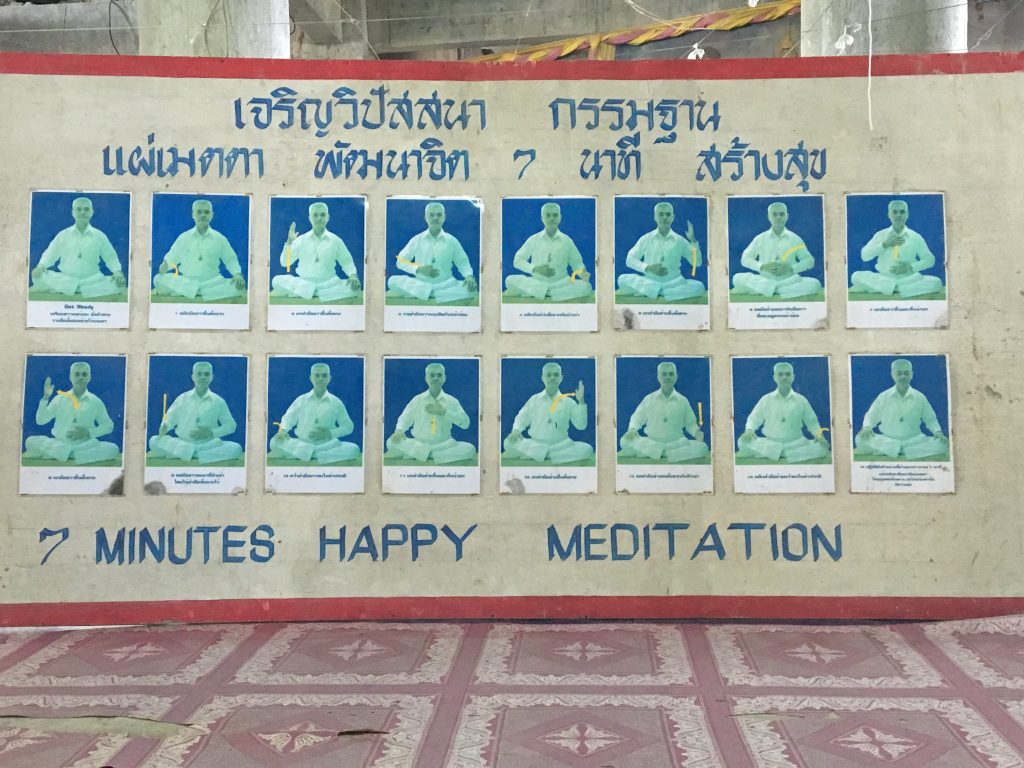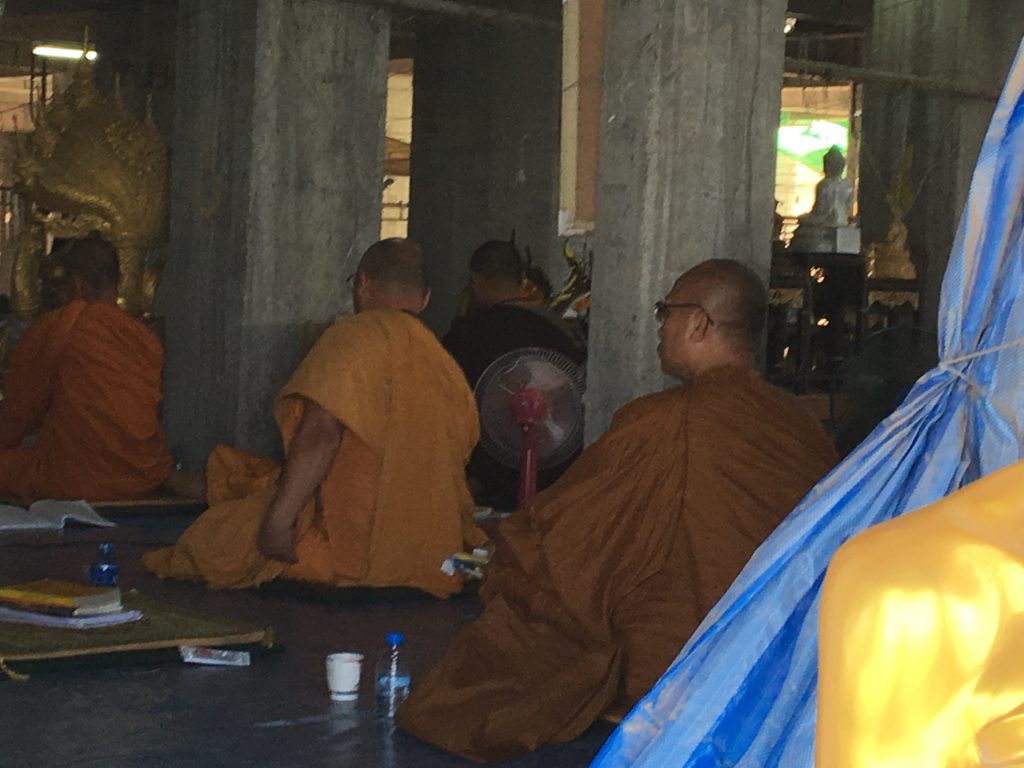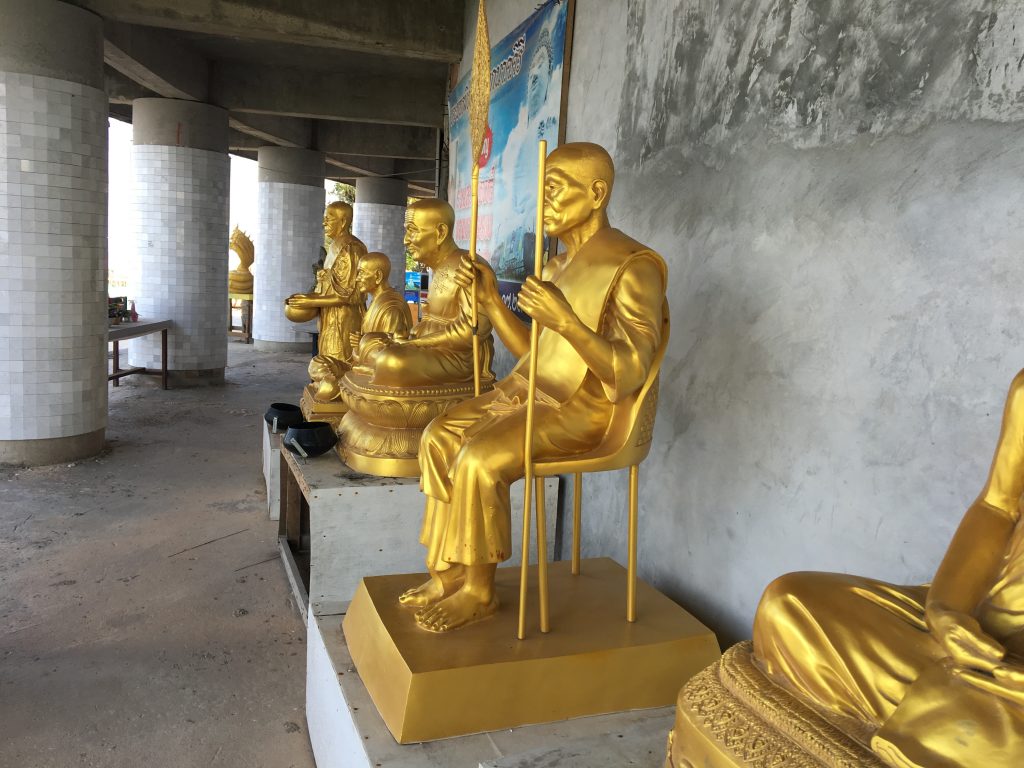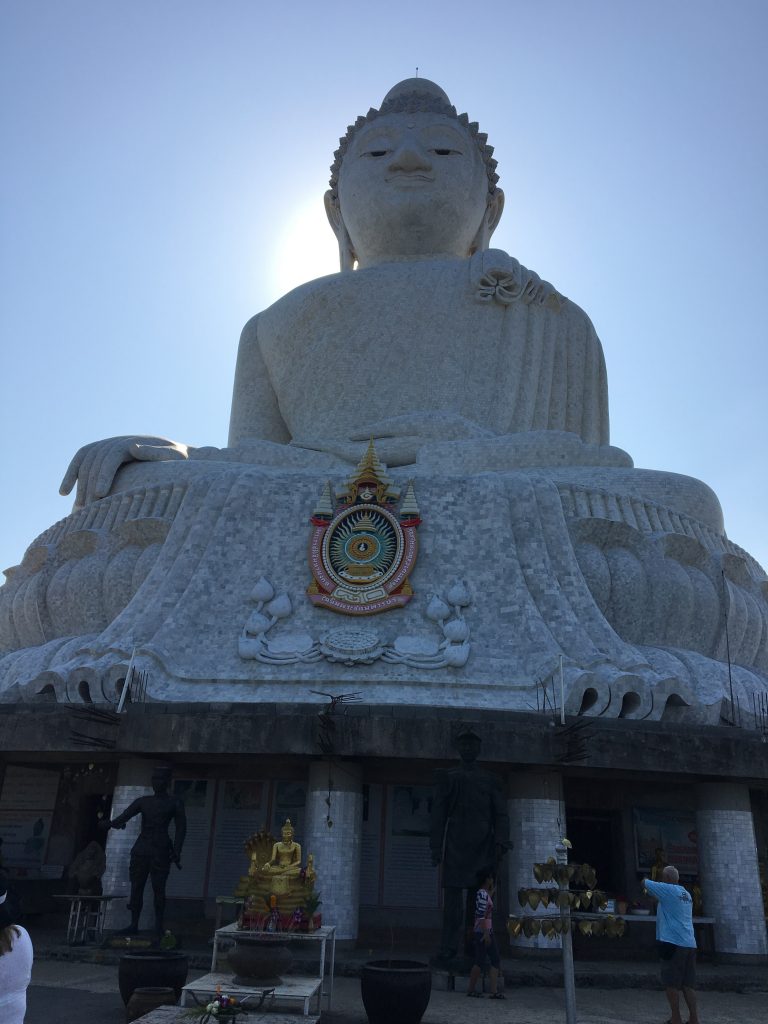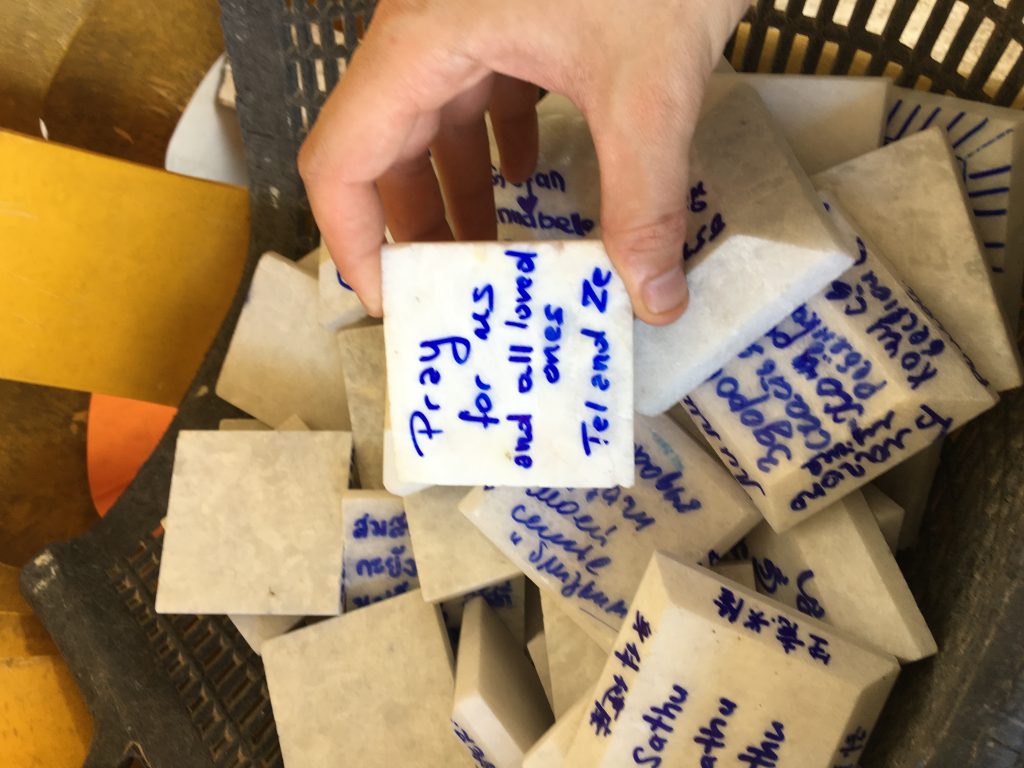 We finished our trip at Wat Chalong, as it was already late, around 5pm, we just took quick look at the mosque.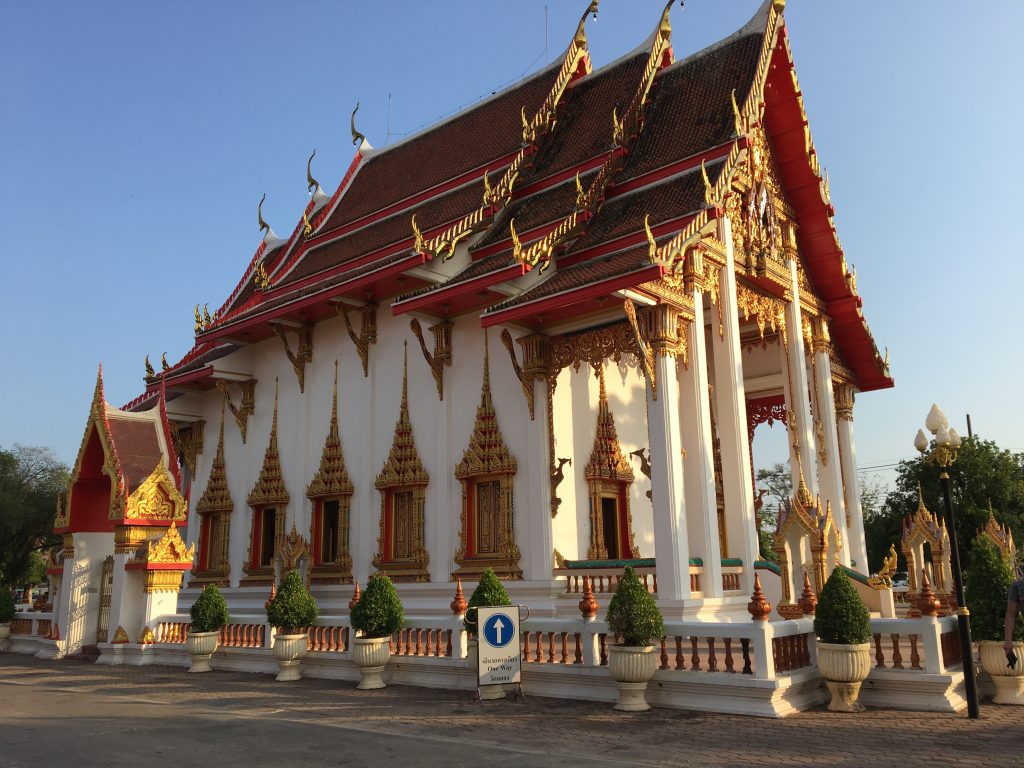 As you can imagine, after two days of walking, we were super tired. We wouldn't even imagine to walk the same way to hotel, so we took motorbike taxi! Nothing more crazy… Three people on small motorbike with crazy driver without drive license!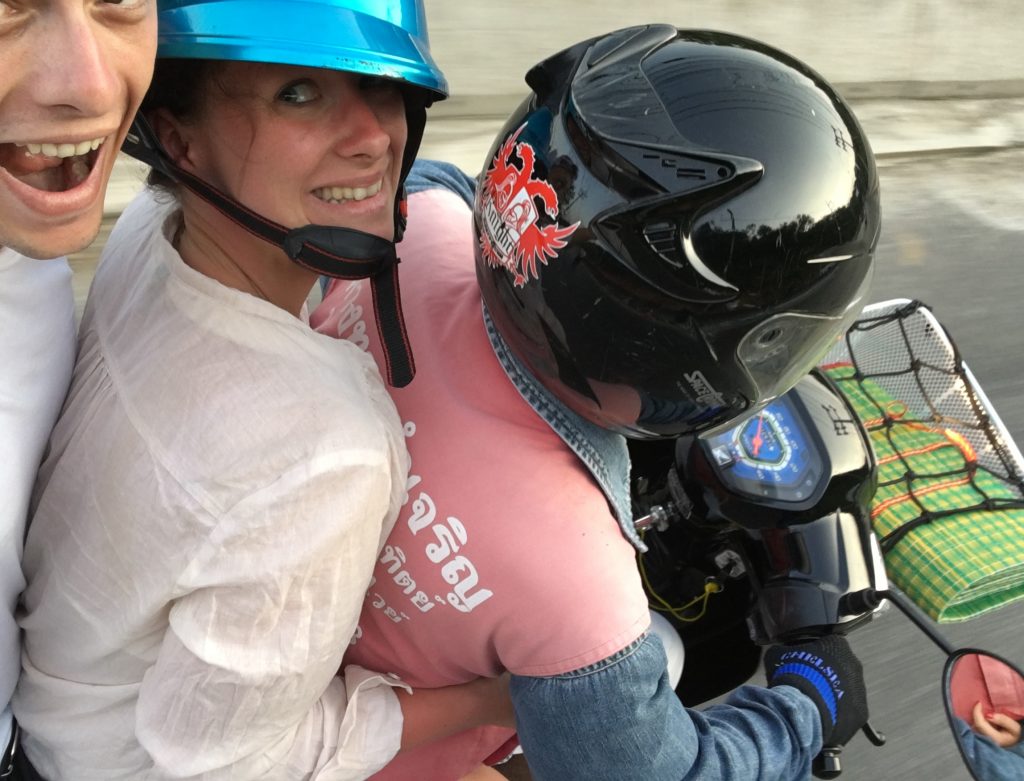 Uff finally at the hotel…
As the next day was our before last we have done small trip to nearby mosque…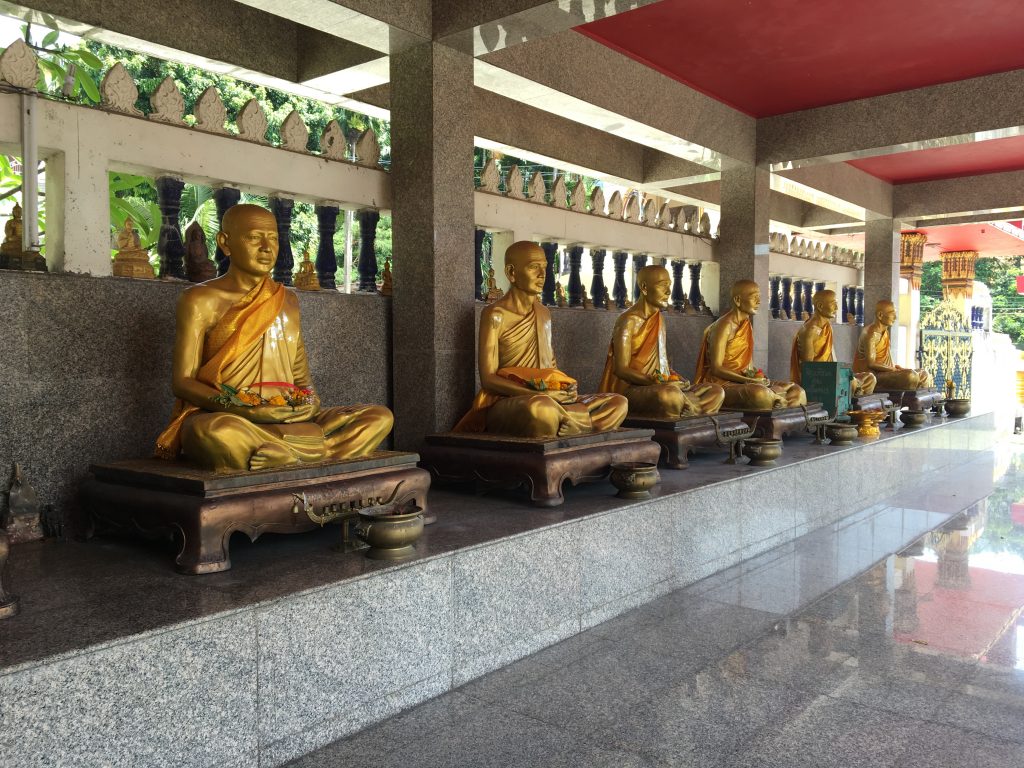 …and we were hitch-hiking again!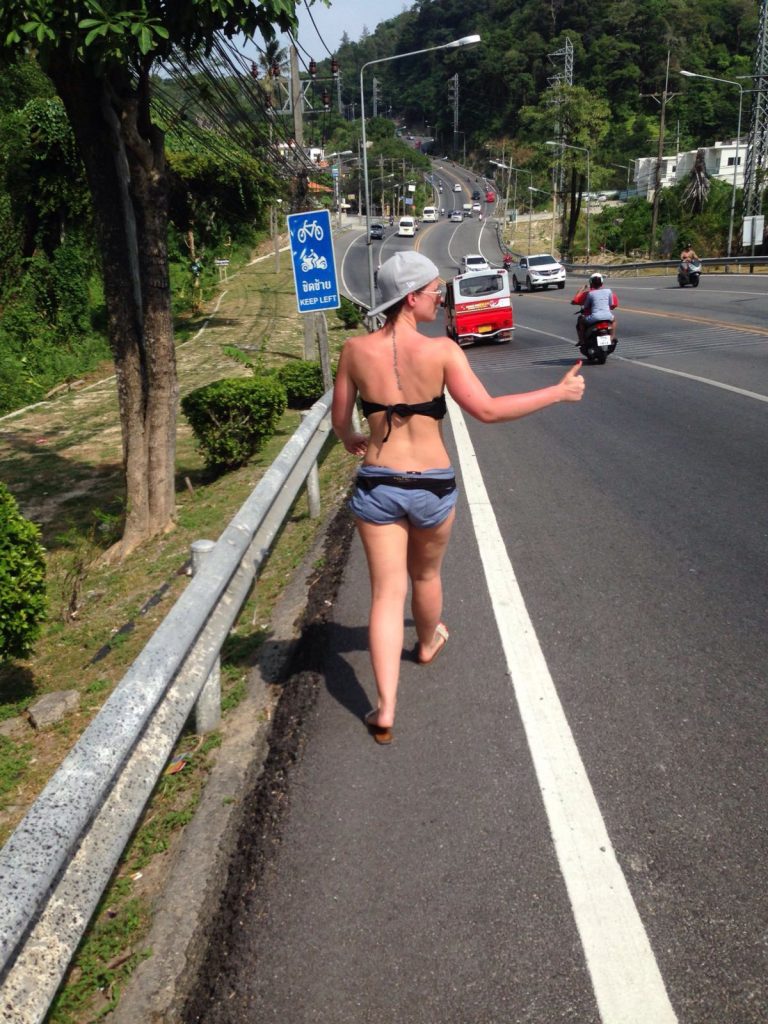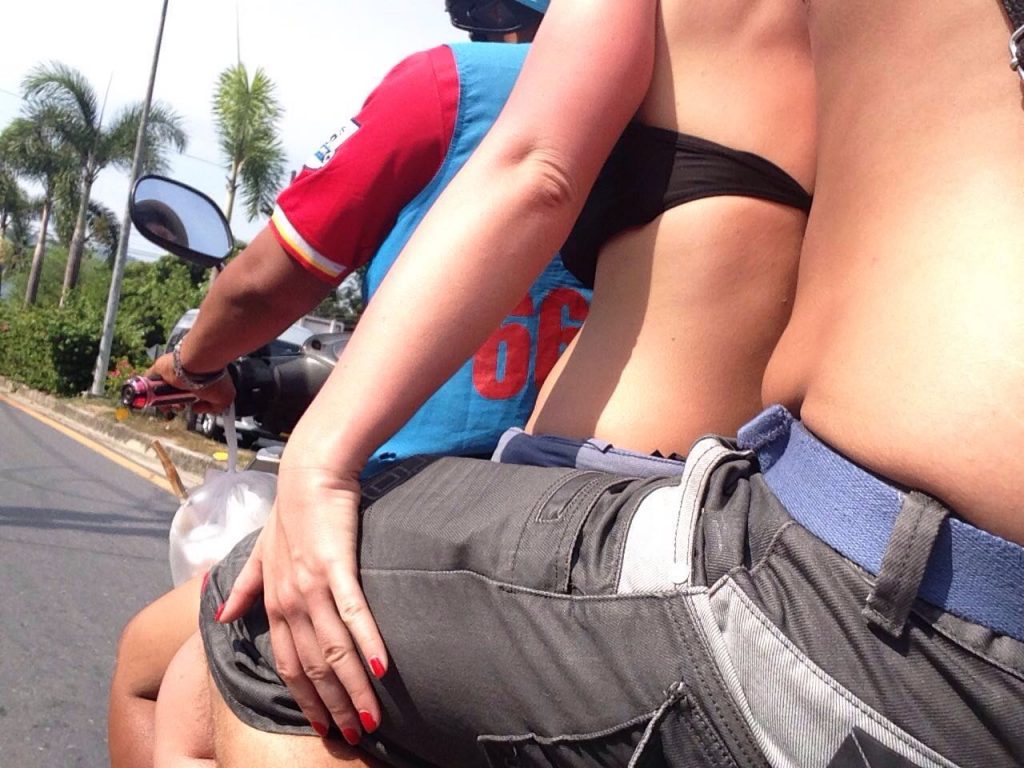 This time we have seen Kathu Waterfall… Really nice place but really touristic as well.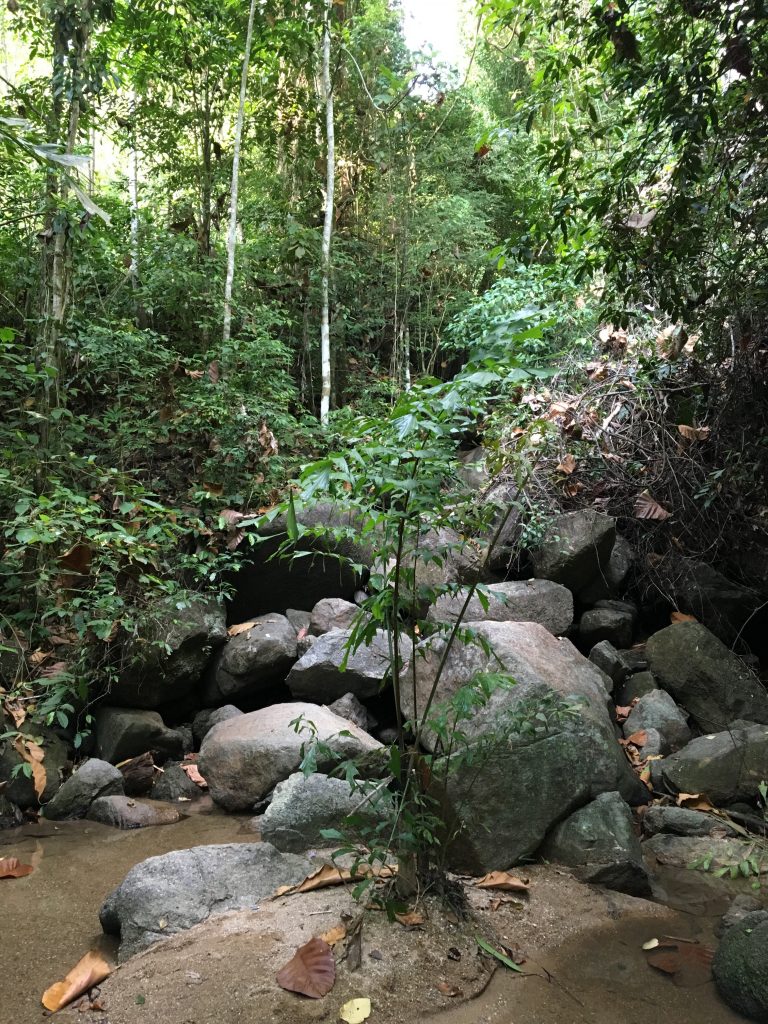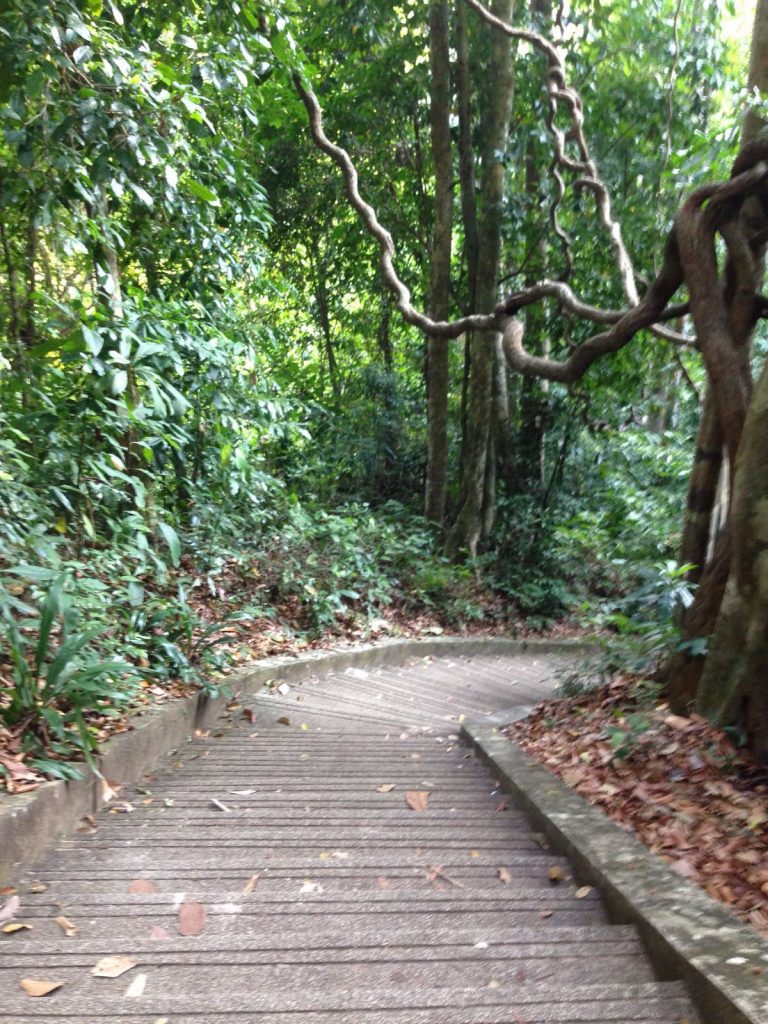 And were trying to find secret waterfall at Bang Wat Dam.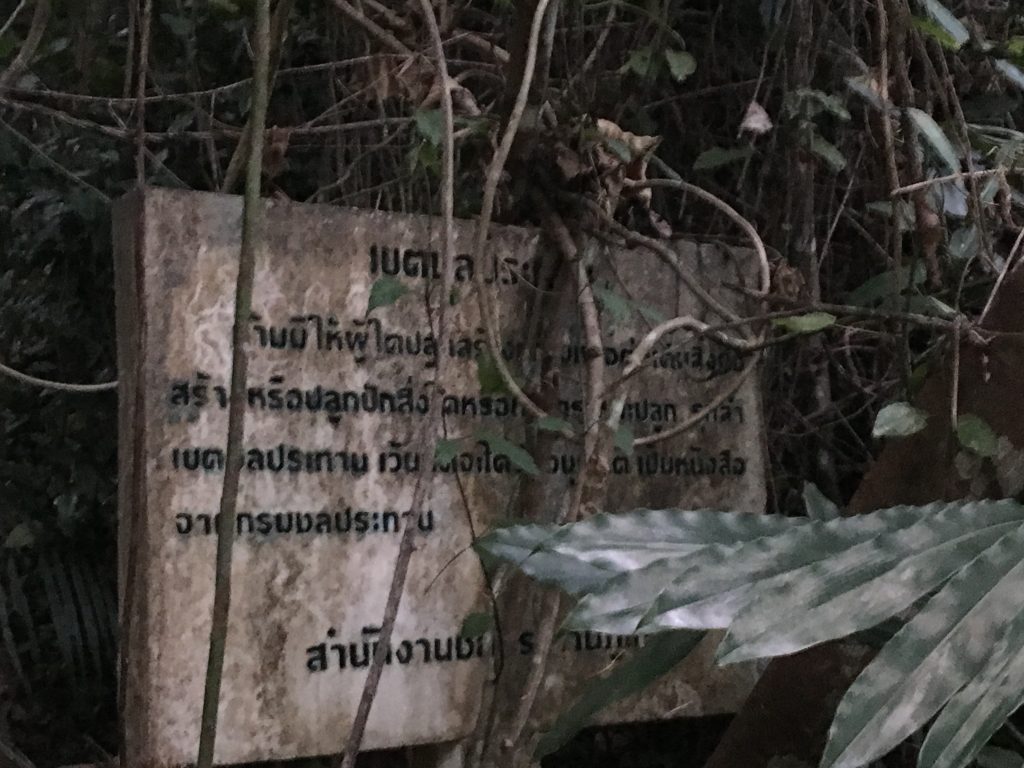 The most scary moment as we reached this place really late and we were in the middle of forest when it was already dark. Next time we will find this place for sure! Follow road on the left side of this sing.
Our last day we have spent at the tattoo studio. Be careful which one you are choosing, most of them are opened till late and can do EVERYTHING what you wish! BAD SIGN! We have chose one of the best one which means not the most cheapest one but tattoo is forever 🙂 We highly recommend PitBull Tattoo Thailand. Really professional owner – Italian guy who spend most of his life in UK, amazing artists and really good prices. Remember to book an appointment couple days before.
My boyfriend's tattoo costed 13 000 bats.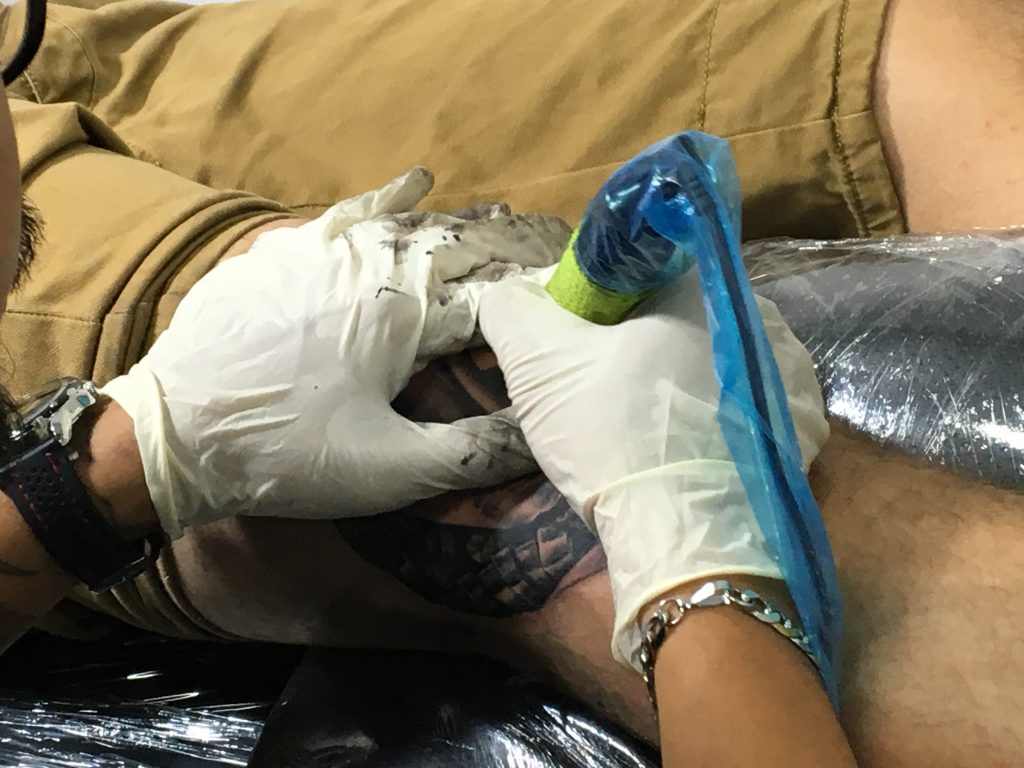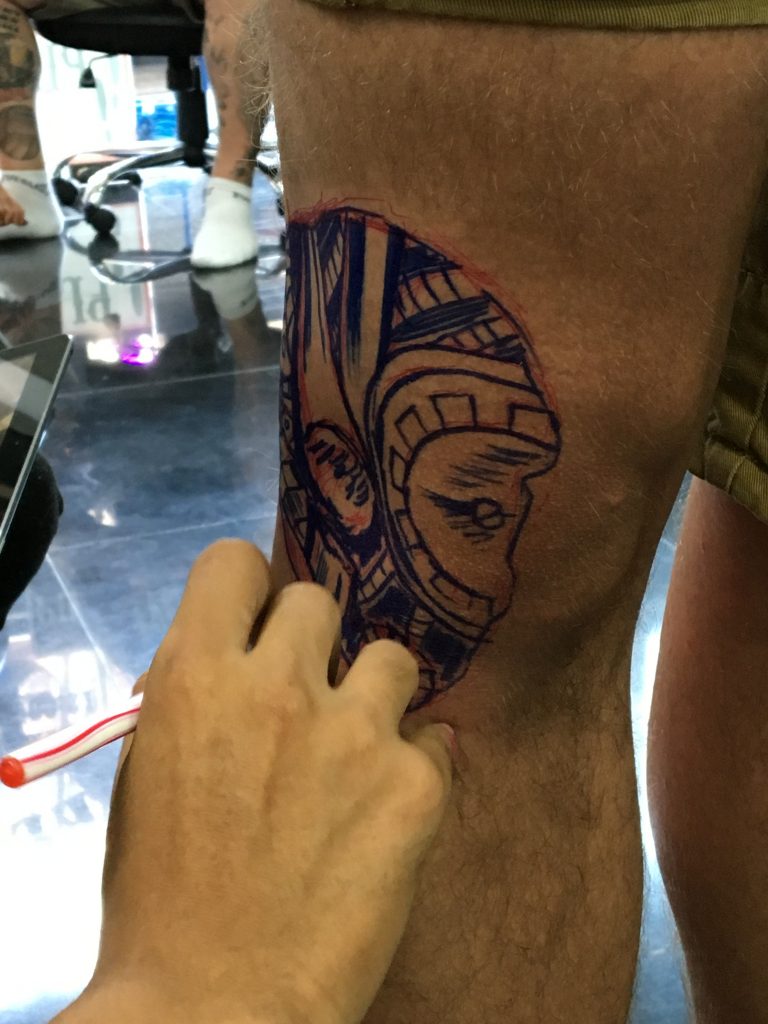 Mine 2 000 bats.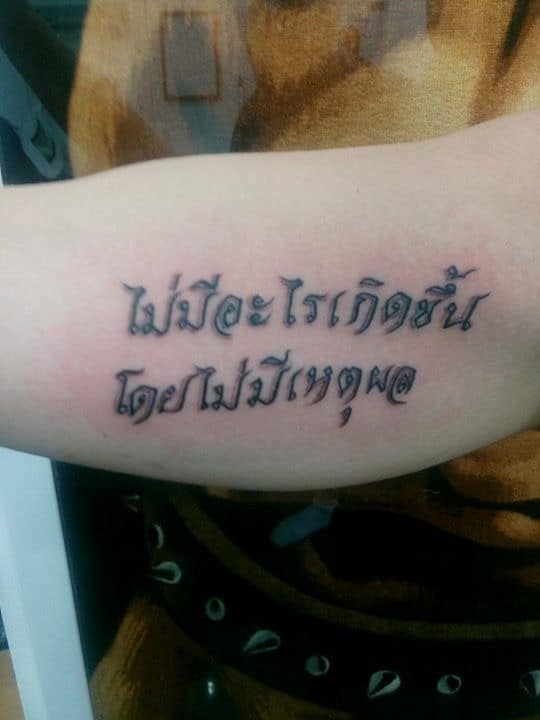 After the whole day we had made quick souvenirs shopping. Remember to walk around as you can find great deals just on the corner. Our last hours and money spend on fish massage which my boyfriend hates a lot. 50 bats for 30 minutes. You can find them everywhere next to roads.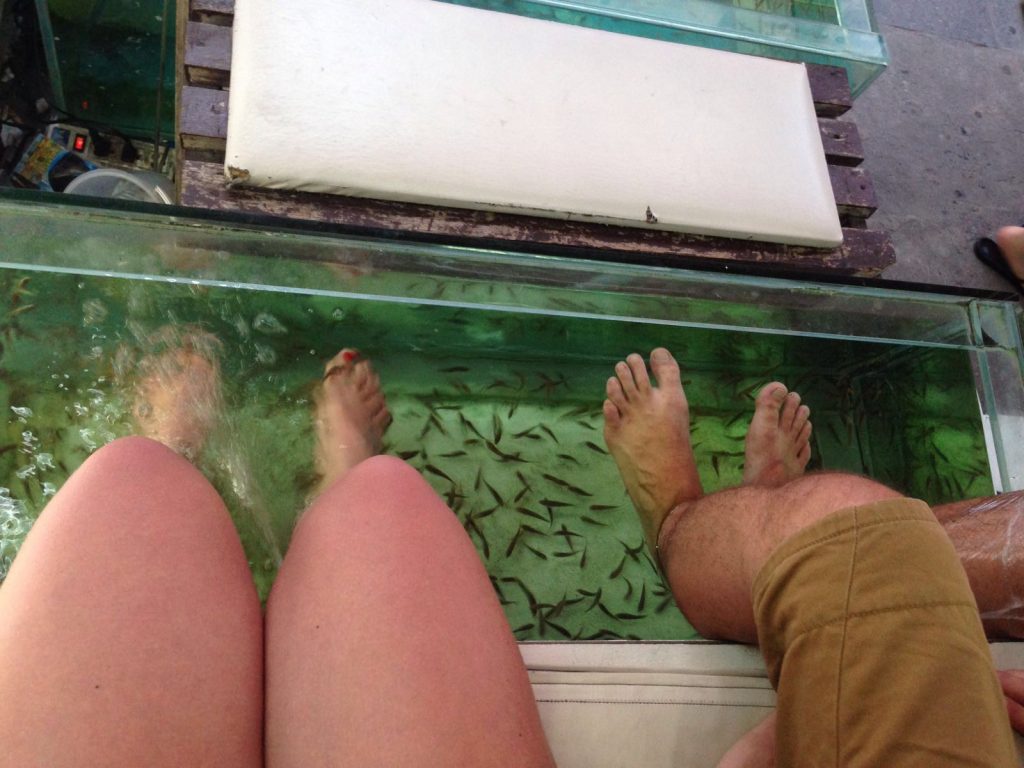 I hope you enjoyed my relation from Thailand, I hope my tips are useful for you and you will follow our trips!
See Thai Bats rate.
Zaneta loves challenges so deciding about career path she has chosen typical male industry. Woman who codes. Every 1-2 years she lives in different part of the world. Gym dates is something what she specialised in. Healthy lifestyle, extreme sports and motorbikes have stolen her hear years ago.