7
MIN READ
I can honestly say that my first days in Vietnam were totally crazy! First of all is super hot and humidity, it is really difficult to take a breath. Then there is insane traffic, noise and drivers driving their motorbikes without any rules. You should be ready for…
Weather
Don't even think about taking warm clothes! It is super hot (around 30°C), it is high humidity, you are sweating the whole day and the whole night. However the end of May means raining! Heavy raining, almost every day. But still, don't take warm clothes, it is still hot.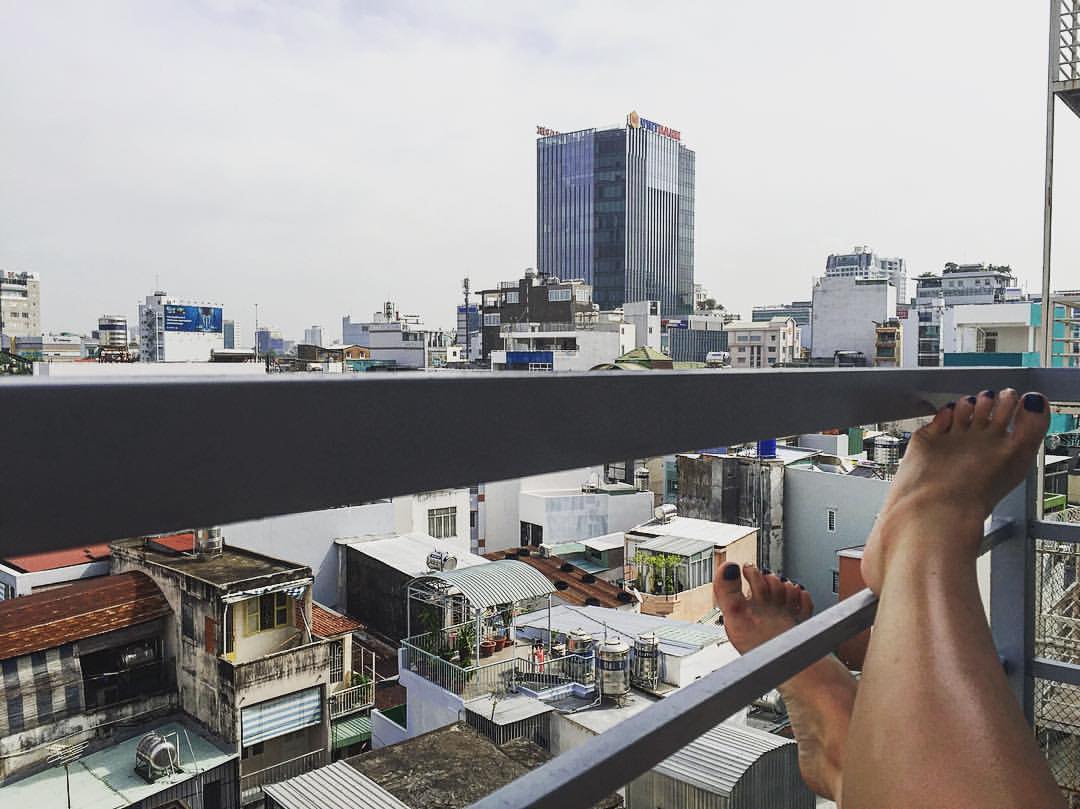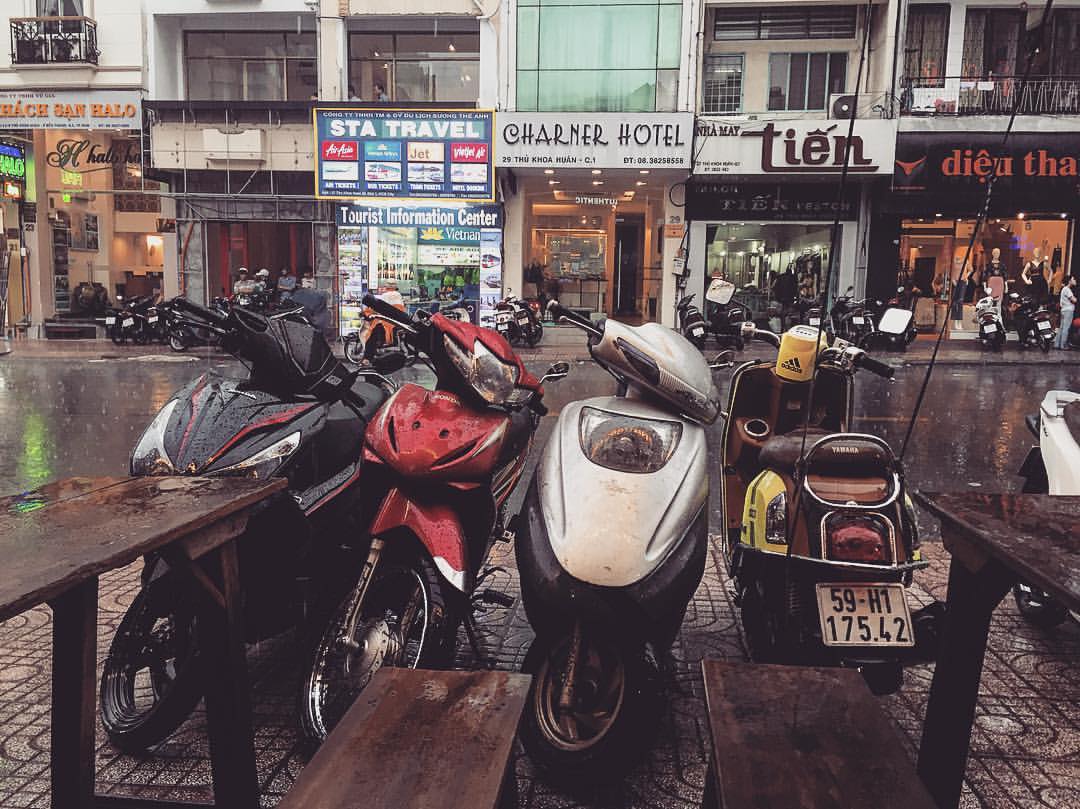 Transportation
Uber, Uber and again Uber. It is super cheap and I highly recommend to take it. It is also safe. You can take Grab which is Vietnamese version of Uber, however it is only in Vietnamese language. More about my experiences with Uber in the next blog post.
That is receipt for 1.9 km, for around £0.44, notice, it is UBER MOTO. Also, using moto means to wear helmet which is used by all passengers, keep it in mind during ordering UBER. You can also easily, get your own helmet and use it during your journey.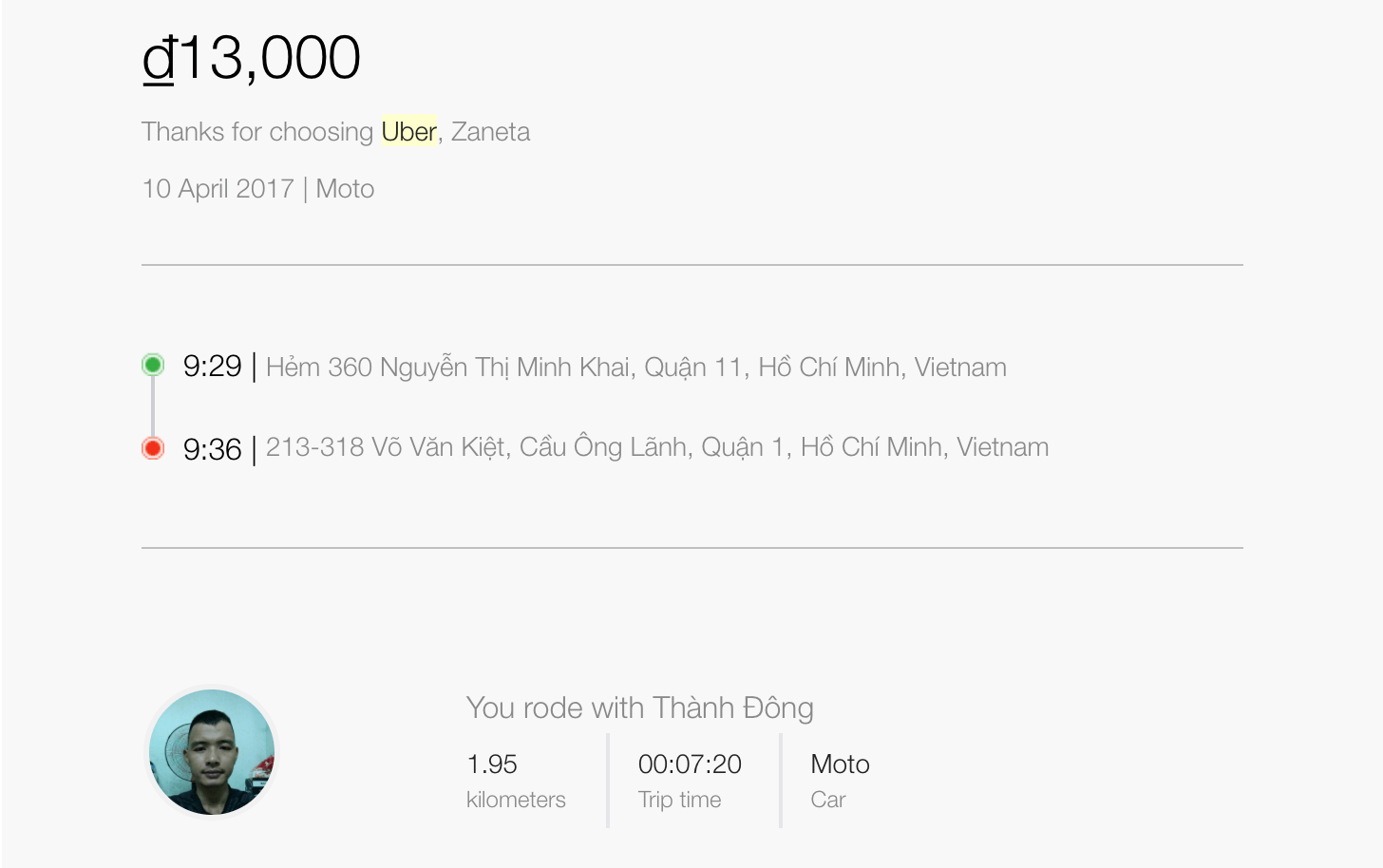 That is receipt for UBER car, around £1.32 for 2.40km.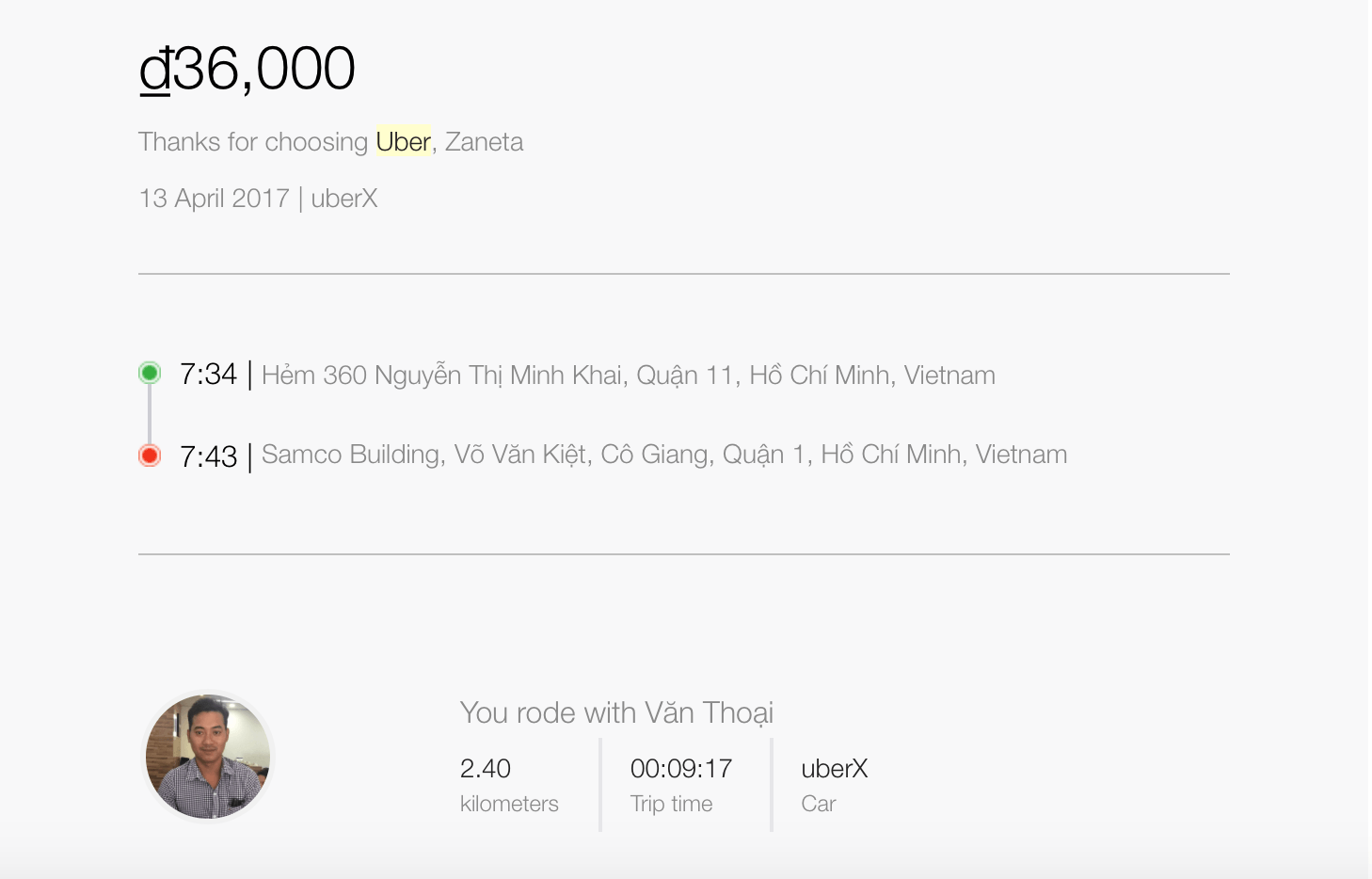 Just got my helmet… Thanks to my awesome colleague who ordered it for me. Order here. Just 120k dongs.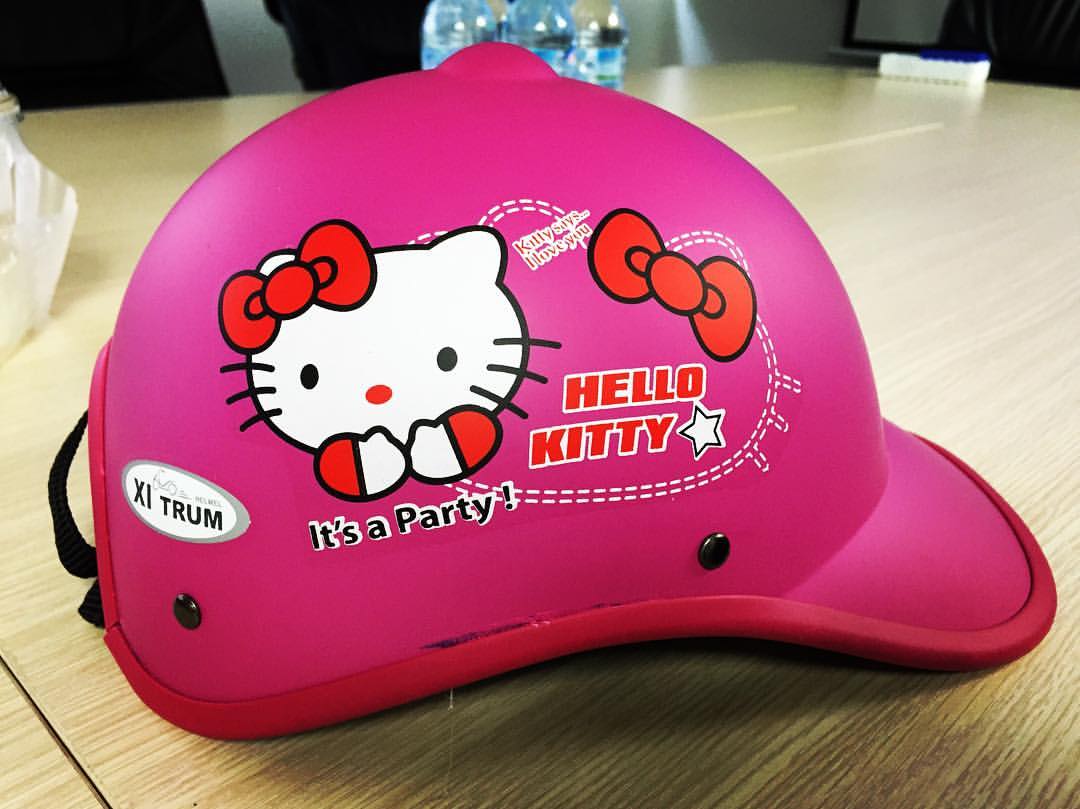 Mobile data
I highly recommend to buy SIM card at the airport directly after arrival. It costs around £15, only cash! It includes calls, messages and internet. They will change your SIM card in the shop and check if everything works. I usually put around 300k dongs (around £10) every 2 weeks. The Internet will be really useful during for ordering food on the street, so I highly recommend spend some money to get it.
Expats (Foreigners)
There is a huge community of foreigners in HoChiMinhCity who are called Expats. You can easily find Facebook group Female Expats and Locals in Ho Chi Minh city or Expats & Locals In Ho Chi Minh City (Saigon). I use both sites to get some informations and updates.
Food
Street food
Noodles, noodles and noddles, and rice. That's the main thing which you can eat. The food is really cheap. You can really easily eat lunch for around £1 (30k dongs). Next to my apartment every morning I can find old lady with some street food. I always buy from her box of rice, fried egg and some BBQ meat and fish sauce – amazing and only 30k dongs. Notice! She always disappears before 9am, you want good breakfast? Wake up early!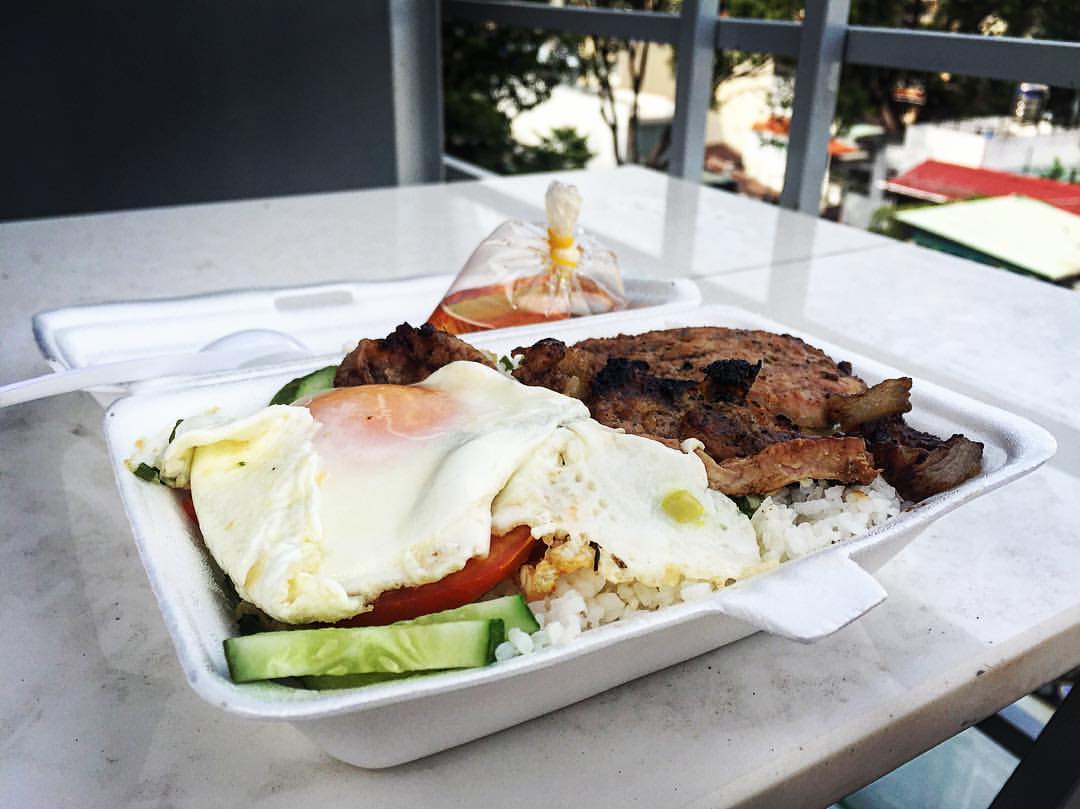 The coffee is really strong in Vietnam. It is usually cold with condense milk. It costs around 20K dong (restaurant) or 12k dong(local place).
You can find many street food spots. Most of them have little chairs which makes you feel like a kid. I highly recommend to walk around and just stop and walk in to random place. In this way I have found my favourite food spot with vegetarian food!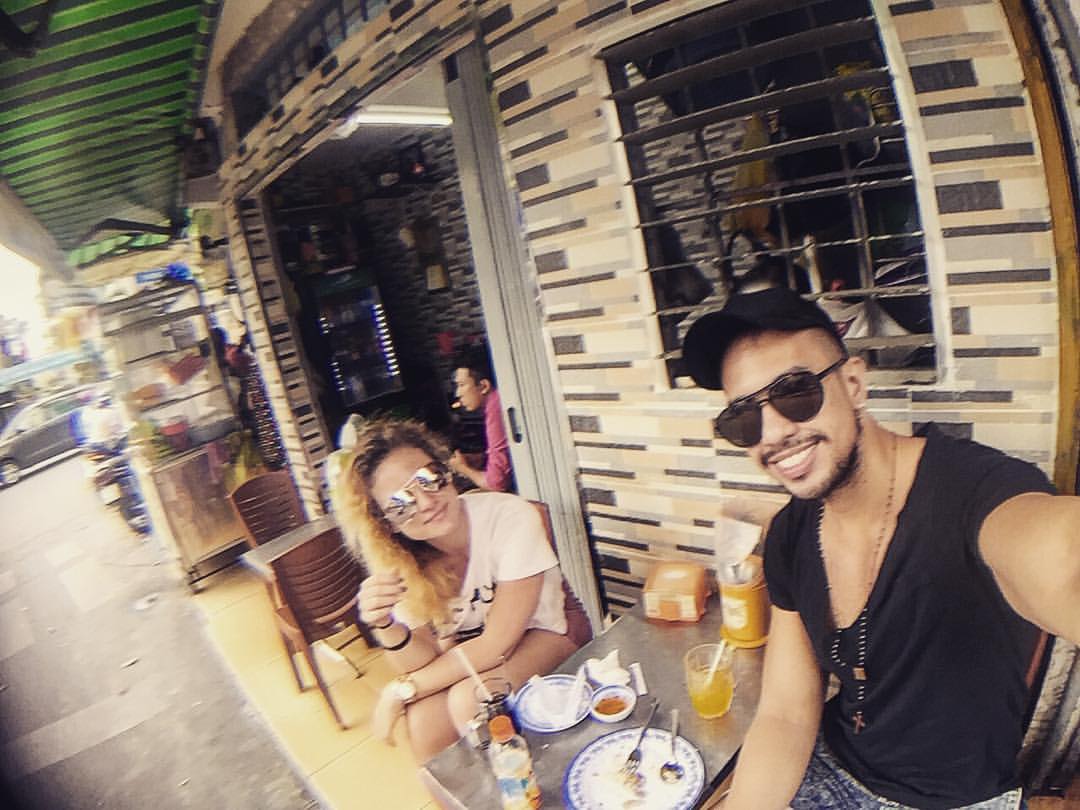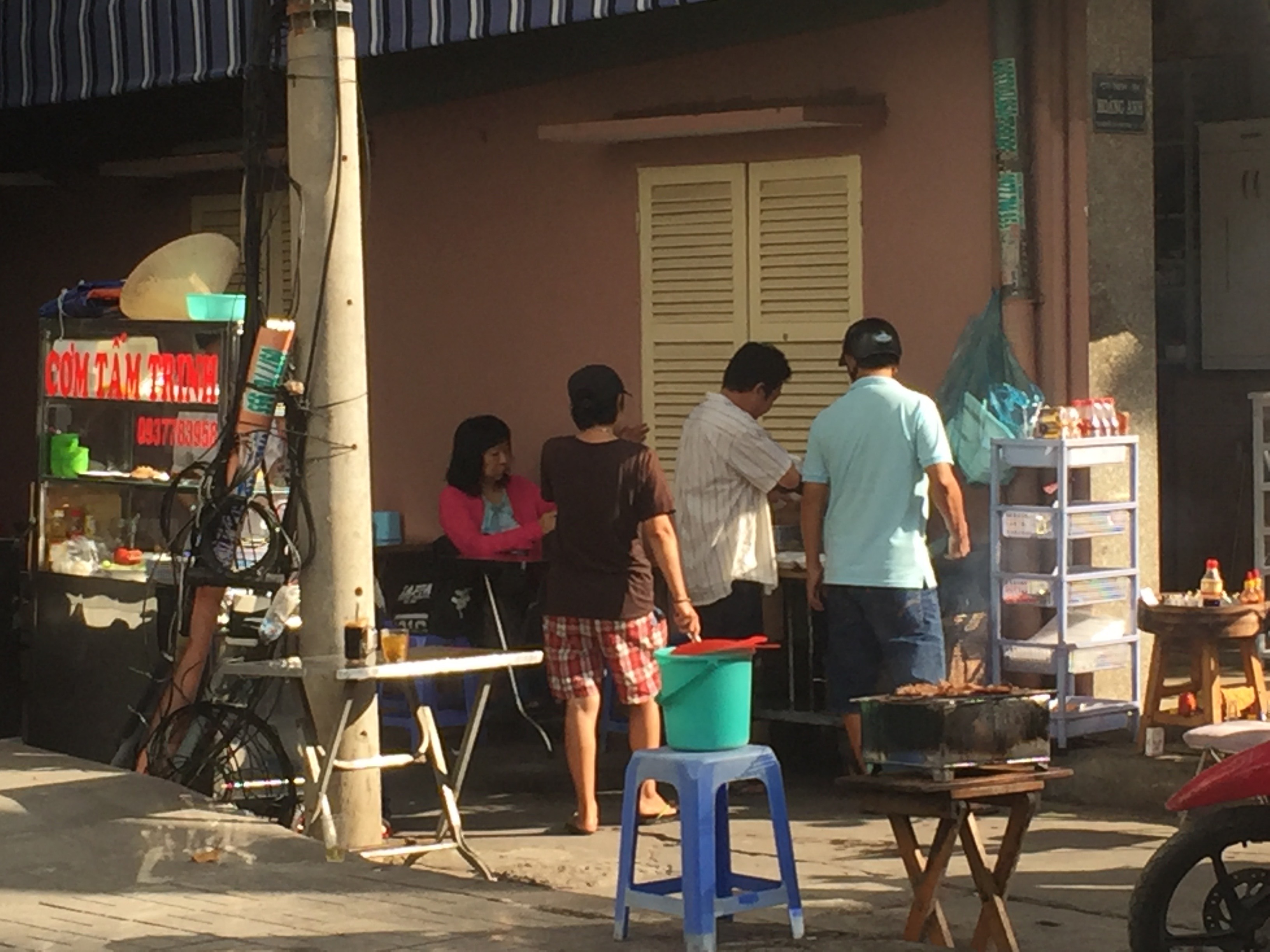 Typical Vietnamese lunches looks like this…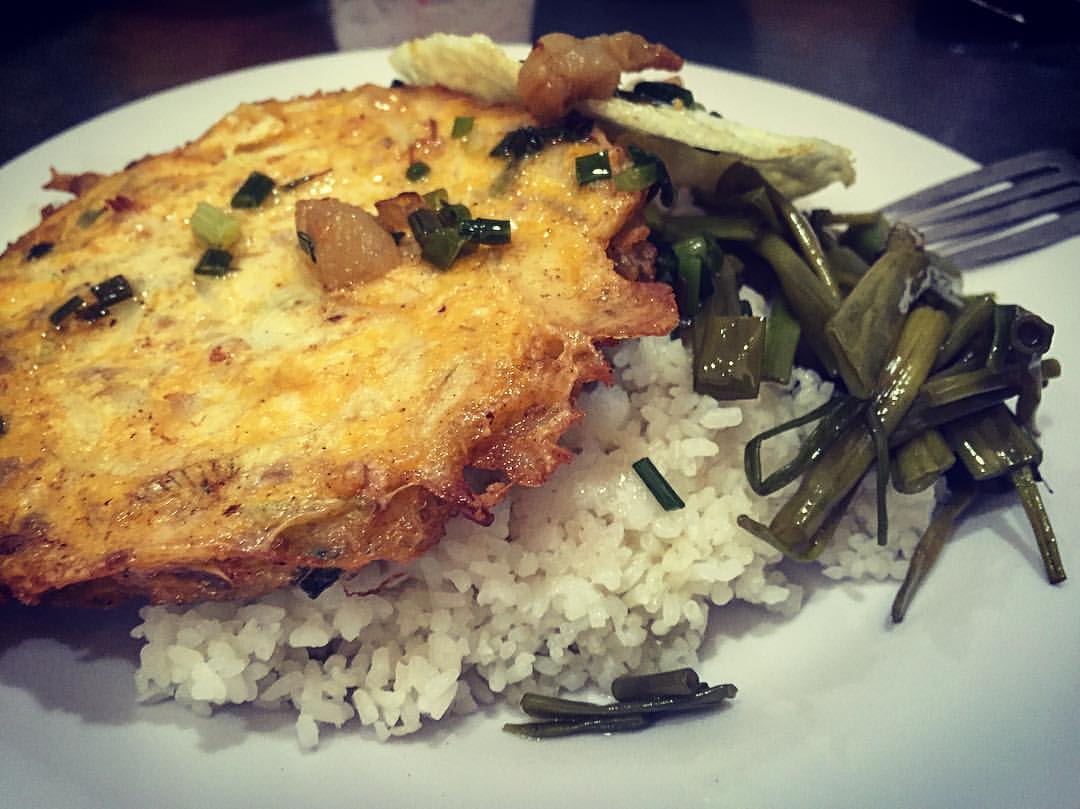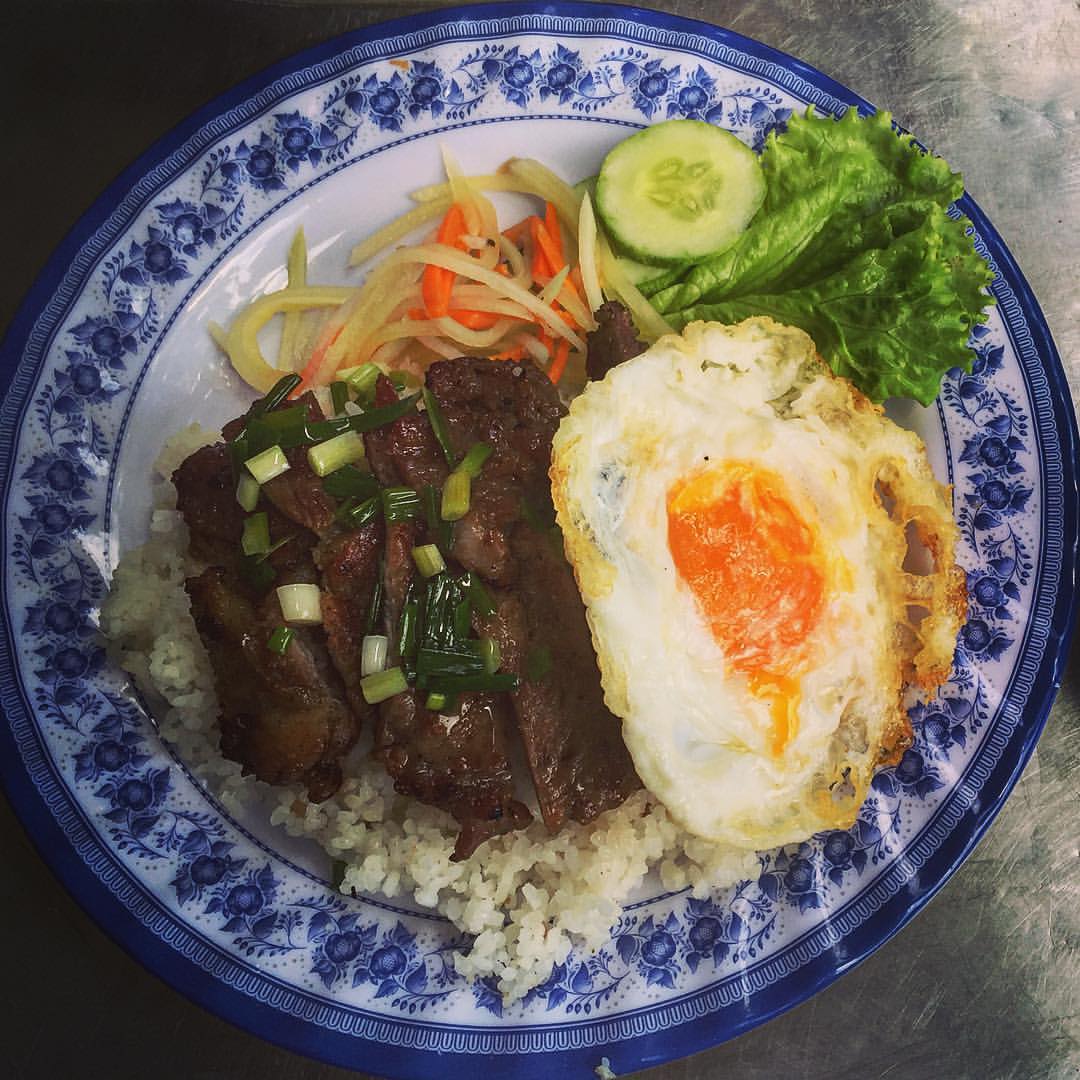 Fresh juice spots are my favourite ones!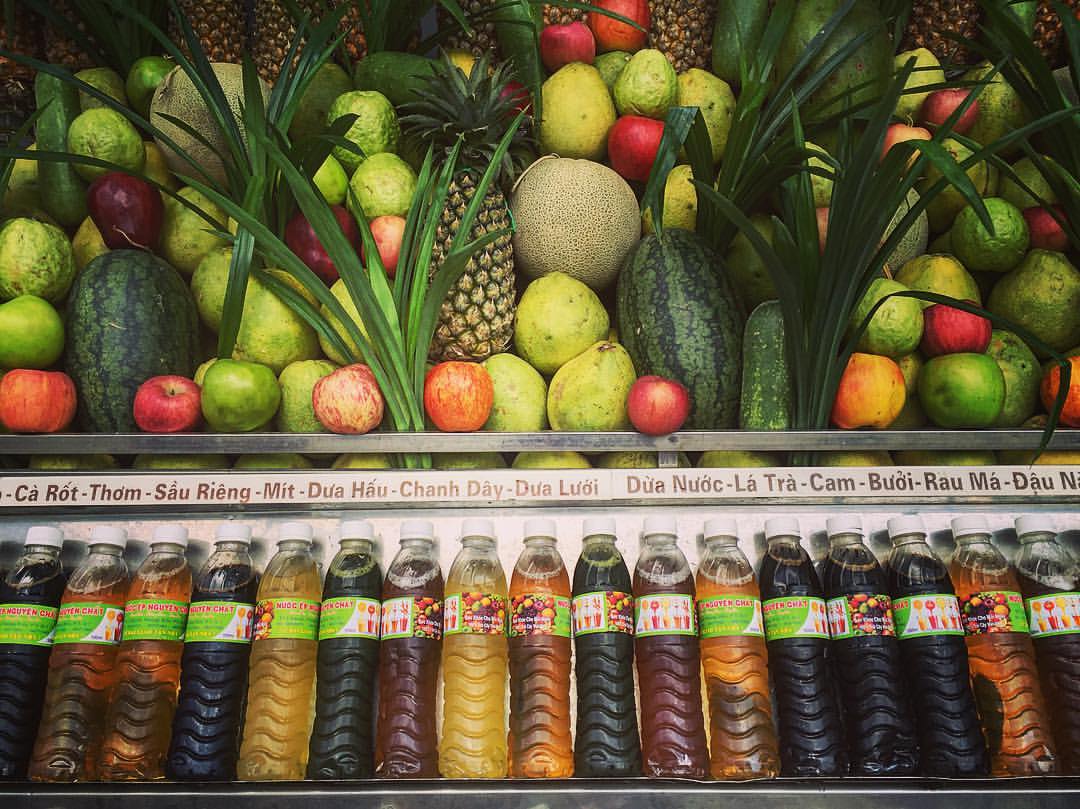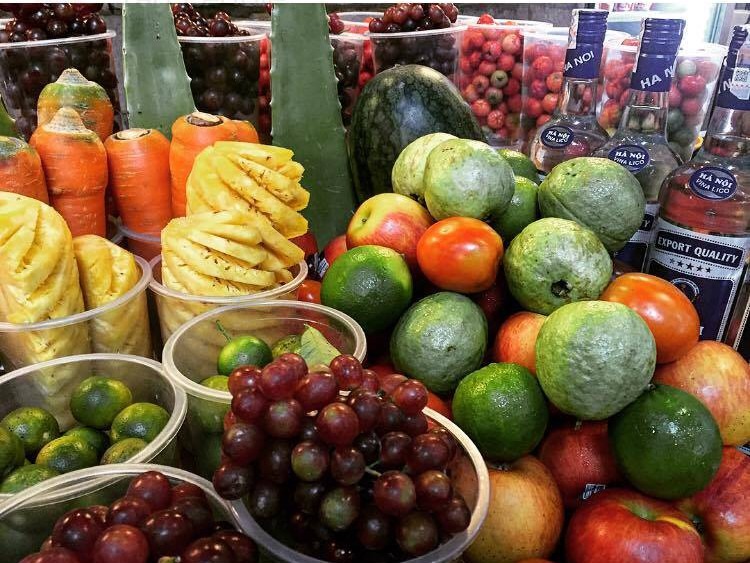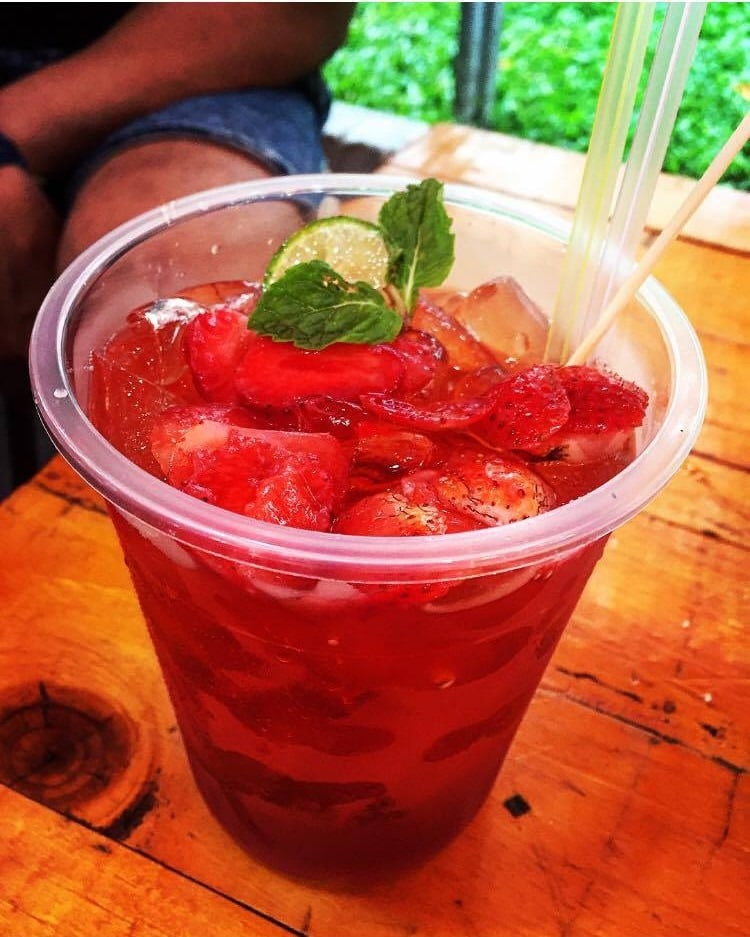 Typical Vietnamese beer and little eggs like a snack…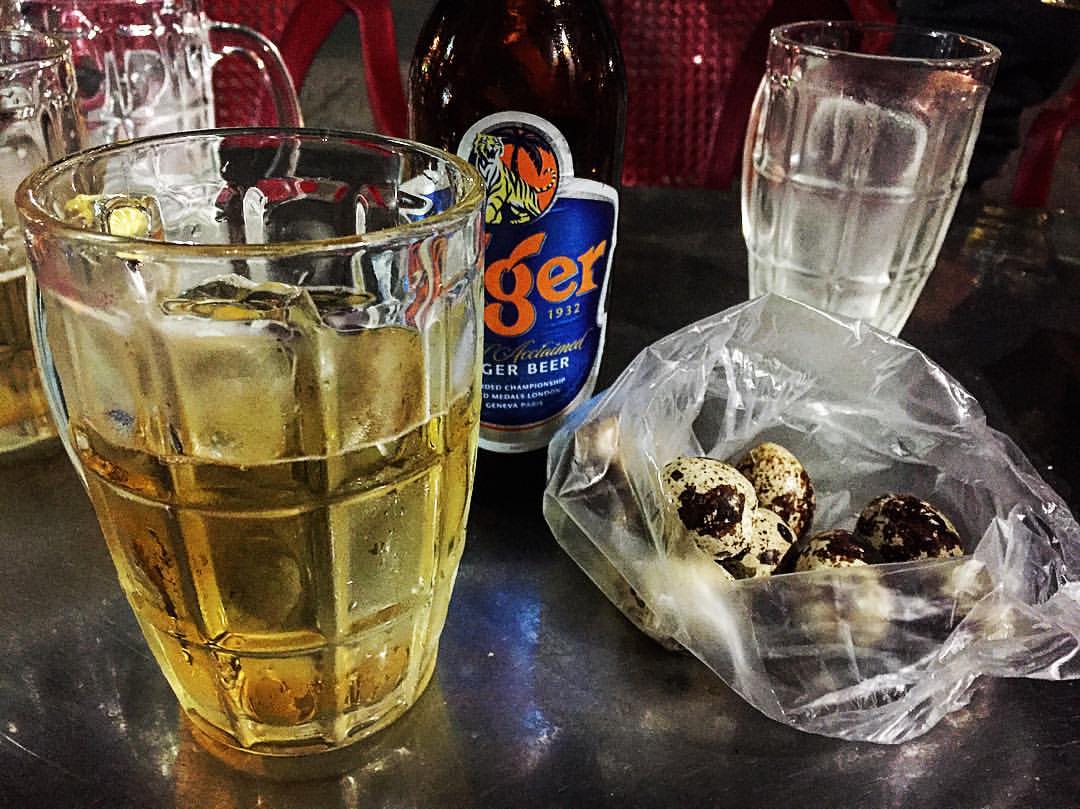 You can also really easily find Mc Donald's and KFC – meals with rice!
Restuarants
Hana Bbq & Hot Pot Buffet Pham Viet Chanh highly recommend for Hot Pot Buffet with seafood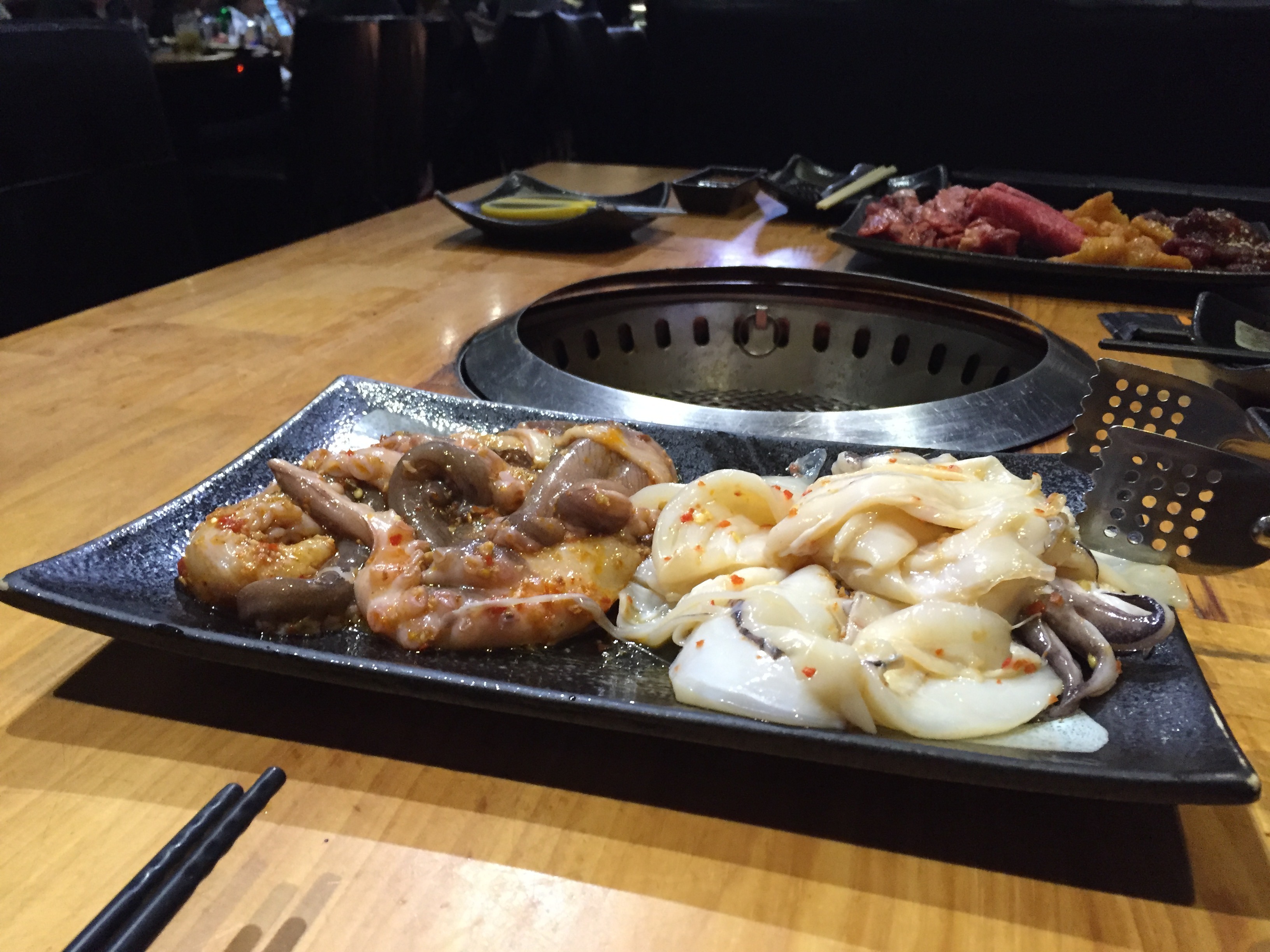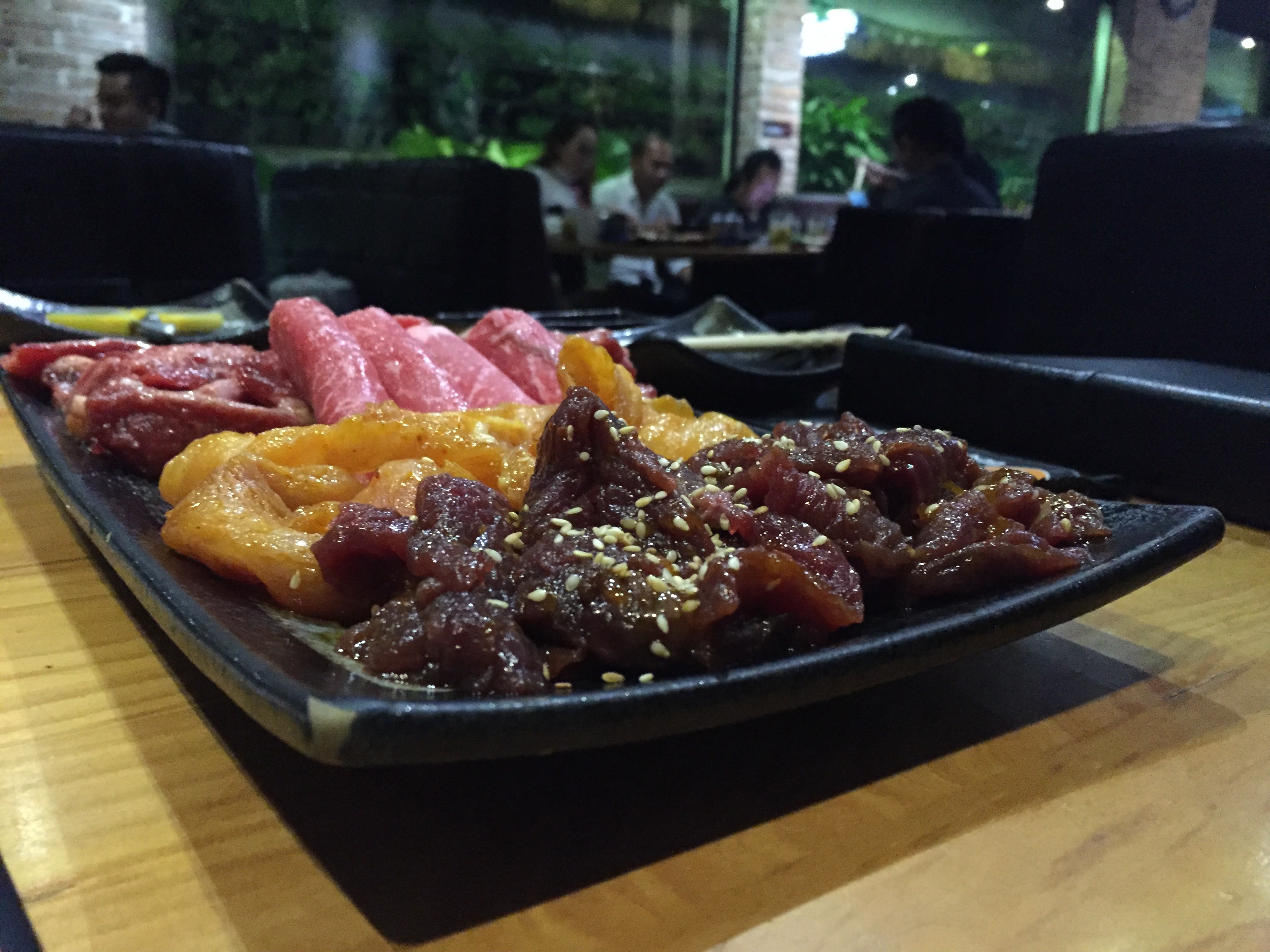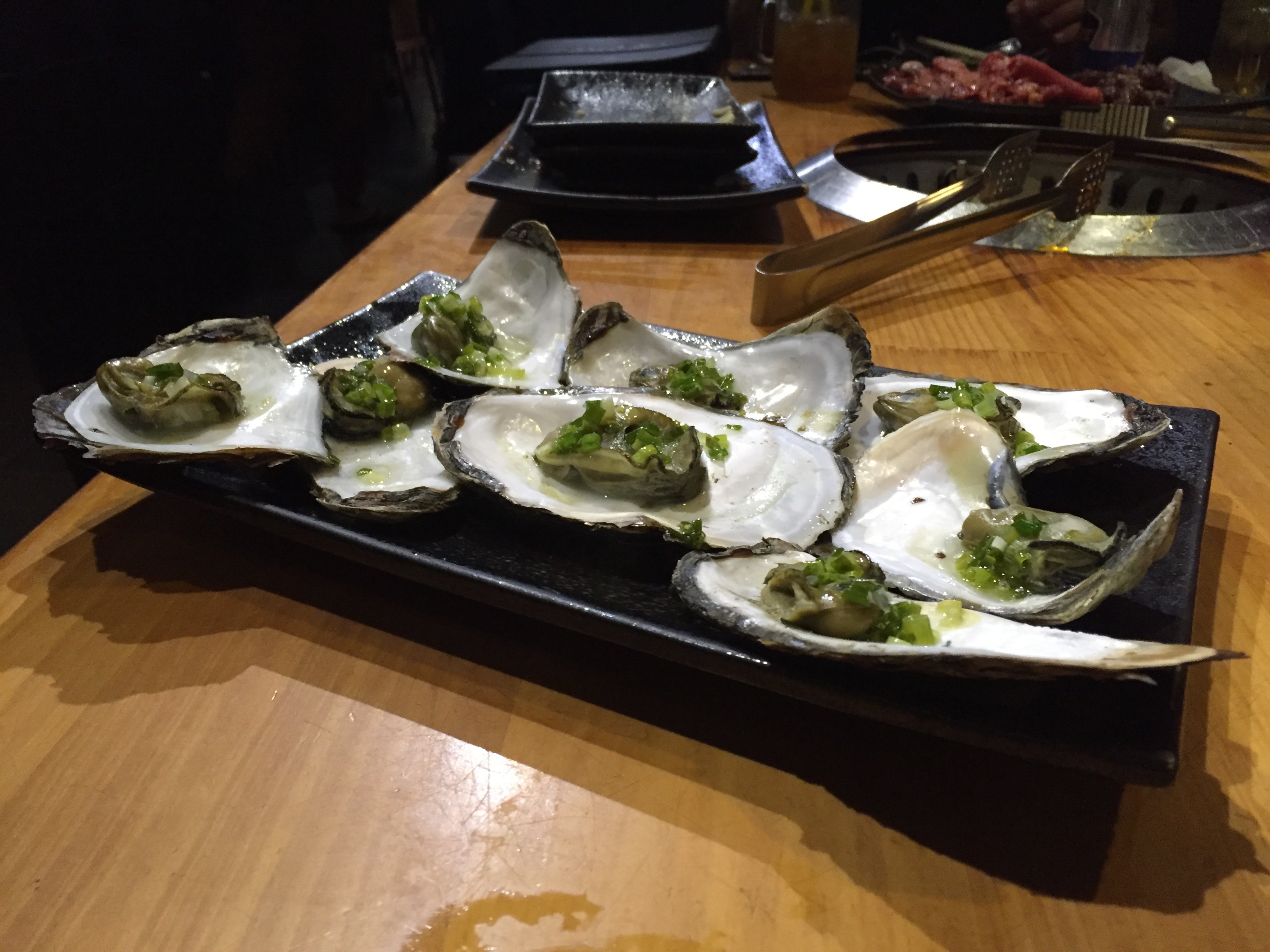 Sancho's Craft Beer + Mexican Kitchen for Mexican food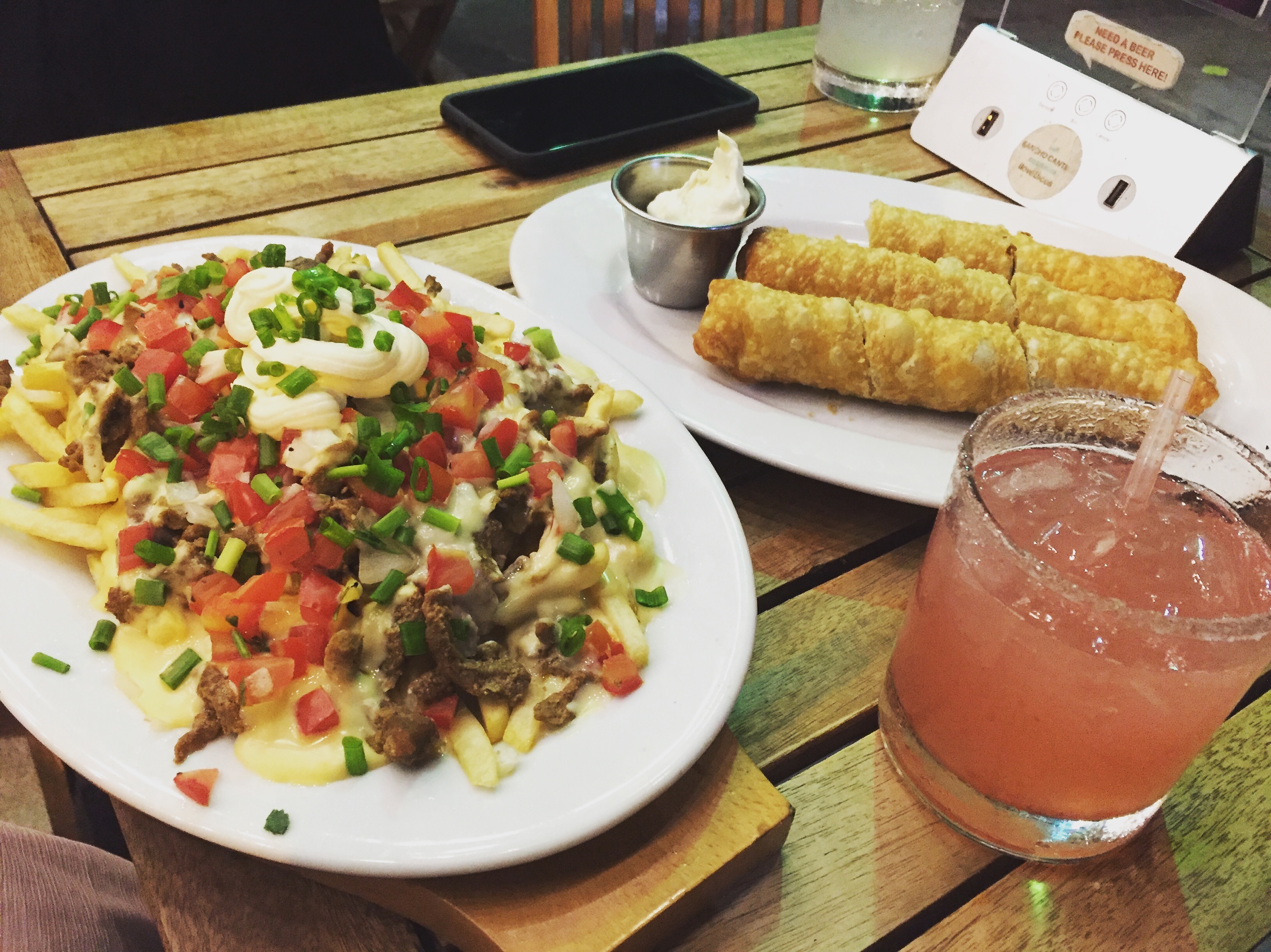 Mountain Retreat – vietnamese restaurant small restaurant with lovely view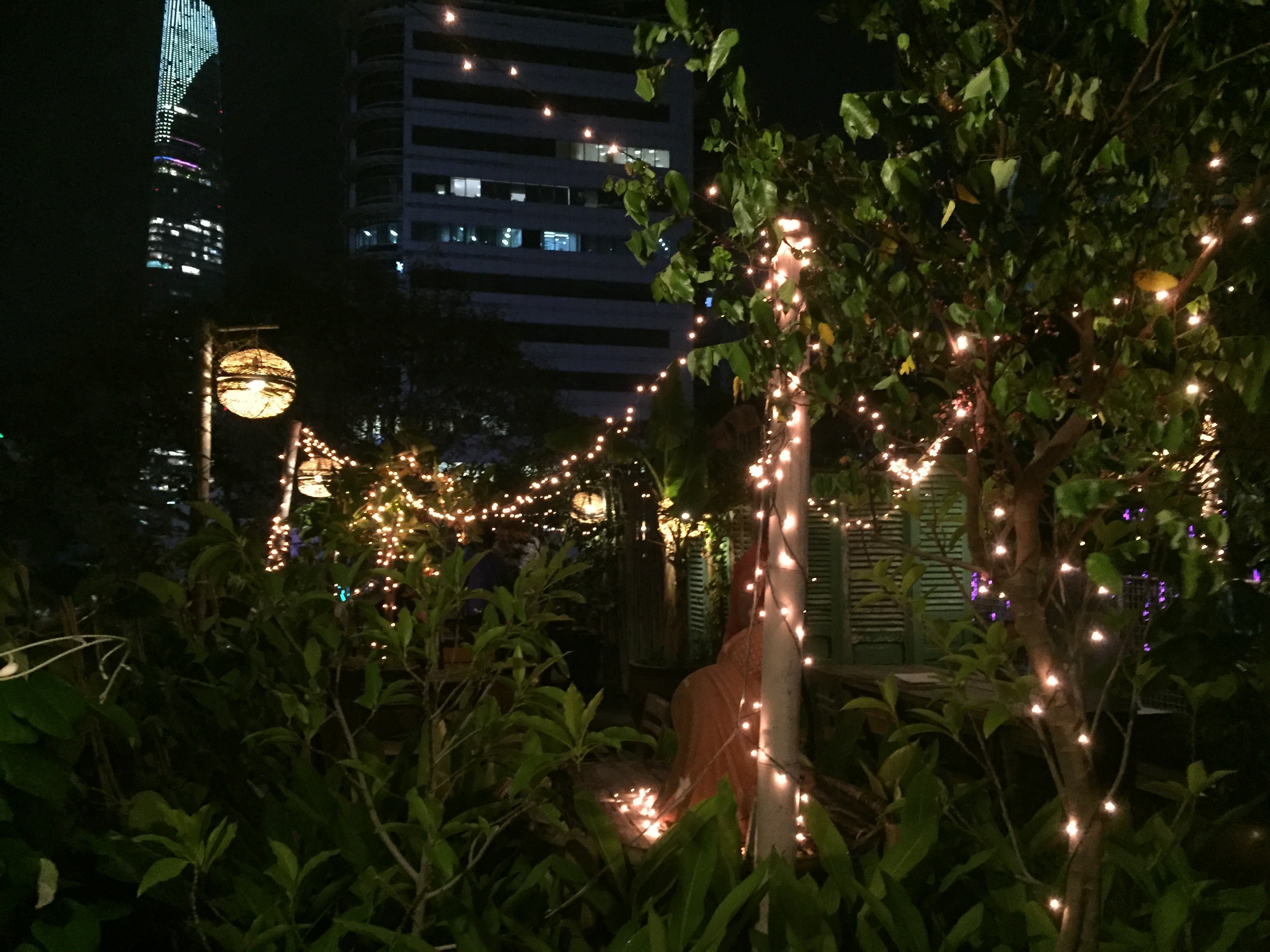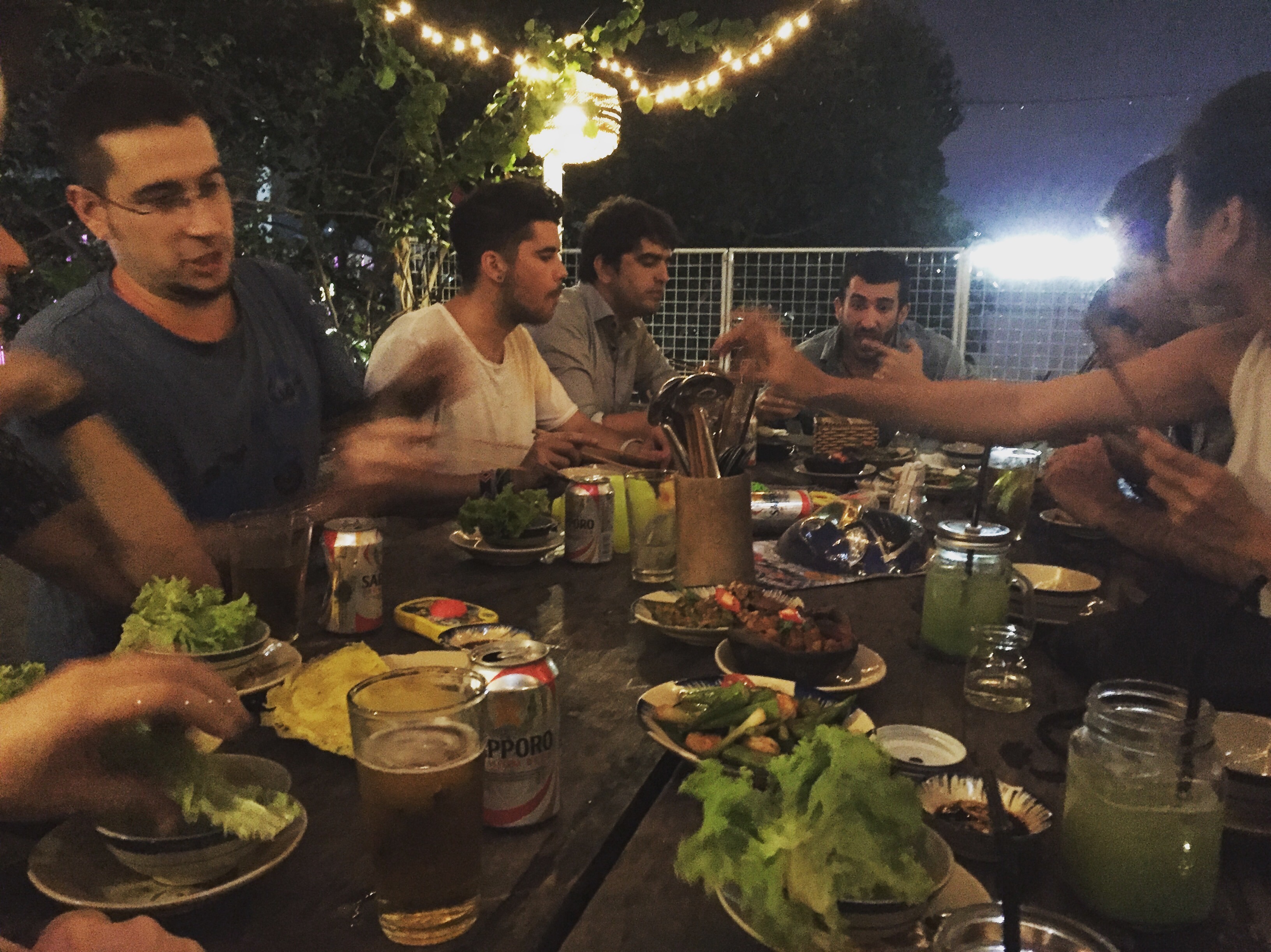 Rico Taco Mexican restaurant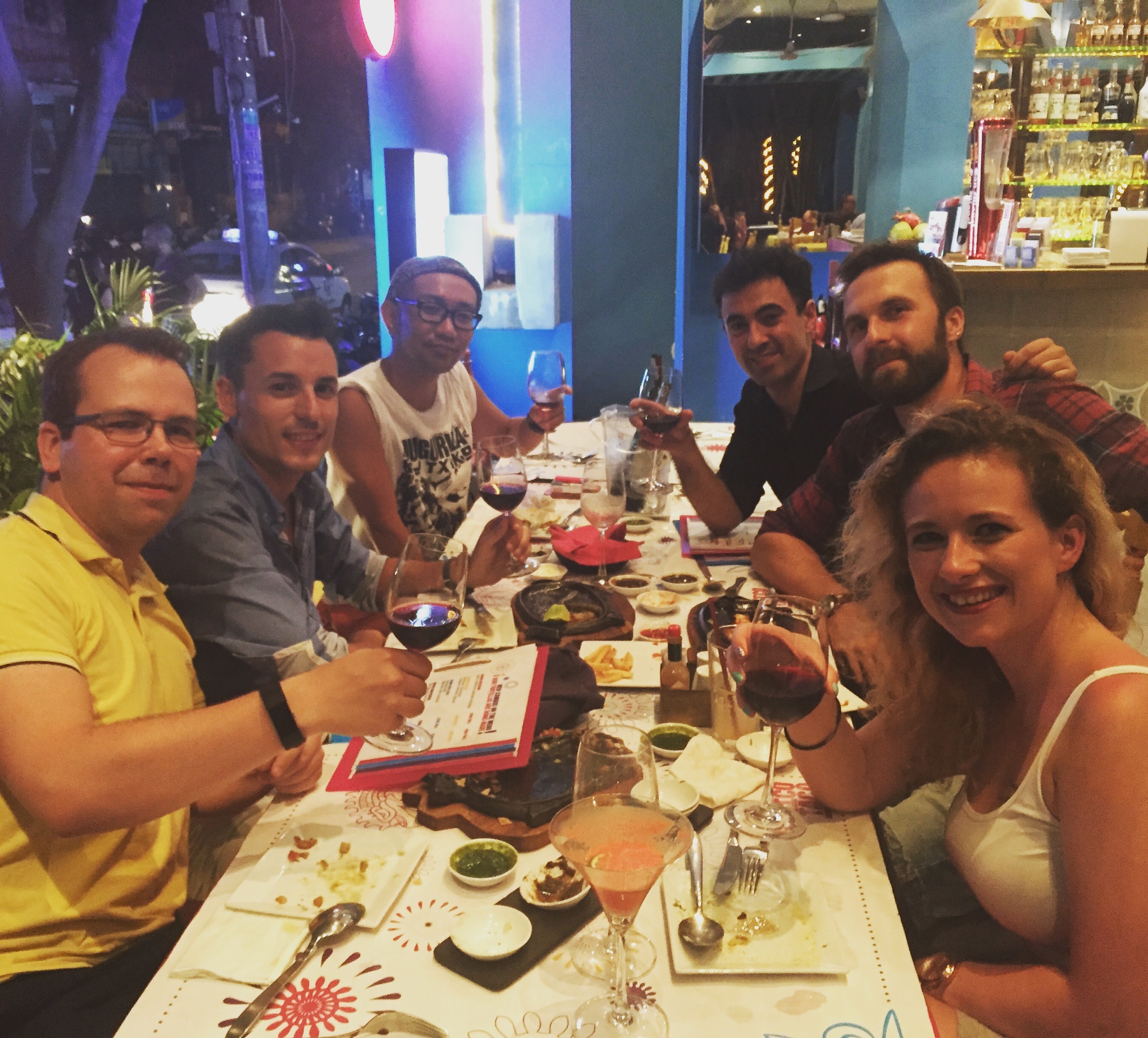 Ben Thanh – Street Food Market – 26 Thu Khoa Huan Q1 Food Market with different cousins, full of tourists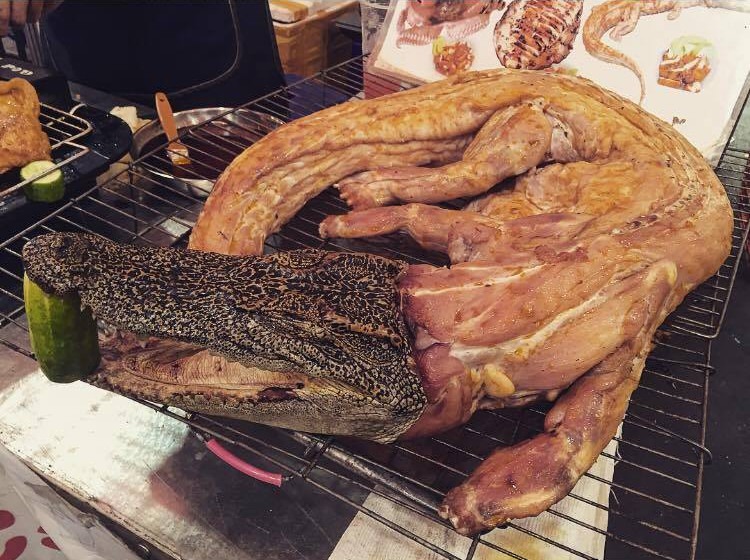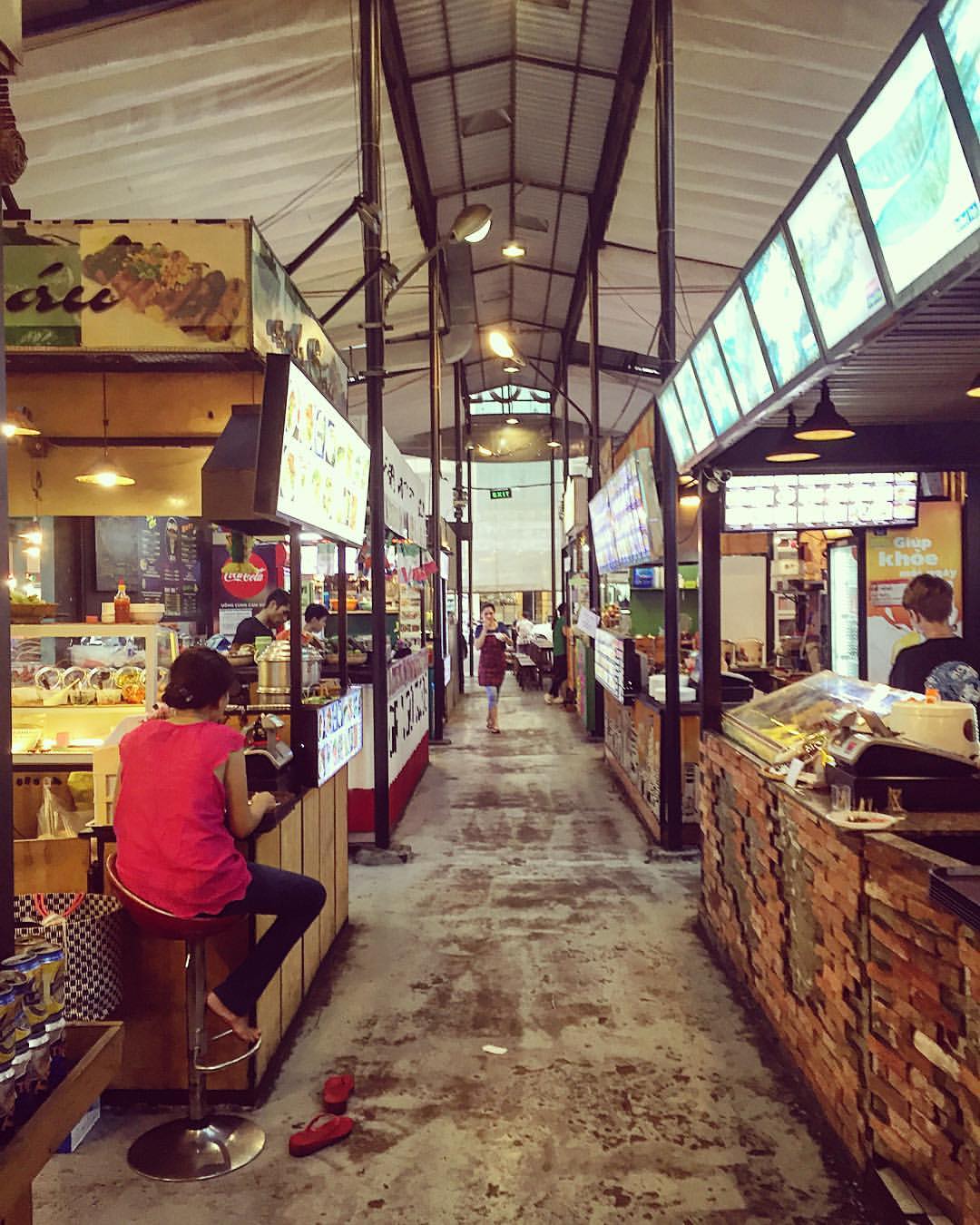 More informations about food and some more pictures you can find in my next blog post about working in Vietnam.
Night life
I am lucky enough to work with some Spanish people. The community of Spanish people is huge over here. Let me recommend some of the places where I have been taken:
Oneplus Rooftop Beer Club club with amazing view over the city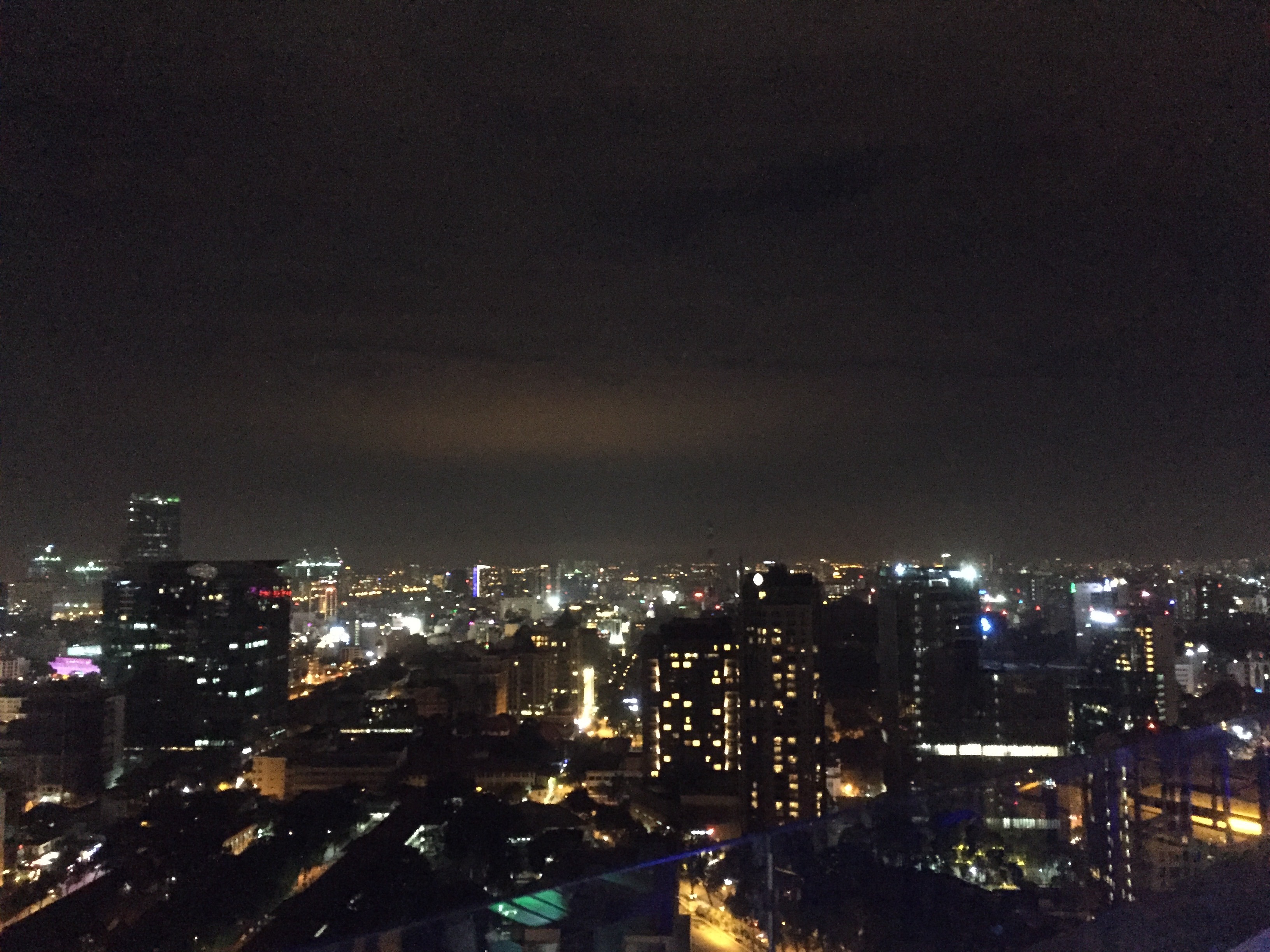 Spark Nightclub night club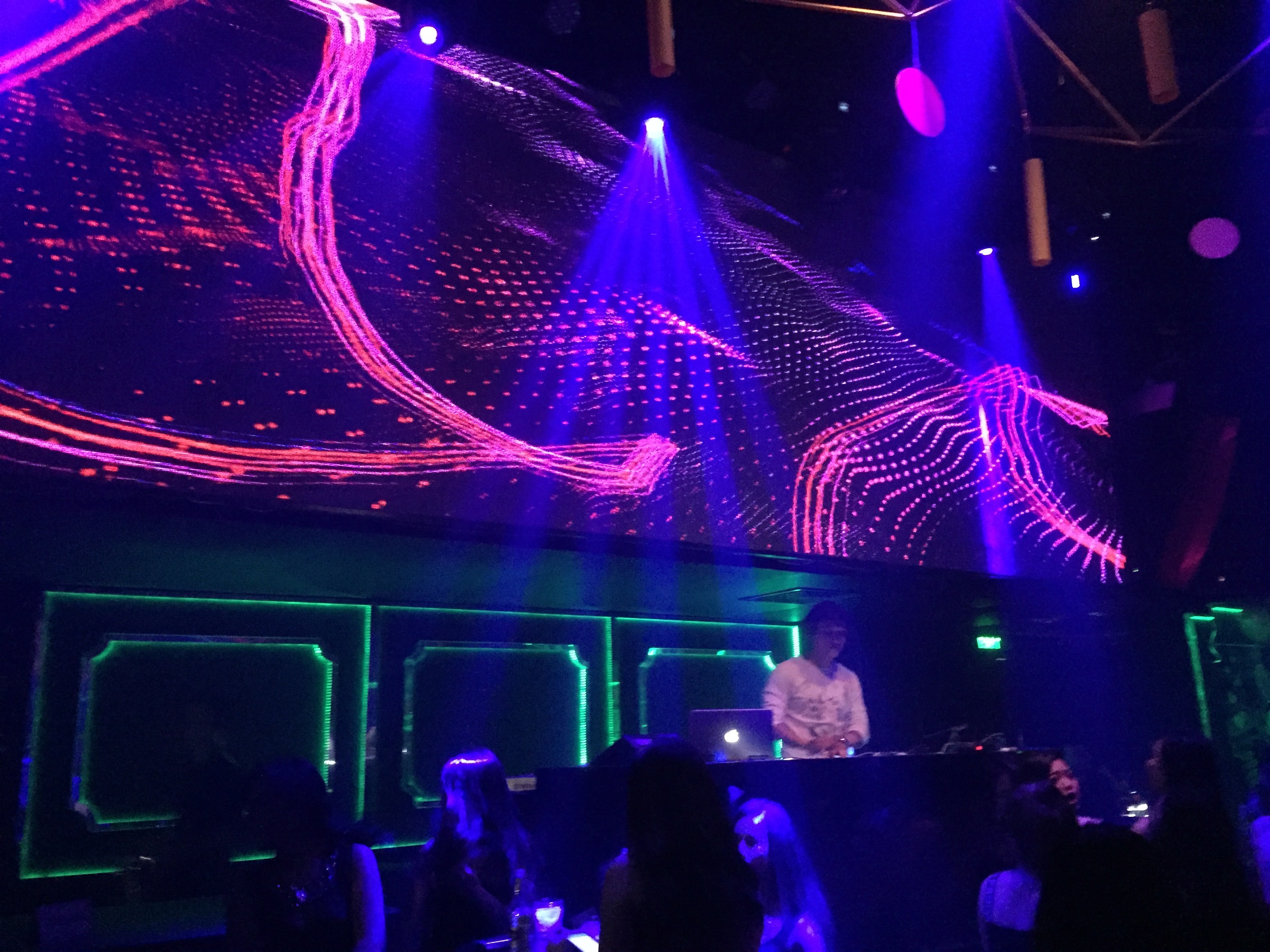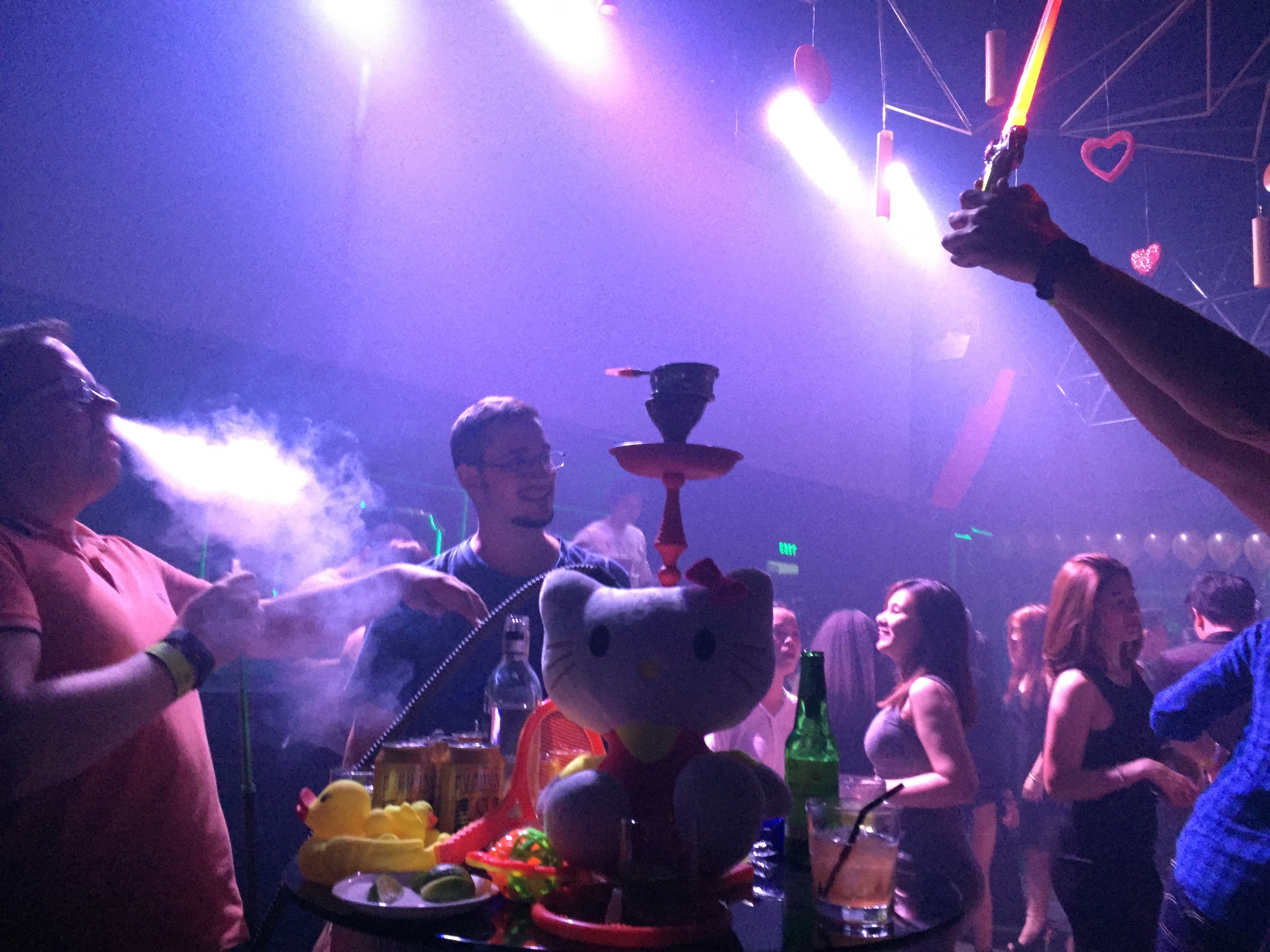 Layla – Eatery & Bar cosy bar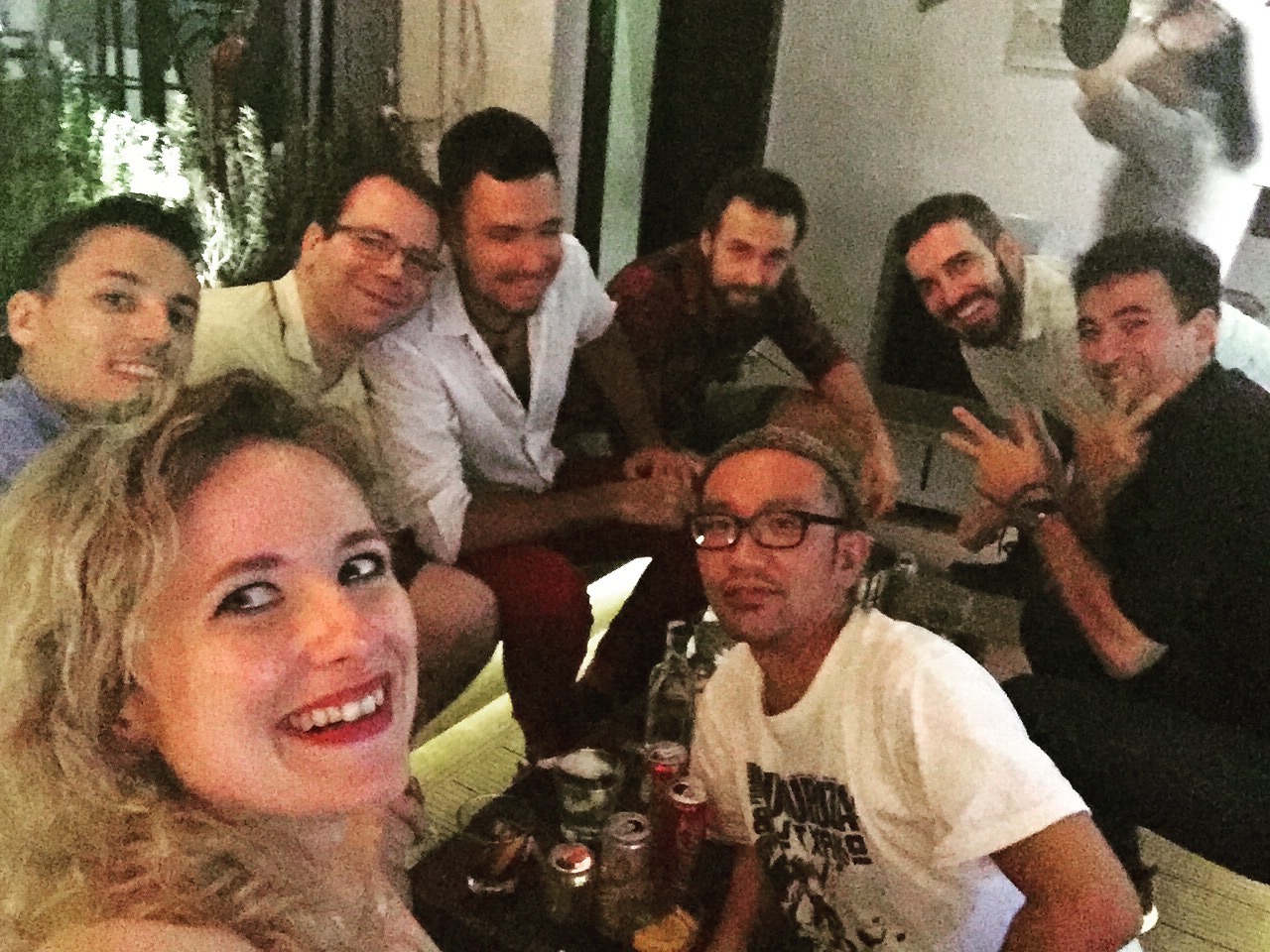 Saigon Opera House spot to meet all Spanish expats and drink with them a lot of alcohol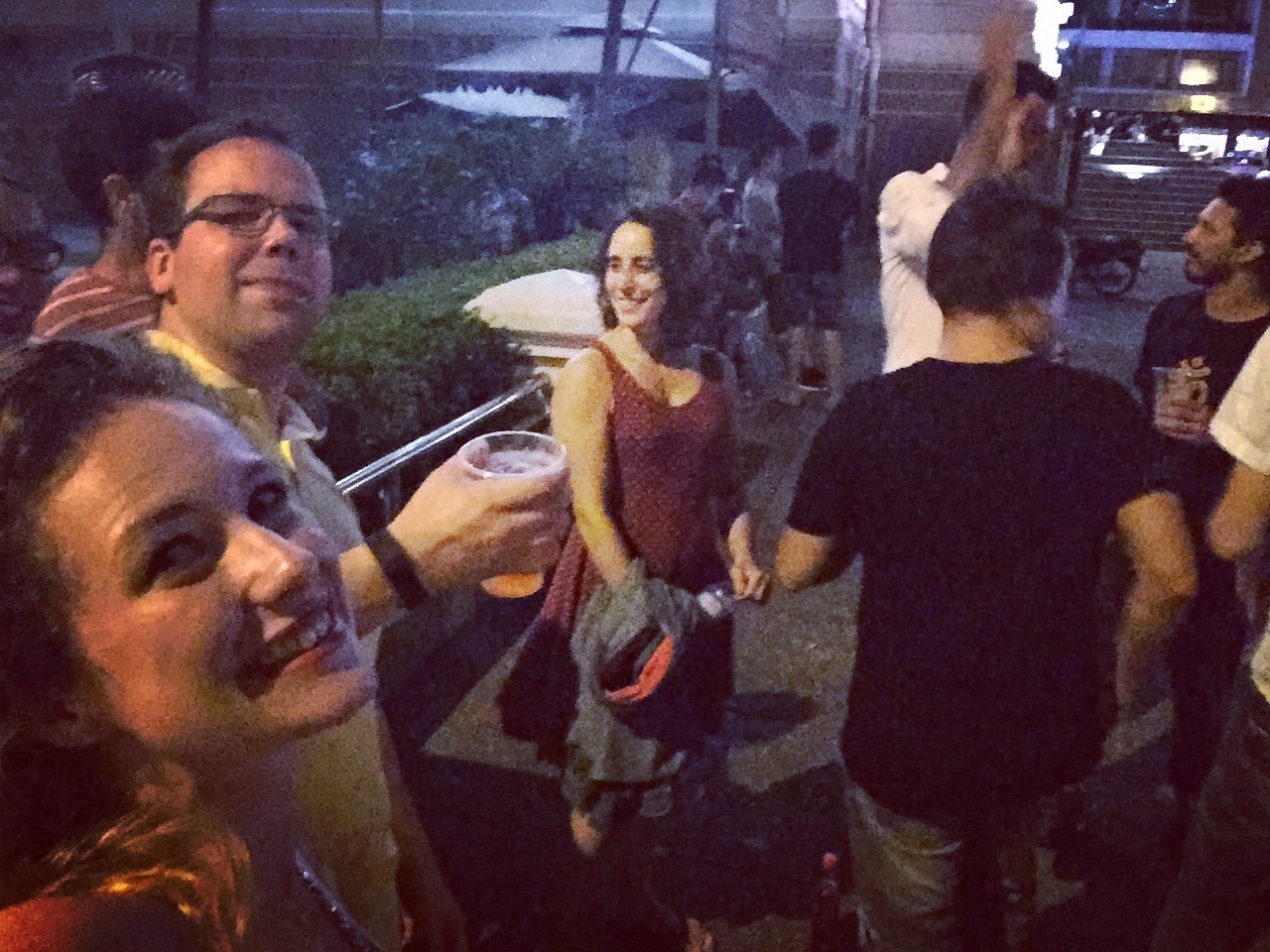 Lush Saigon night club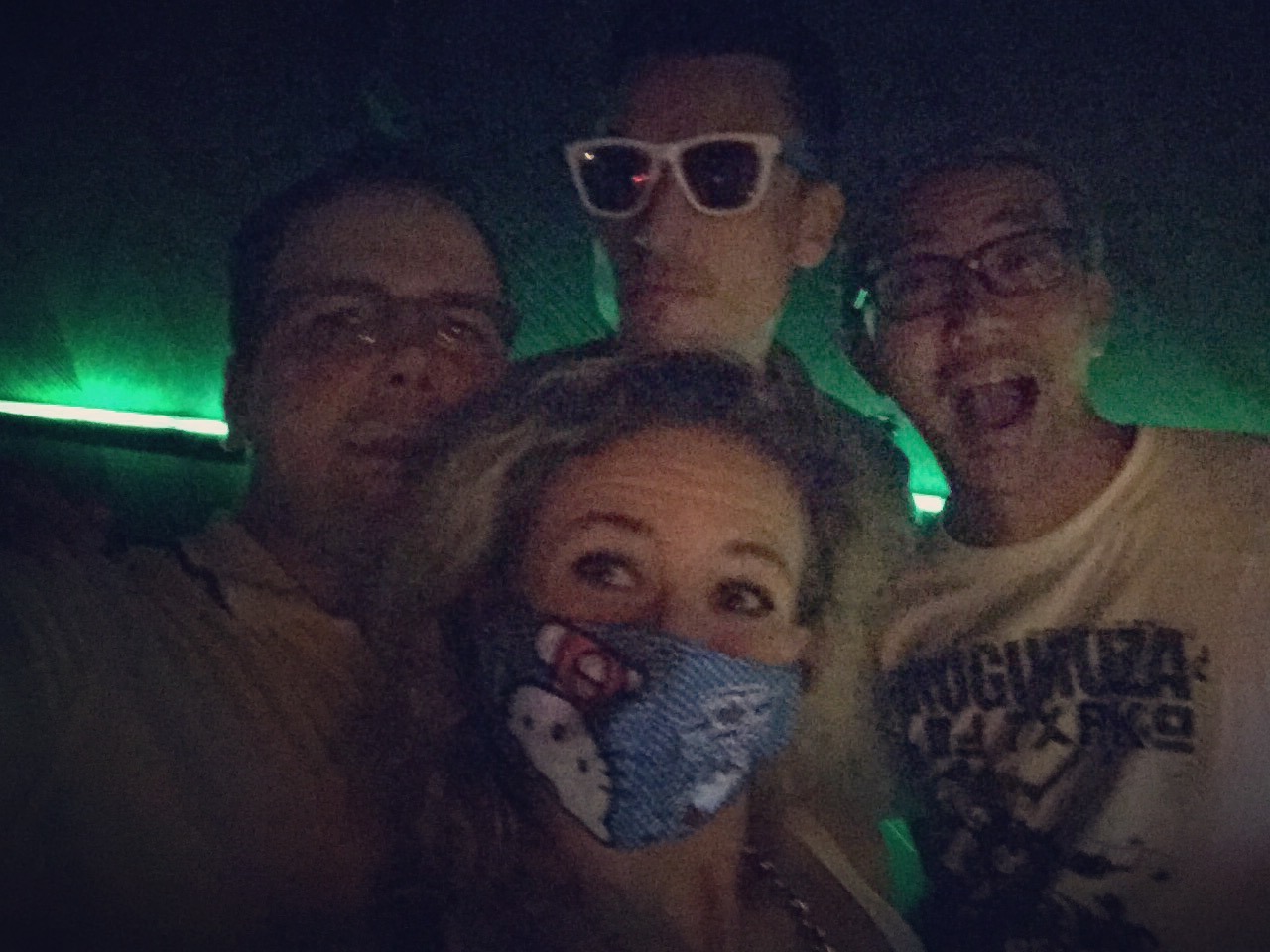 Envy Club night club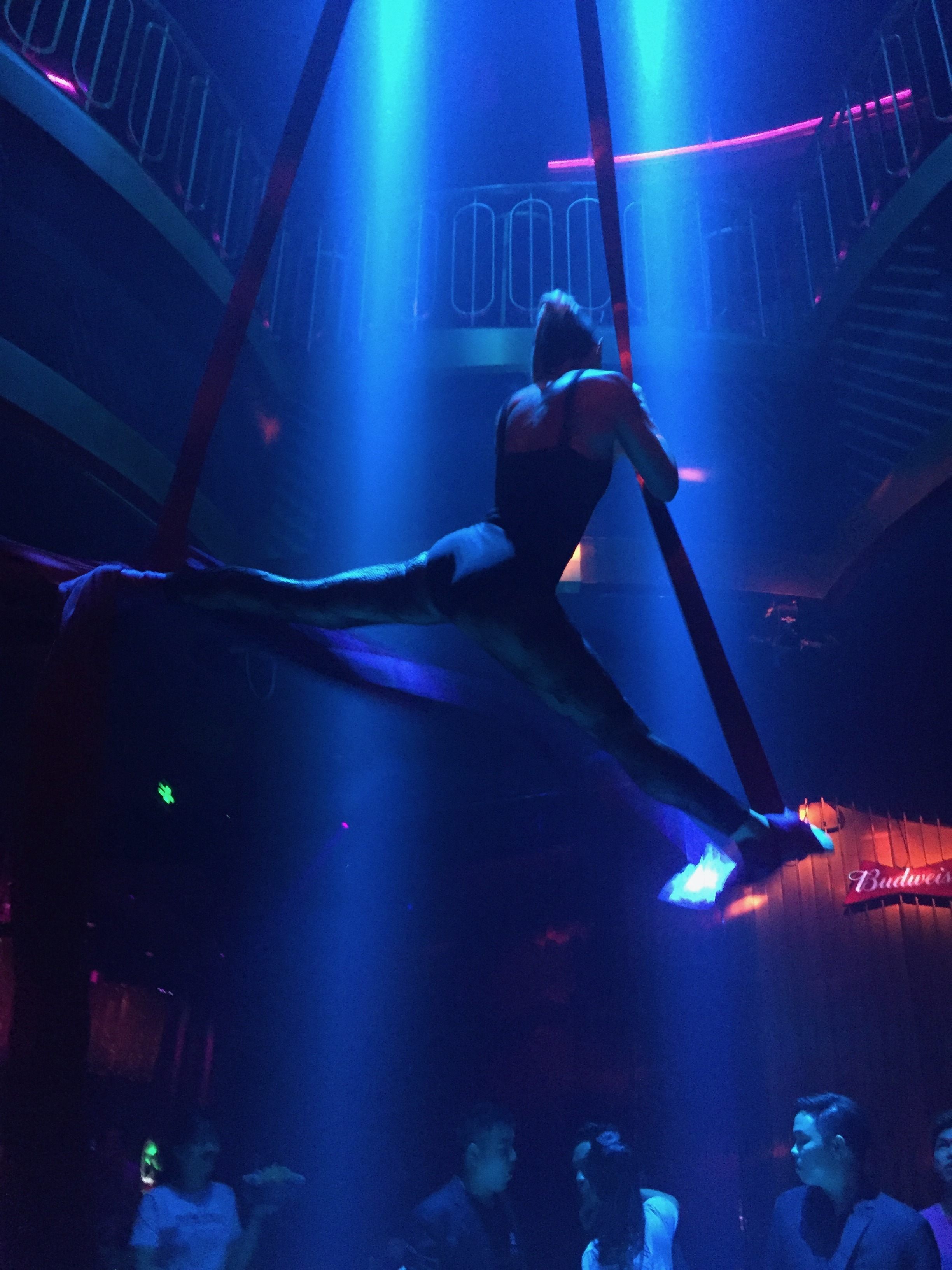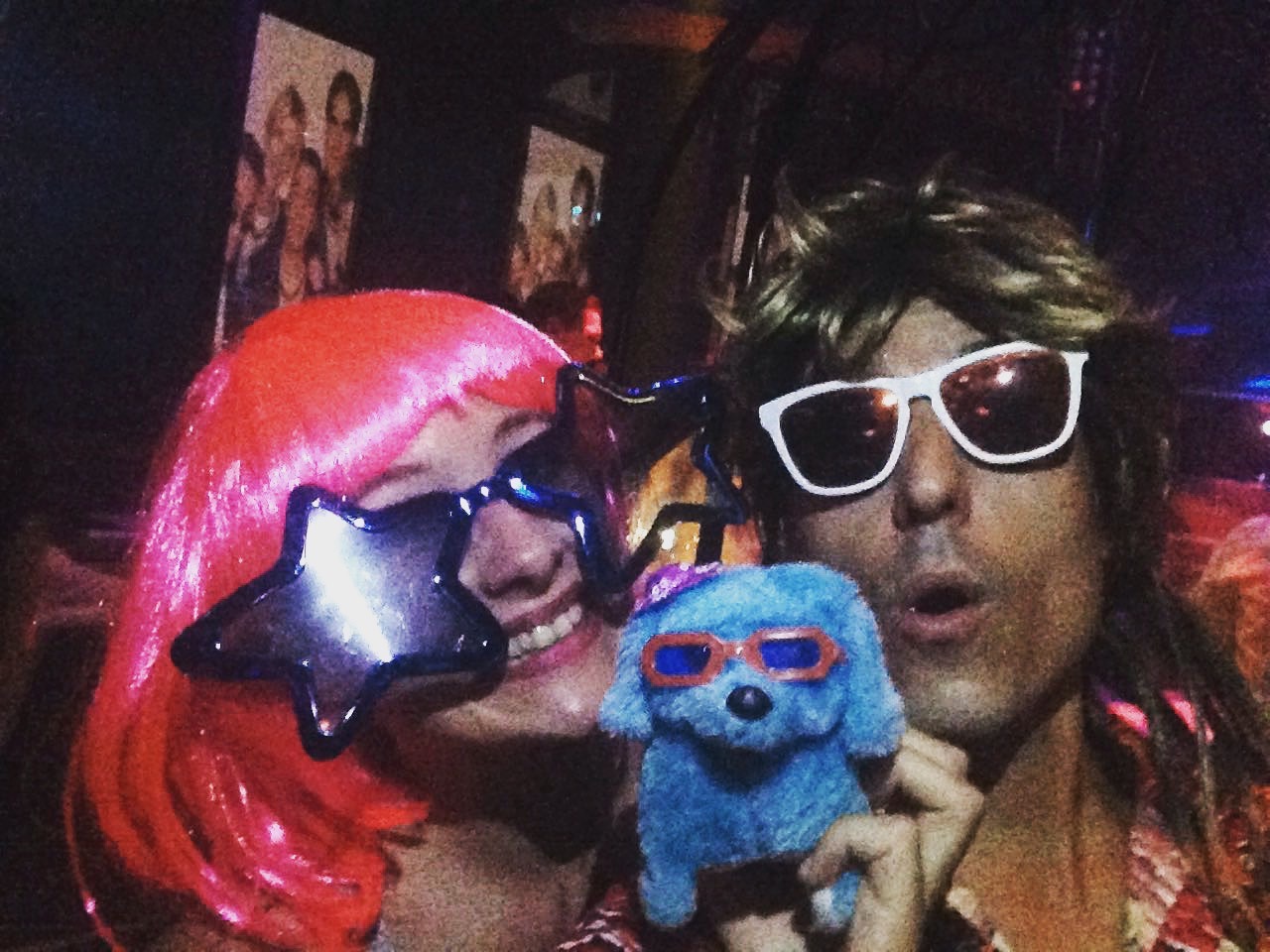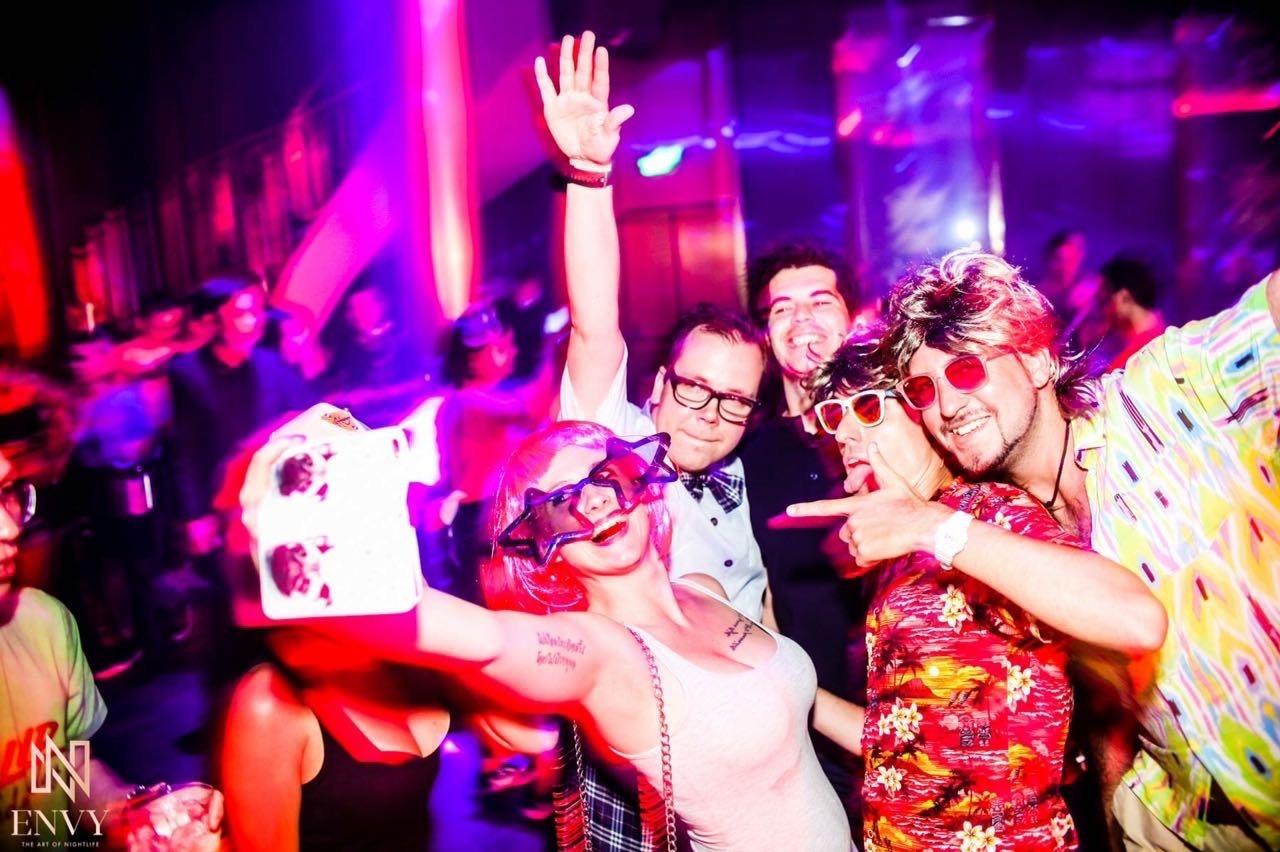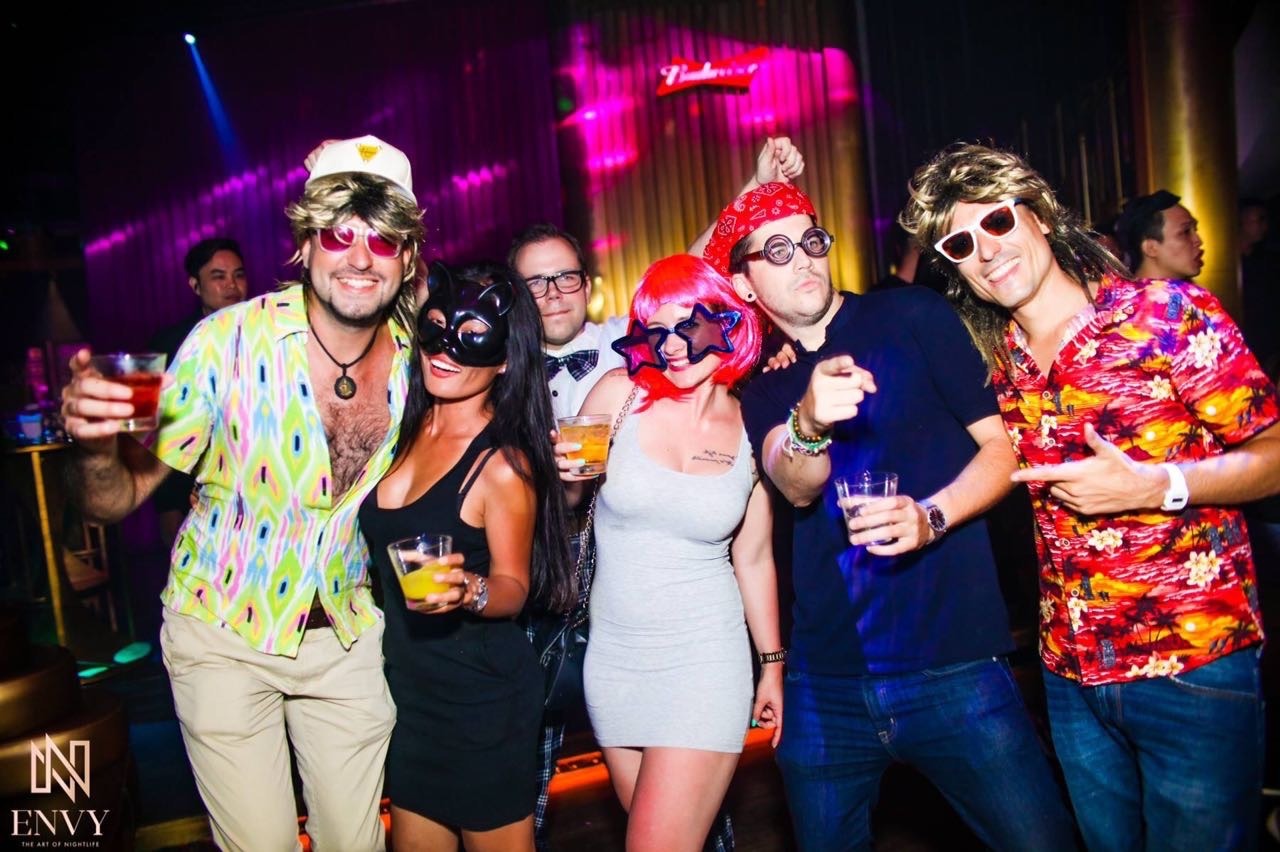 As you can see – take some costumes to look fancy!
Coming back from party?
Motorbike! There is no rules. You don't need to have helmet. You don't need to have drive license.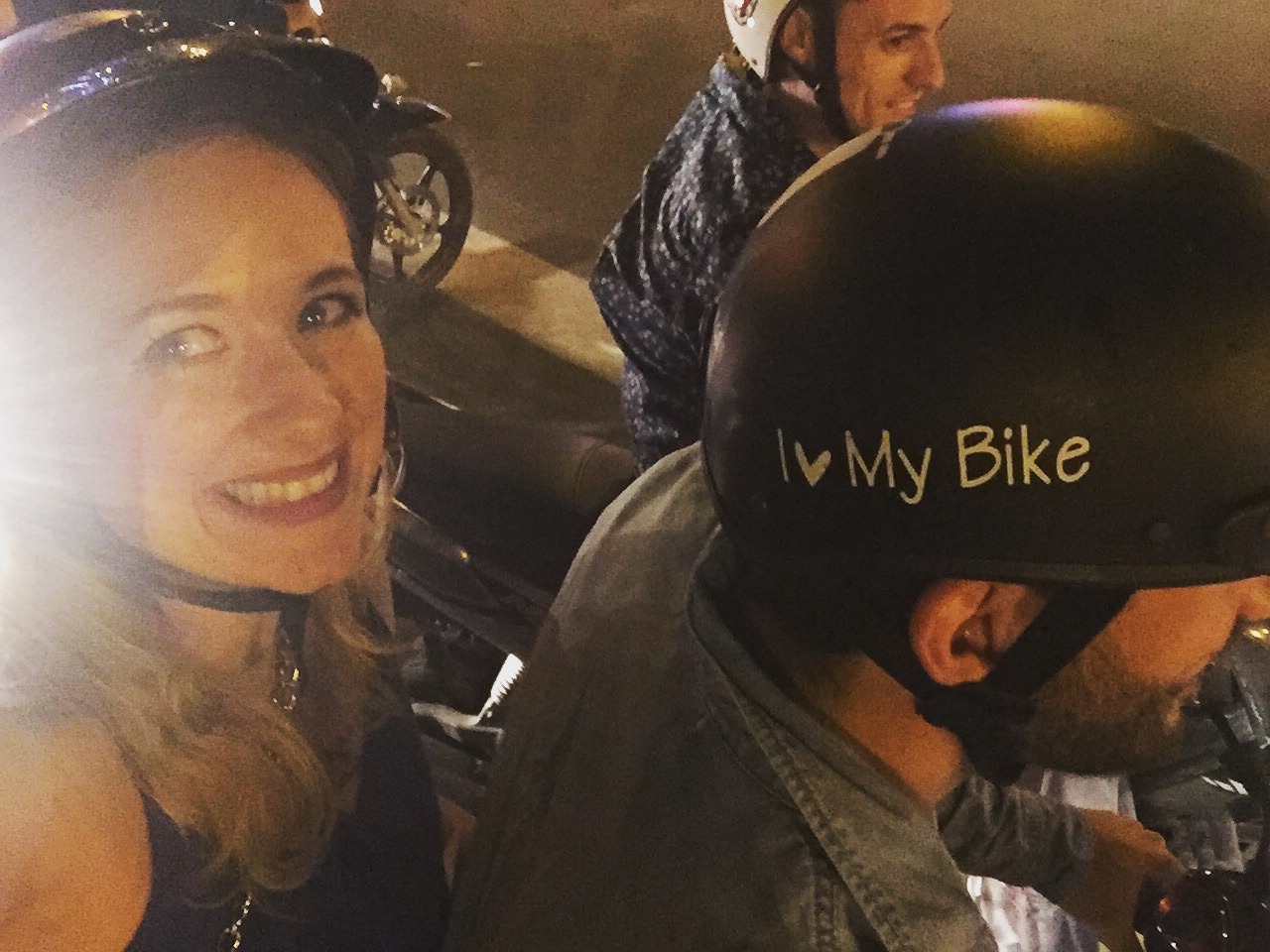 Where to eat after party?
There is little spot at Com Tam Ha with amazing BBQ meat, rice and fried egg.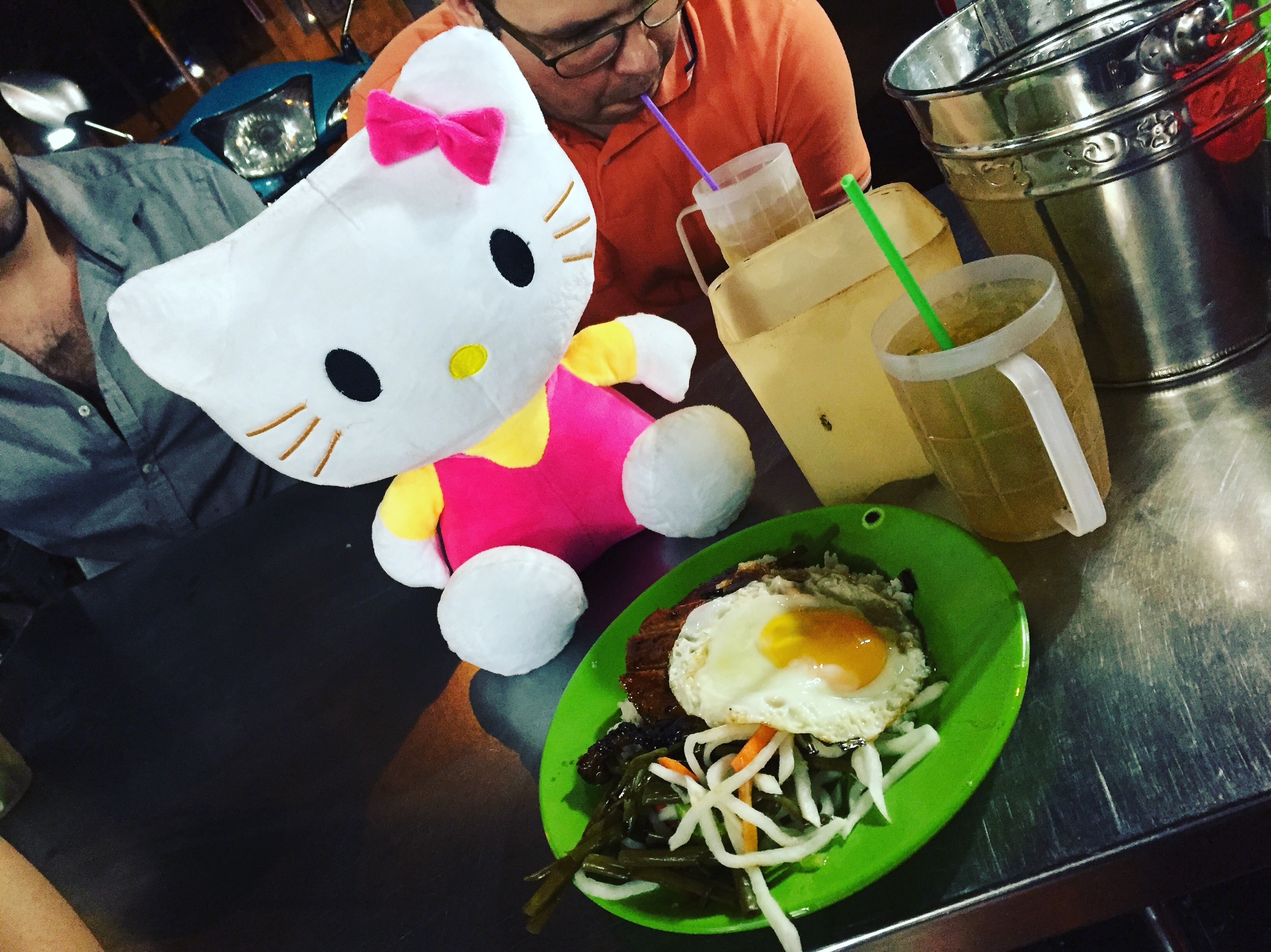 Are you wondering why Hello Kitty follow us? That's the good question, I kept asking myself the same…
Culture and locals
Nails and SPA
There is so many massage places. Only 200k dongs (£7) for full body massage, highly recommend to use their services, just walk on the street and you will see millions of them.
As a woman I found great place for my nails. I can highly recommend EM Nails & Beauty, only 275k dongs for shellac.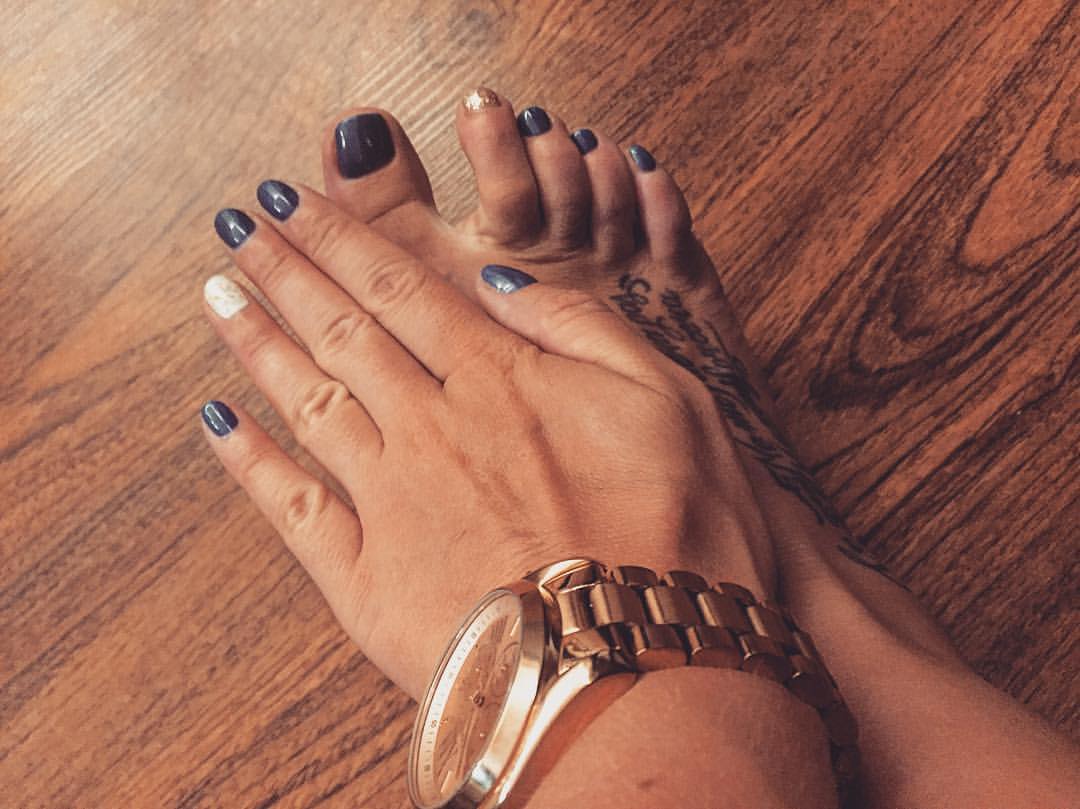 Keep your phone next to you
You have to know that locals are really friendly. Walking around street is safe and I have never felt uncomfortable. The only one thing which you have to remember about is to keep your bag next to your body and keep eyes on your phone. It is really easily to get robbed. Usually when you check your phone and walking without attention, locals on motorbikes can easily grab your phone and take it away. It is only thing which you should think about.
Only cash
Remember, only cash. Wherever you are going, have cash with you. You cannot pay by card anywhere. There is so many ATM everywhere so you can easily get your cash. For exchanging money I recommend this place Vietnam-Eximbank No.59. They don't give receipt so count your money before leaving.
Monkey in zoo
Sometimes you can feel like monkey in zoo because there is not so many white European people living here. No worries! Just used to it. It is nothing bad, you just get some attention 🙂
Communication
Most of Vietnamese people don't speak English, however some of them can still communicate with basic English. To be honest, I don't have hard time here, for some reason, I think I used to it. Body language, really basic English, written direction and everything works out. Remember, people over here are really really friendly, they will always find a way to help you.
Crossing the road…
It sounds funny, right? But it is a huge problem for foreigners. As I mentioned earlier, the traffic is horrible in HoChiMinhCity, so many motorbikes driving without any rules. How to cross the road? Just walk! Don't be scared, don't run. Just walk and they will pass you, no worries 🙂
It is just beginning…
Now, grab a cup of coffee and take a look at some random shots from Vietnam. You can also follow me on Instagram where you can see more recent pictures.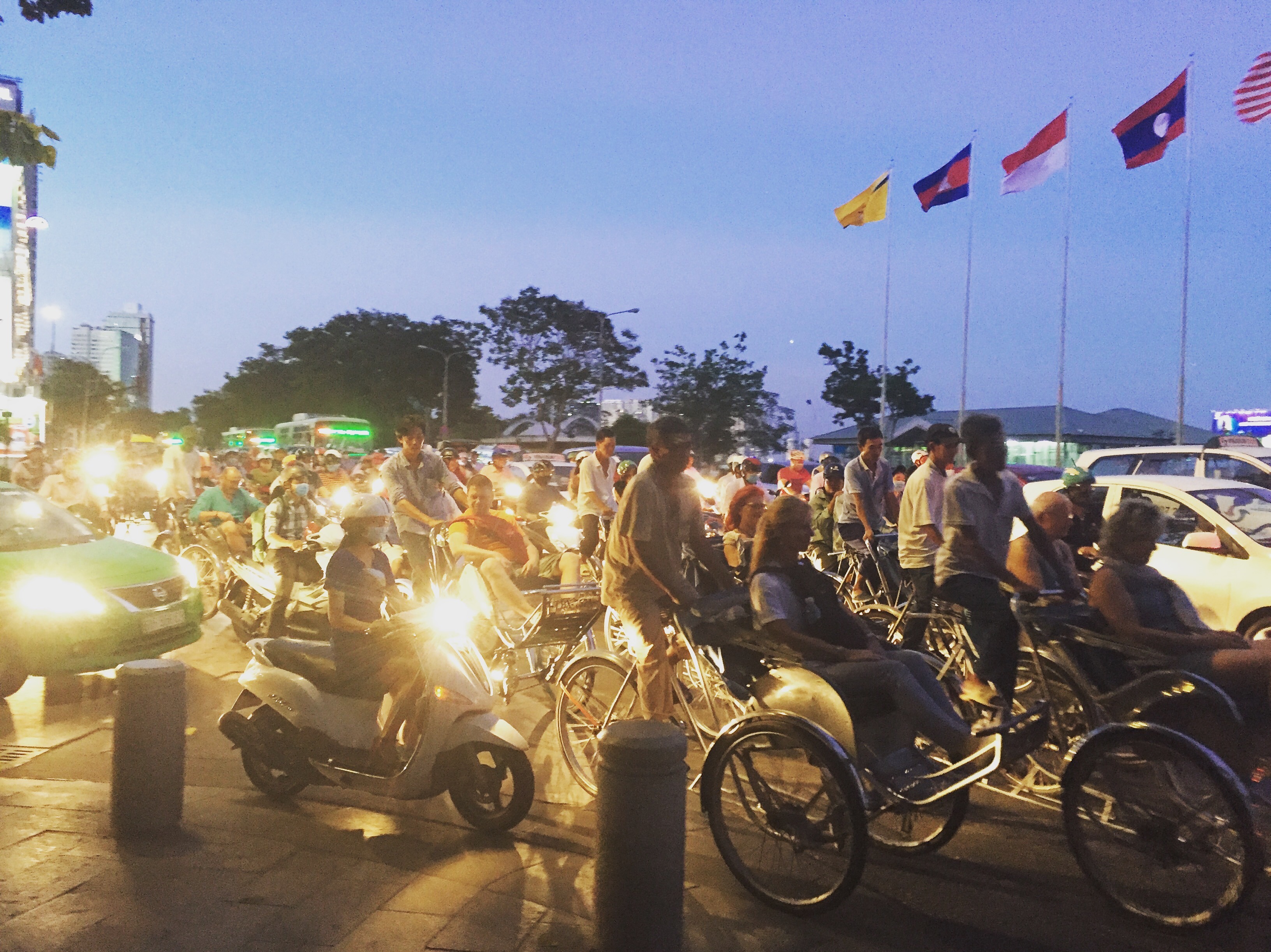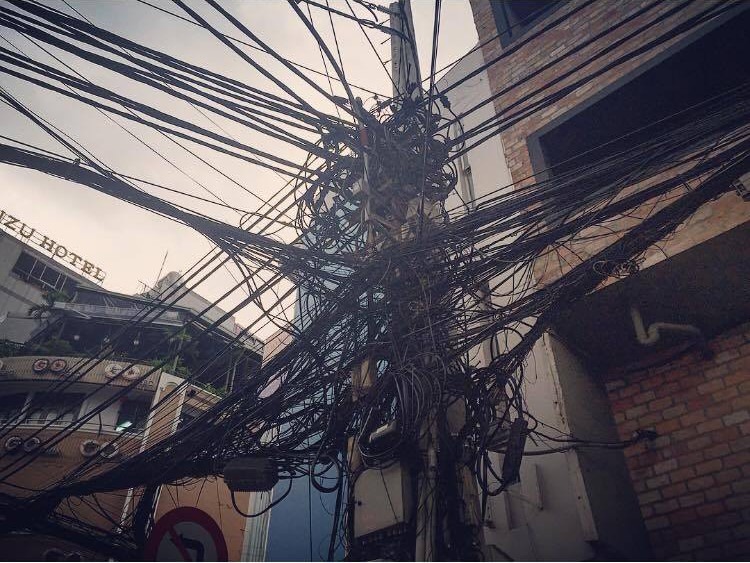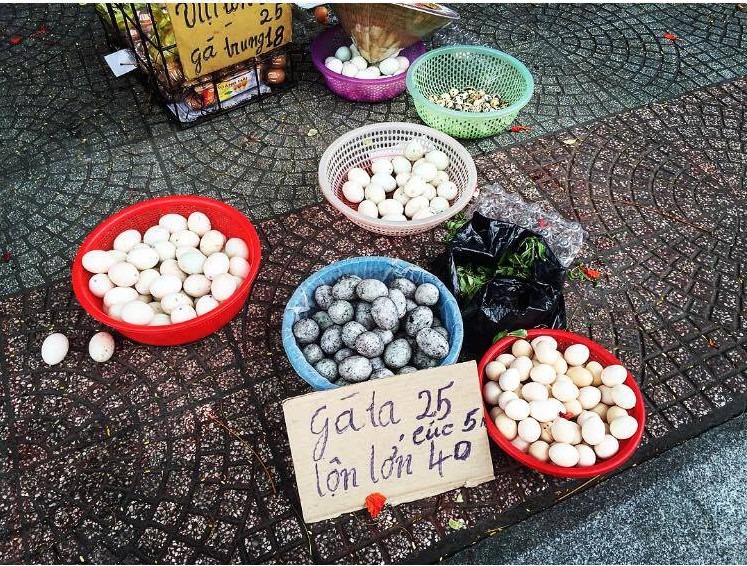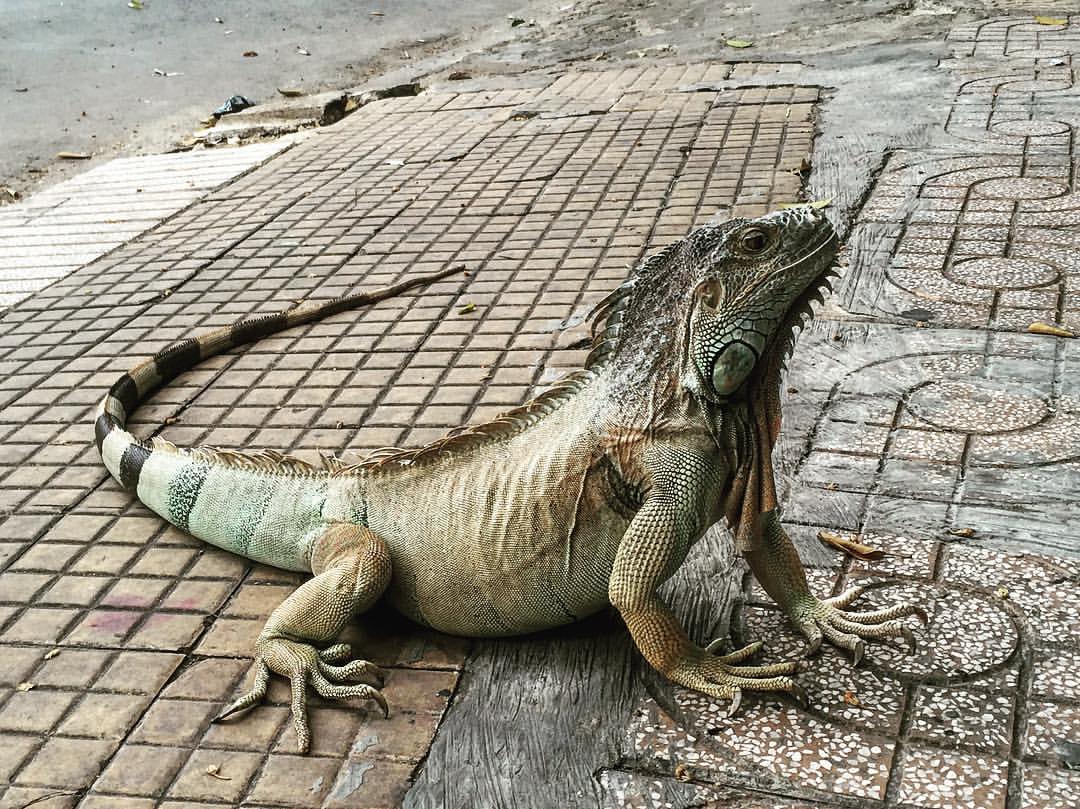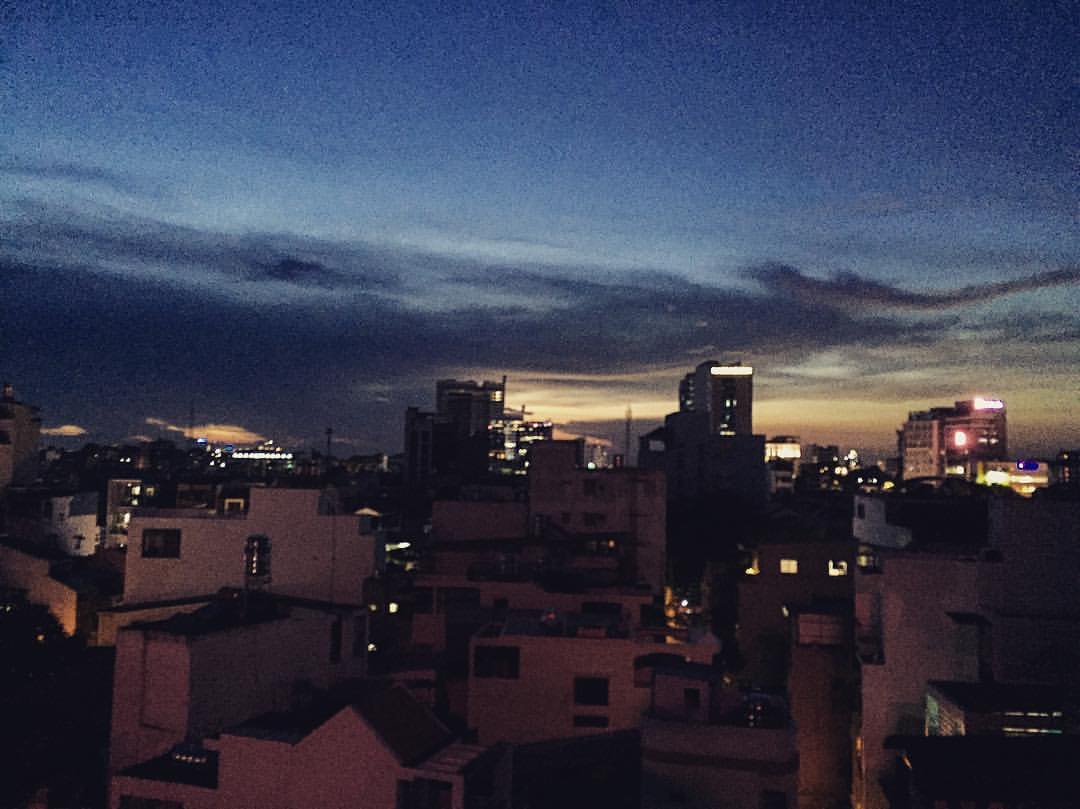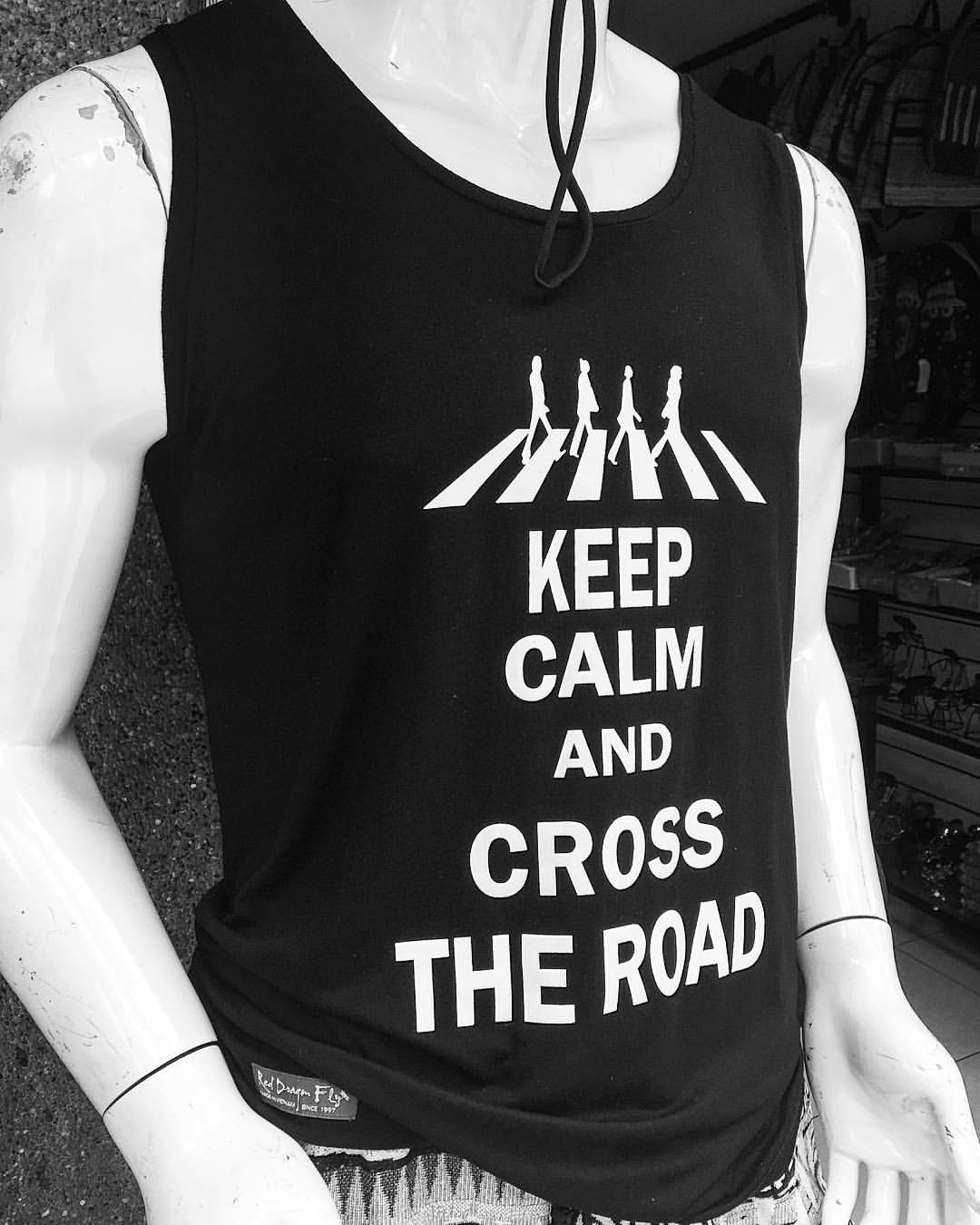 I hope these informations are useful for you. Feel free contact me, comment and share your feedback. I would be more than happy if you can give me your opinion if you found this blog post helpful.
KEEP CALM AND CROSS THE ROAD!
It is just beginning of my adventure here. Follow my blog and learn more about Vietnam.
Zaneta loves challenges so deciding about career path she has chosen typical male industry. Woman who codes. Every 1-2 years she lives in different part of the world. Gym dates is something what she specialised in. Healthy lifestyle, extreme sports and motorbikes have stolen her hear years ago.