5
MIN READ
In one of the previous posts I explained that living in one of the most beautiful countries in the world is not as great as you would expect. But today I would like to show the Philippines from a different perspective. I would like to show you what I love about this country. How the Philippines made my life much more calmer and enjoyable, what I learn from Filipinos and what benefits you can get from living in Philippines – my TOP 10 things that I love in the Philippines!
What are TOP 10 things that I love in the Philippines?
I am really curious if you will guess what I love about the Philippines. Share with me in the comments!
1. Cheap seafood
Back in Poland, I remember how luxurious seafood seemed to be. Prawns, mussels, even fish were already expensive expenses. I think the first time I tried mussels was here, in the Philippines. You cannot imagine my happiness when I realised that 1kg of mussels or one big salmon costs only 100 pesos which is around 1.92 USD. Living on the thousand islands is just like dream came true. You can get all the health benefits from seafood just for a couple of dollars.
2. Street food markets
Oh my Gosh. A full meal for two, for just 150 pesos, which is around 2.88 USD. At first, it looks really weird. You can see little huts in really poor conditions and containers with food. People sitting on old benches with little bowls. You feel uncomfortable at first, but at some point you get used to it and it became one of my favourite places. The funny thing is that usually I am only one white person over there. Now everybody recognises me and when my Filipino boyfriend is going there alone, everybody is asking where I am. Try it! It is awesome!
3. Sun and a full year of summer
Sun, sun and sun. Imagine how economic you are when you don't need to buy winter clothes. Everything that you need is t-shirts, shorts, dresses, sandals and bikini. It is a real paradise for sun lovers. Sun gives us vitamins and happiness hormones. What else do you need in life? For white people like me, who love, literally love walking in the sun, it is just real happiness. At the end, you can see Filipinos covering themselves under umbrellas or hiding in the shadow, and then there's me, walking in the middle of the street just to enjoy sunshine 🙂
---
SUBSCRIBE TO TRAVELLING NEWSLETTER!
Would you like to get information when new travelling article is available?
Subscribe to the newsletter and be up to date!
---
4. Happy and friendly people
I really believe that people who live in hot countries are just more happier by default. My first impression when I went to Boracay for my first holiday in the Philippines was incredible. I just fell in love with the people, especially one, but that is another story 🙂 Filipinos are extremely friendly. A group of people, who I met during my first week here, made me feel like I just became Filipina from the day one. They are like my real family now. Happiness, love and friendship, that's it. I need to say that Filipinos taught me how to be calm and enjoy life. I have never been that calm in my life, not like I am now after one year of living in this amazing country.
5. Coconut flour, coconut milk, coconut juice…
Coconut, coconut everywhere! All of it is really expensive in Poland. I am really into diet and sport, so you can imagine how important coconut products are for me. Coconut flour, coconut milk, coconut juice – all of it gives you so many health benefits. Imagine now that bag of coconut flour costs only 70 pesos, that can of coconut milk is only 50 pesos and so on. It is like paradise for my diet and my healthy lifestyle 🙂
6. Bananas! Bananas pie in McDonalds!
I am big lover of bananas, I literally could eat bananas every day. Philippines became a paradise for me for this reason as well. And the biggest news, they have banana pies in McDonalds. It is like the best combination ever. I love McDonalds apple pies in Europe and now I can eat it with bananas, love it!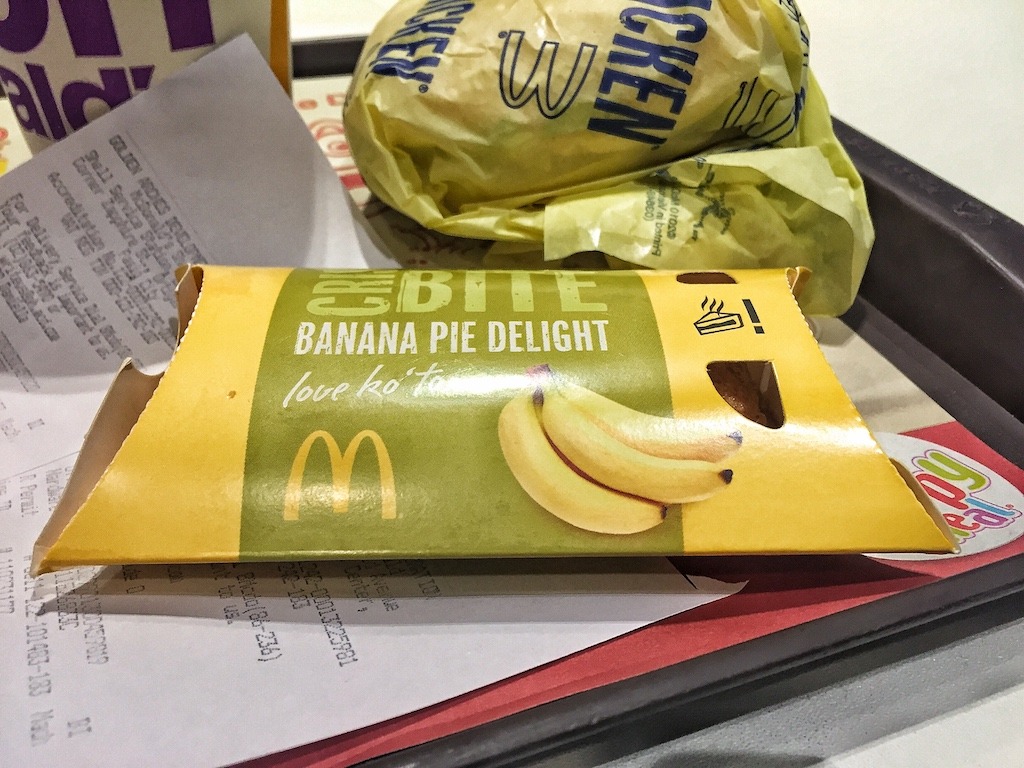 7. Gym and swimming pool in the package with your apartment
It is one of my favourite points. Most of the buildings have a gym and a swimming pool in the package. Your rent includes free access to all amenities. Again, it is like huge benefit for me while I train every day. Another plus for living in paradise.
8. Cheap transportation
Taxi and Uber for a couple of dollars. Trains and tricycles for like literally almost nothing. Living in Philippines increases your living standards to maximum. I remember when I was in Poland I used a taxi maybe just once and that's it. Taxi and Uber here are my basic transportation.
9. Hot and handsome guys
Well, I will not pretend that this point doesn't exist. Of course, all depends on taste, but hey! Go to Boracay and check out all the Filipinos, dark hair, chocolate brown skin, muscles and abs. Oh my Gosh. Yes, Filipinos are short but for short girl there is no issue at all. But one advice – you will not find hot Filipinos on the Manila's streets on daily basis. Sometimes I feel like they are hidden, for real. However, go out in BGC or go to LaBoracay, you will not find another location where all these hotties are in the same place in the same time. Good luck with your adventure! 😉
P.S. Just in case, of course, take this point with pinch of salt 🙂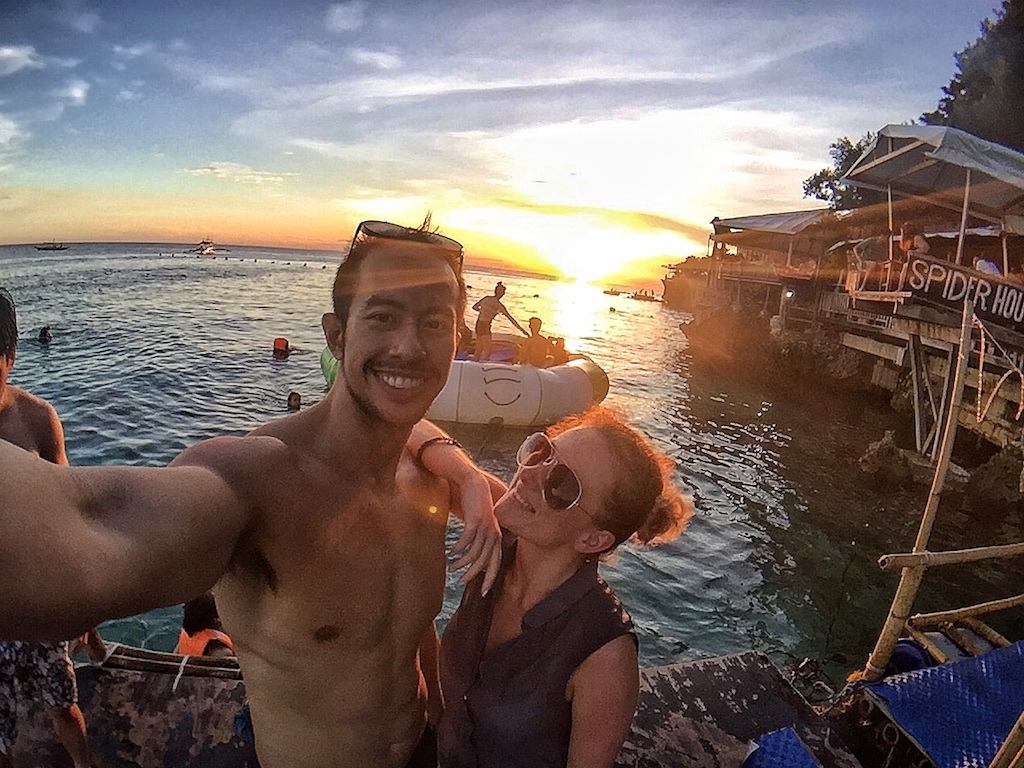 10. Beautiful beaches one or two hours away
I don't think I need to say anything more about it. All of you know how beautiful the Philippines is. One hour flight from Manila and you are in paradise number one. Two hours of driving and you are in paradise number two and so on. Living in the Philippines gives you the possibility to enjoy nature to the maximum, use it!
What next?
I hope you enjoyed my TOP 10 things that I love in the Philippines. Next post will be about the TOP benefits of living in the Philippines from other expat's perspectives. Leave a comment or heart on @explorewithze for more tips and advice about travelling and working abroad.
---
JOIN ME ON INSTAGRAM!
View this post on Instagram
View this post on Instagram
---
Other articles about the Philippines
---
PIN ME!

---
Editor – Natasha Jay O'Neil, please contact Natasha directly for queries related to her services.
Zaneta loves challenges so deciding about career path she has chosen typical male industry. Woman who codes. Every 1-2 years she lives in different part of the world. Gym dates is something what she specialised in. Healthy lifestyle, extreme sports and motorbikes have stolen her hear years ago.