11
MIN READ
In 2012, I was sitting in my rented room in Sevilla. It was the beginning of December, the time before exams in the university. Christmas was coming and I was staying for a time in Spain. I was extremely busy preparing for exams, translating materials from Spanish to Polish, then from Polish to English and so on. Randomly, I felt like I wanted to do something, something different. I made some quick research and… let me introduce you to things to do in Sevilla, Spain for adrenaline freaks – skydiving experience!
---
Before we move onto the details, I would like to mention that I did my skydiving certification in 2012. All the information in this posts are based on details from 2012. However, the company still exists and you can find the latest information and posts on their SkyDive Atmosfera Facebook.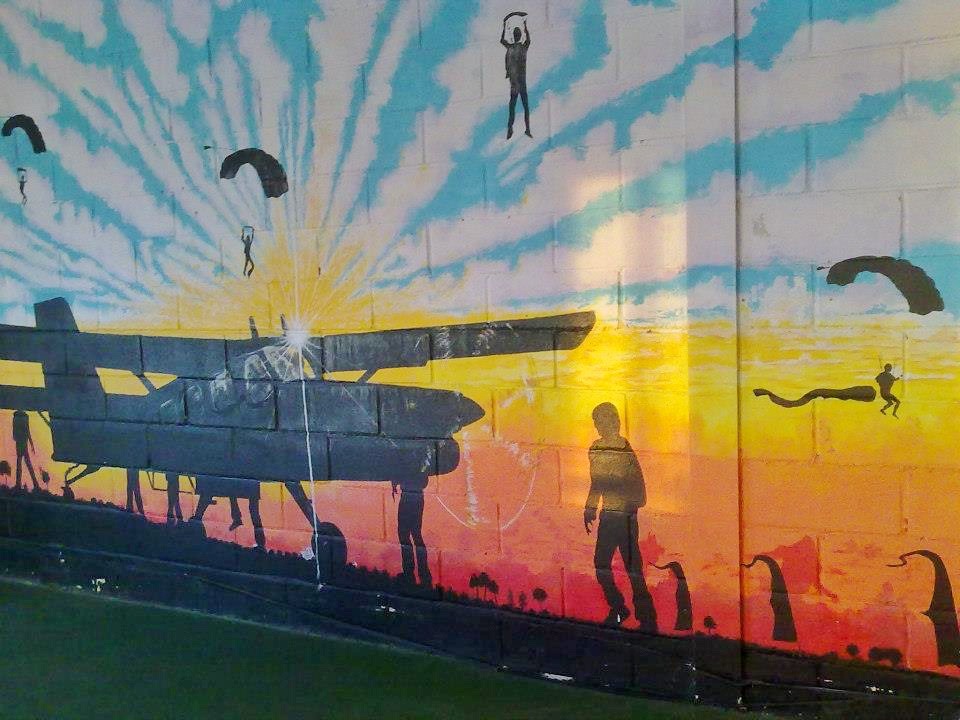 Skydiving, but why risk your life?
Skydiving, for some – an unnecessary risk, for others (adrenaline freaks) – a life dream. I was definitely in the second group. Why did I risk my life? First of all these activities are organised by professionals, how likely it is that something will happen to you? Another thing is that it is a challenge and you are crossing your limits. You cannot imagine the feelings up there. You can see the beauty of the world, the shape of the globe, the clouds around you, a horrible noise and this is the moment when you need to jump. When you are falling down everything takes ages, which in real life is just a couples of seconds. When you are finally on the grass everything looks different. The adrenaline is jumping in your blood and you feel happiness. You appreciate the world around you, every single experience and you just feel strong. Your confidence is on a high level and your motivation makes you plan what other goals you have to achieve. There is nothing better that I have experienced in life than skydiving so far.
Who does organise skydiving certification in Sevilla, Spain?
At that time, I did some quick research and found a polish company who organises skydiving jumps really close to Sevilla. I was actually so happy to find out that they are from Poland, it feels much easier when you can hear commands in your own language during such extreme activities. Skydive Atmosfera really quickly answered my email, with full detailed information including what kind of course I should take, what I should do afterwards and so on. After exchanging a couple of emails, Skydiving Atmosfera team met me in one of the coffee shops to get to know each other better and agree on details. Ivan and Urszula are a great couple, really straight forward, open and extremely friendly. I really appreciate the fact that they came to the city just to meet me, before I even made a final decision of attaining the certification. During our meeting we got to know each other and I remember when I asked Ivan:
Should I jump tandem before deciding to do the certification?
And I remember it like it was yesterday when Ivan said something similar to:
After knowing you more I believe you don't need tandem, just go ahead with the certification.
And that is exactly what I did and I don't regret it at all.
What does Skydiving Atmosfera offer?
'First-time jumpers can do the one-off experience of a tandem skydive or perhaps you want more of a challenge and would like to complete one of our beginner skydiving courses; the Accelerated Freefall Course (AFF). Our highly qualified instructors speak English and have instructor ratings with the British Parachute Association and United States Parachute Association. We also speak other languages. Try us out!

We fly up to 15,000ft, the highest altitude in Europe with two turbine superb Dornier DO28. Welcome to first class skydiving.'
-based on Skydiveatmosfera website.
However, that is not all. Ivan and Urszula have a great house really close to the jump zone. They offer accommodation with a swimming pool and extremely delicious meals during your course.
What is AFF skydiving course?
As directed by Ivan, I took the AFF skydiving course. I will share with you an explanation from SkydiveAtmosfera's website as they are professionals and I don't want to mix things up.
Whether you've never been skydiving before or you've just done a couple of tandem jumps and are now itching to qualify as a solo skydiver, then our AFF  (Accelerated freefall) courses are made for you.

In a very few days, our skydiving courses in Spain will take you, step-by-step, from absolute beginner to qualified solo skydiver.

AFF skydiving courses in Spain are conducted on a daily basis.  Learn more about the course and book your course anytime you want.
-based on SkydiveAtmosfera website.
Our Accelerated Freefall courses offer you the opportunity of totally immersing yourself in the thrill and exhilaration of this breathtaking sport; and it only takes a short period of time. If you have an adventurous streak running down your back (or even across it) and you're someone who likes to push your personal boundaries then this is the course for you. Skydiving is unmatched in its ability to excite and heighten the senses, and, for tens of thousands of people, it provides an invigorating respite from the workaday grind of daily life.
-based on SkydiveAtmosfera website.
What does AFF skydiving course include and how does it look like?
The AFF skydiving course includes theory training on the ground and seven skydives (7 Levels) designed for complete beginners.
On Levels 1 to 2-3 you are accompanied by two instructors and on successful completion of these skydives you will move onto Levels 4 to 7 with just one instructor. The principal objective of Level 1 is to gain a stable position during freefall, open your own parachute and get used to flying your new equipment!  During subsequent levels you will learn more skills such as 90 and 360 degree turns, back loops and tracking.
-based on SkydiveAtmosfera website.
The course is organised in the groups. I remember like it was yesterday when I arrived to Ivan and Urszula's house for my first day to meet the rest of my group. From there, Ivan took us to the van and we left for our jump zones. As far as I remember, we spent around day 1 on the school grounds getting familiar with the equipment, learining the freefall technique, how to fly parachute and so on. The length of this part can vary, depending on how fast you learn. It is really important for you to understand everything, because of this fact, Ivan makes the schedule really flexible for you to take your time.
After finishing the first day, we started another part of the course. We began with a series of jumps accompanied by Ivan and another instructor.
They'll give you clear, in-air assistance via hand signals (e.g. in the air, 2 fingers extended means push out your legs). When you've reached level four of the course you'll only need one instructor. This is when you'll learn to perform some of the more advanced techniques like turns and barrel rolls.

Early in your course you will be given radio support from the ground, offering professional advice on navigation and flight patterns. As you progress, our instruction will be geared towards your becoming independent; independent enough to make your graduation skydive. Once you've attained solo status we'll continue to work with you, offering further guidance on accuracy skills in particular.
-based on SkydiveAtmosfera website.
This is where the fun begins. You cannot image how great and awesome you feel. Add onto the top of it adrenaline and you are literally flying in the sky. I will not lie, this experience also gave me so much stress, but I believe that is a big part of it and I loved it.
Moreover, every time when we came back from the jumps zone, Urszula was cooking some amazing meals for us – which I highly recommend, take the course just for these meals!
What is a price for AFF skydiving course?
Back in 2012 I paid 1360 euros (which included ground school, levels 1-7, goggles and videos) plus insurance of 50 euros which was for 1 year. As I lived in Sevilla I didn't need any accommodation. Currently it seems like the price is a bit higher at 1435 euros (which includes ground school, levels 1-7, goggles, 1 TB pen drive, t-shirt, logbook, videos) but please check everything on their site to be up to date.
Moreover Ivan and Urszula can offer another package which costs 2160 euros and includes ground school, levels 1-7, goggles, 1 TB pen drive, t-shirt, logbook, videos, 10 days accommodation in the Hacienda Atmosfera (private swimming pool, garden, TV/DVD, WIFI gratis), continental breakfast, lunch/dinner, access to the kitchen all day long, and daily transfer to the DZ.
Please again, check all prices on Skydive Atmosfera website to be up to date.
What does the jump look like?
You go and jump! I am not kidding, literally.
We fly higher than anyone else, 15.000ft., this means you get more time in the air, more time to learn and practice, more time to play and more time to FLY!!! You get 15 more seconds per jump, valuable learning time and much-needed in a freefall.
-based on SkydiveAtmosfera website.
The jump is from 4700m which means it takes around 60-70 seconds.
You are in the plane with other skydivers. Two instructors take care of you during your time in the plane and the jump itself, on the next levels you will have only one instructor. During each of the jumps you have different things to do, starting from really simple like touching the thing to open your parachute in a certain way, to turning left or right during jump. Each of the levels teaches you something different to improve your skills and confidence. Ivan records each of your jumps and analyses it with you after the jump. He is extremely supportive, decreases your stress in the plane, he is always there during your jump but also after opening your parachute (where he cannot be physically next to you), he is there via radio, directing you every single second.
I remember my word before my first jump. It was:
O kurwa!
Which means really bad word in Polish 😉
How long does AFF skydiving course take?
Around 10 days but can be done in 3-4 days. Everything depends on your ability to learn fast. The course is organised in the groups. I took the course on 28th Dec 2012 – 06th Jan 2013.
How to book a skydiving jump for adrenaline freaks in Sevilla, Spain?
Skydive Atmosfer is located at Urbanizacion El Capricho 1, 41807 Espartinas, Sevilla.
The place where they jump is Aeródromo La Juliana, 41110 – Bollullos de la Mitación, Sevilla.
SUBSCRIBE TO TRAVELLING NEWSLETTER!
Would you like to get information when new travelling article is available?
Subscribe to the newsletter and be up to date!
---
Do you still have doubts?
Are you wondering whether it is for you or not? I highly recommend the experience itself and Skydive Atmosfera as well. Just do it! You will not regret it. Read the review I wrote right after the course, by the way, I translated it for you into English 🙂
Being still in Poland, doing thousands of strange things, looking for my passion and new opportunities, I thought about parachuting.

I turned to a friend who finished the AFF course. I thought, I want to try it, tandem will be completely enough for me. Then my friend said that I should do the whole course. It will not be profitable to jump the tandem, because knowing me, I will probably want to jump regularly.

Months passed until it was time to travel to Spain. One-year of studying in Sevilla. Beautiful place. You must use this time to the fullest. Travelling, meeting new people and bungee jumping. The Christmas time, two weeks off, somehow it should be taken care of. I heard that parachuting is organised in Seville. I turned to my friend from Poland for help. He sent me a webpage. Not thinking much, I sent an e-mail. On the second day, during Christmas, I sat in a coffee shop in the sunshine with Ivan and the rest of the team.

I thought – great people, it's great that I found them here. After just a few days, I started my course. The first day, theory, I was a little terrified, I began to wonder if I should not first jump in tandem. Well, I already agreed on it, now I can not move back. The second day – the first jump. I thought – I ride a motorbike, I trained martial arts for a few years, I am a fitness instructor, despite my age, I did relatively many strange things and I went through a couple of hard years, so skydiving jump can not be that scary…

The first jump, I'm sitting on the plane, strangely calm, the door open, I approach them … Unfortunately I can not share the words that came out of my mouth then 😉 Step forward, step back and we fly. I completely do not remember what happened. Opened parachute and relief …

The second jump, there was stress from the very beginning. Awareness of what awaits me. Go!

Another day, another two jumps. It was supposed to be fun, but there is still fear in my eyes. It is not that easy. Ok, I made a turn in the air, great. But it is not enough. My form is still not as it should be. Two days break. I dreamed about the last jumps. The first jump after the break. Great, first time I felt pure pleasure and excitement. Pure adrenaline, but very positive. I have done turnovers and an arrow. A wonderful feeling, when you control your body. Feeling of fulfilment when Ivan claps that everything has succeeded. Sixth jump. Independent exit from the plane. It was a bit overwhelming but I quickly caught the right form. I've mastered one turn. Suddenly, it started to spin, what's going on? It was not in the plan! I am terrified.

After each landing, I saw a smile on Ivan's face, this time it was not the case 🙂 I am before the last jump, if I can not make it, the course is lost with the money. Suddenly, I started having so many thoughts in my mind. I have the last chance. I do not have funds for the amendment. I must jump well. But if I did not succeed before, how should I succeed now? After all, I wanted to control my body, my psyche, but something went wrong. An hour of exercises, Ivan's help and his motivation, thousands of thoughts in my head, why I needed it. The last jump, in the head of Ivan's words (fasten the butt and forward), wonderfully, I left the plane, mastered the turnover, the end of the exercises, open the parachute, land. This time, not on my head anymore, but through the radio I hear Ivan's voice in the headphones – "a nice landing". Ok, I'm going to him anxiously. Is the course passed? I suddenly hear – "Żaneta passed her AFF." The most wonderful feeling of relief. Shock. Ivan with a smile on his face says – "run to the cash register, buy an independent jump". That's what happened. The first independent jump, without Ivan. I jumped, I felt a sensational feeling. The first time I looked at the world from above. I thought – "This is your life. Imagine, everything is possible."

I am currently a few days after the course. I do not hide that it was a terrible stress and confusion in my head. As I am a person who can not tolerate defeat, it was a war with myself. What distinguishes this course from all others I've done is the people. Unselfish help, in every situation (what I have learnt perfectly), normal and friendly atmosphere. Ivan's personality makes many things easier. You can feel his professionalism. For me, it was the most important sense of security. I hope that the next jumps are not so long away. Due to the fact that I currently live in Spain, I think I will be a regular visitor in the zone 😉

Thank you very much for your help in achieving the next goal I set for myself 😉

Żaneta – Dj Plaster: P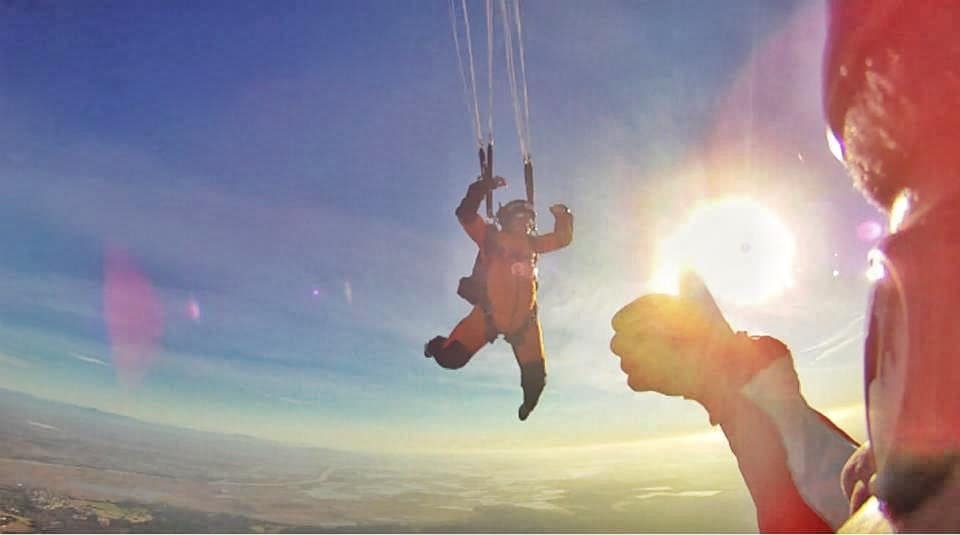 I hope you enjoyed my things to do in Sevilla, Spain for adrenaline freaks – skydiving experience. Are you interested in more attractions in Sevilla? Check out 15 things to do in Seville, Spain or bungee jumping.
---
All informations included in this post are based on my own experiences and opinions. Keep in mind that I jumped in 2012, since that time 6 years have passed. It is likely that some facts are not valid anymore. I tried to create an informative post based on the memories I have. Do not take this post as up to date facts, instead treat it as an overview of skydiving based on my own experiences and as a base to further your research. 
---
Disclaimer
Skydive Atmosfera is not associated with the post in any way. All information added to the blog post are my own personal opinions based on my own experiences.
All pictures are taken by myself and it is not allowed to copy them for any purpose.
---
JOIN ME ON INSTAGRAM!
---
Other FROM THINGS TO DO SERIES
---
PIN ME!

---
Editor – Natasha Jay O'Neil, please contact Natasha directly for queries related to her services.
Zaneta loves challenges so deciding about career path she has chosen typical male industry. Woman who codes. Every 1-2 years she lives in different part of the world. Gym dates is something what she specialised in. Healthy lifestyle, extreme sports and motorbikes have stolen her hear years ago.