4
MIN READ
Bathroom renovation in SPA character. That was always my dream. I hate these clean, sterile, cold bathrooms.  The goal of our bathroom renovation was to create a cosy, warm, relaxing space. SPA kind of thing, with little jungle and everywhere candles. Welcome in our bathroom!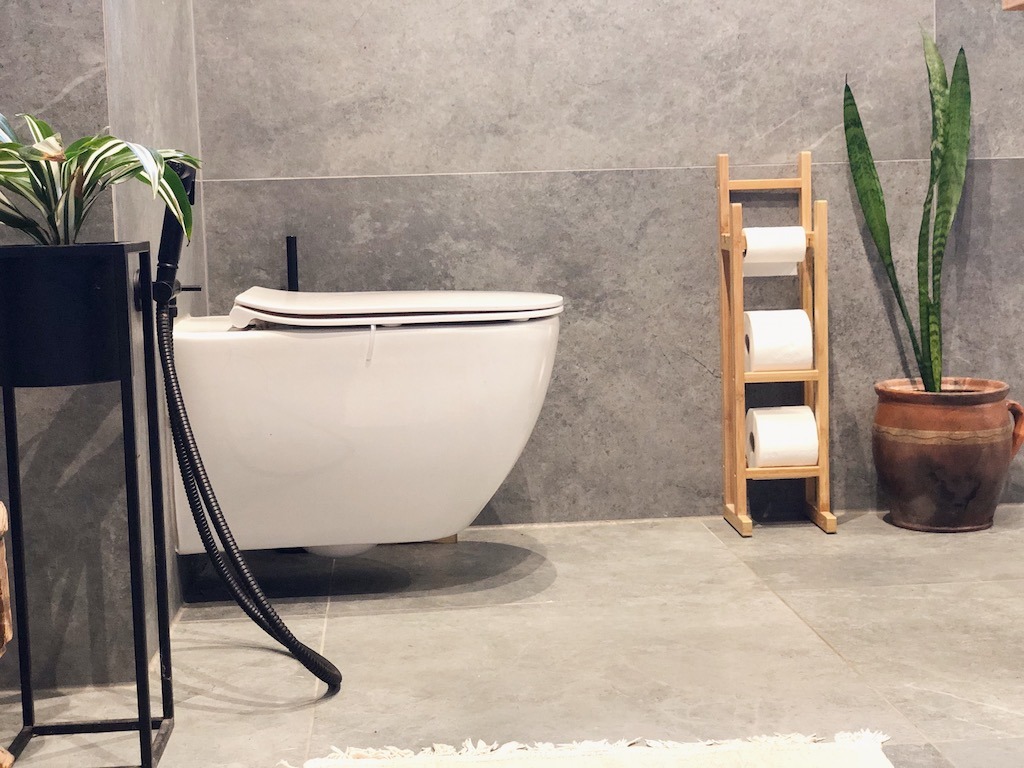 Bathroom renovation in SPA style
First of all we wanted to have a bathroom where we can totally relax. I didn't want to feel this coldness of the place. I wanted a nice smell, cosy towels, always warm space with candles and natural cosmetics. Also a little jungle in the bathroom was always my biggest dream. I always wanted to feel like I was around nature while taking long baths. But let's start from the beginning of this bathroom renovation.
Bathroom layout
The bathroom originally was in place of the first room. It was shower over there, toiler, sink and washing machine. My first NO was to the washing machine. We have a huge house with a big basement, I decided to keep the washing machine there so the bathroom can be only relaxing spot. Moreover, Zyd really wanted to have a bath. To be honest, I didn't plan it but decided to go ahead with it, what can be more SPA than a big bath. But I also didn't want to give up on shower, I definitely need quick showers. In this case we decided to adapt the pantry as a second room of the bathroom. Here I would like to really thank you Mrs Ania for helping to design this layout during the weekend. In this case in the first space we have 2 sinks and a toilet and in the second space we have bath and shower. And I am really happy with this choice. We really use bath at least once a week or every two weeks and the layout makes it more privacy feeling but open at the same time. Moreover I am extremely happy we managed to fit bigger bath that originally planned, 160cm instead of 150cm which makes a big different!
Bathroom materials
We decided to go ahead with a really natural look. Cement kind of looking tiles on the walls and the flooring. Additionally we picked up black accents. The shower is open with a glass industrial wall. The shelfs and under sink furniture is made out of wood and anthracite fronts. Wood on the bath is made from the old floor in the apartment by the time when my grand grandma was living here! 
Bathroom decor
We have long "holes" in the walls with natural light where we keep cosmetics (trying to buy only natural but something that is not happening haha), smelly sticks and candles. We have two sinks so everyone has their own space in the morning. Two cold lights on the side of a huge mirror which I think I bought on Allegro. There is no problem with space, there is no problem with lights. In general in the bathroom I keep cold or natural lights, since it is a relaxing but also productive place – you know, to get clean, to wear clothes, to do make up, to shave and so on.
And of course, we have many plants. I always wanted to achieve something like this. A lot of green. I particularly have chosen these plants, they like not too light places, they like humidity, they clean the air and so on. I love them so much!
Peace Lily – one of the best plants to clear the air
Aloe Vera – healings powers 
Snake Plant – one of the toughest plants you can find
Spider Plant – clean the air
Acorn Peperomia
And more….
They are almost all from zielony-parapet.pl.
The big mirrors are opening the space and they are in black metal looking frame. Furniture and mirrors are made by carpenters. Old looking stool is taken from an old apartment and renovated by myself. Black plant pots are from JYSK and cement pots from IKEA. Towels are mainly from H&M, JYSK and Zara Home, they are all natural cotton. Bathroom rags are linen and bought in IKEA.
My best decisions about bathroom renovation?
Two sinks, definitely an amazing decision!

Bath and shower in separate space

Cement looking tiles

My little jungle

Towels from natural materials

Two big mirrors which are opening the space
---
SUBSCRIBE TO INTERIOR DESIGN NEWSLETTER!
Would you like to get information when new interior design article is available?
Subscribe to the newsletter and be up to date!
---
Before and after
Ok, let's get into the main point – before and after pictures. From small, old-school to big SPA bathroom.
How it was before…
How it was planned…
And how it is after…
I hope you enjoyed our bathroom renovation in our interior design series, please comment this post with your feedback and if you think someone else should read it, just share <3 For the next post I have prepared for you an article about the dining room. How I got a dining room about which I have never dreamed of. And before I say you see you soon, I only wanted to remind you about my kitchen makeover from last time!
---
PIN ME!

Zaneta loves challenges so deciding about career path she has chosen typical male industry. Woman who codes. Every 1-2 years she lives in different part of the world. Gym dates is something what she specialised in. Healthy lifestyle, extreme sports and motorbikes have stolen her hear years ago.