5
MIN READ
The starting point for our bedroom decor was bed from the pallets. I always wanted to have a huge bed with a wooden pallets frame. It had to have a big enough mattress and a lot of pillows. The whole decor of our bedroom was based on this idea. 

Bedroom decor idea
Apart from the pallet bed, we wanted to have a pretty simple bedroom. Some space for our clothes and seating area below the window were the must. Actually originally we thought about having a garderobe in the small room but we managed to fit space for clothes in the bedroom. I am happy about it and not, having mixed feelings since I don't wanna wake Zyd when I am getting ready but at the same time I am happy we don't have garderobe in a small room because I can use it for totally different purposes. Well, in the end I think I am still happy about the final decision.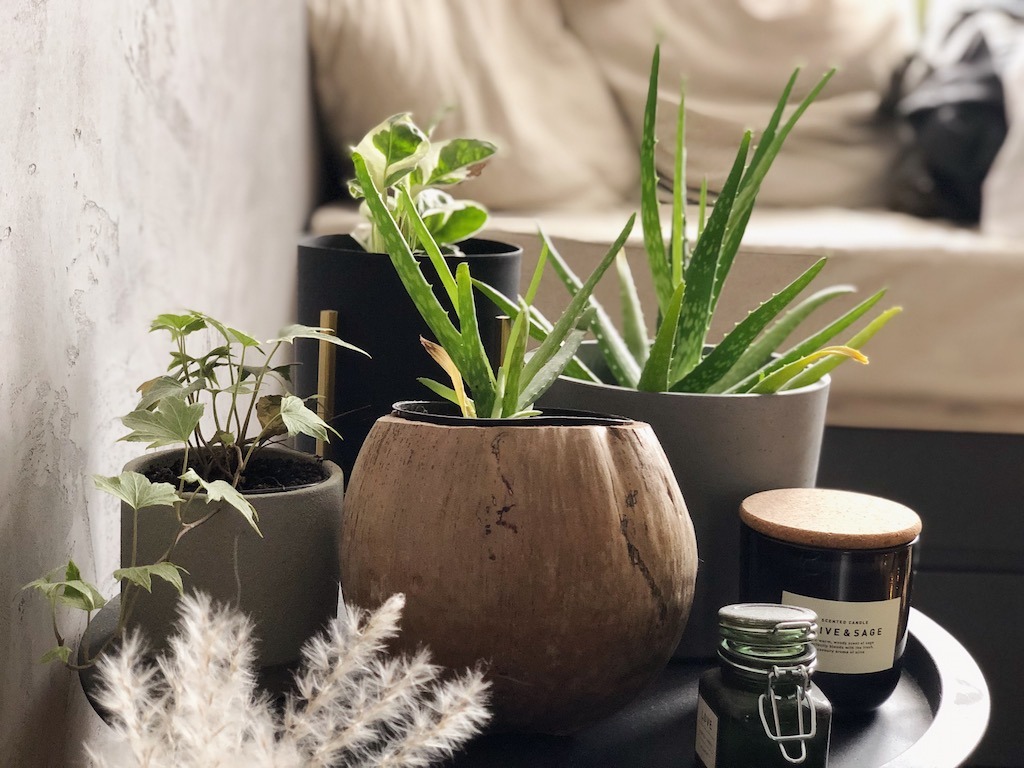 Bedroom layout
Of course the main point of the room is bed based on wooden pallets which we prepared by ourselves. More about this below, keep reading! On the right hand side we have a huge mirror and built-in wardrobe. I also love that the wardrobe is finished with shelves that I can decorate as I wish. On the left hand side we have a seating area below the window. It was our must, every place we rented out in the Philippines had a seating area below the windows and we loved to sit over there. Below seating we have drawers and next to it another small wardrobe. 

Bedroom design
One wall is made out of the concrete, another has olive painting and the bedhead is made from old wood which we got from the previous flooring. I love this accent, part of the history still stays alive. Our furnitures are in the anthracite and wooden colours with some black elements. Mirror is in black frame, a little bit of loft style. The covers on the mattress and pillows on the seating area are made from linen, the same as curtains. By the way, the curtains I have bought in Ikea. As you can see, I also have a little coffee table (bought in Jysk) which I use for plants (I usually buy them on zielonyparapet.pl). Really important note now, I am really careful what kind of plants I'm putting into the bedroom. I always choose these which produce oxygen during the night and clean the air. Sometimes I put there for a while some other plants but I am always trying to keep my health in the mind. Also we choose dimmer lamps in a kind of loft style. The door of course is in anthracite colour. We have sockets next to the bed, one of them is USB one and light switches so we don't need to stand up to turn off the lights. And I cannot forget about candles, a lot of candles and lights.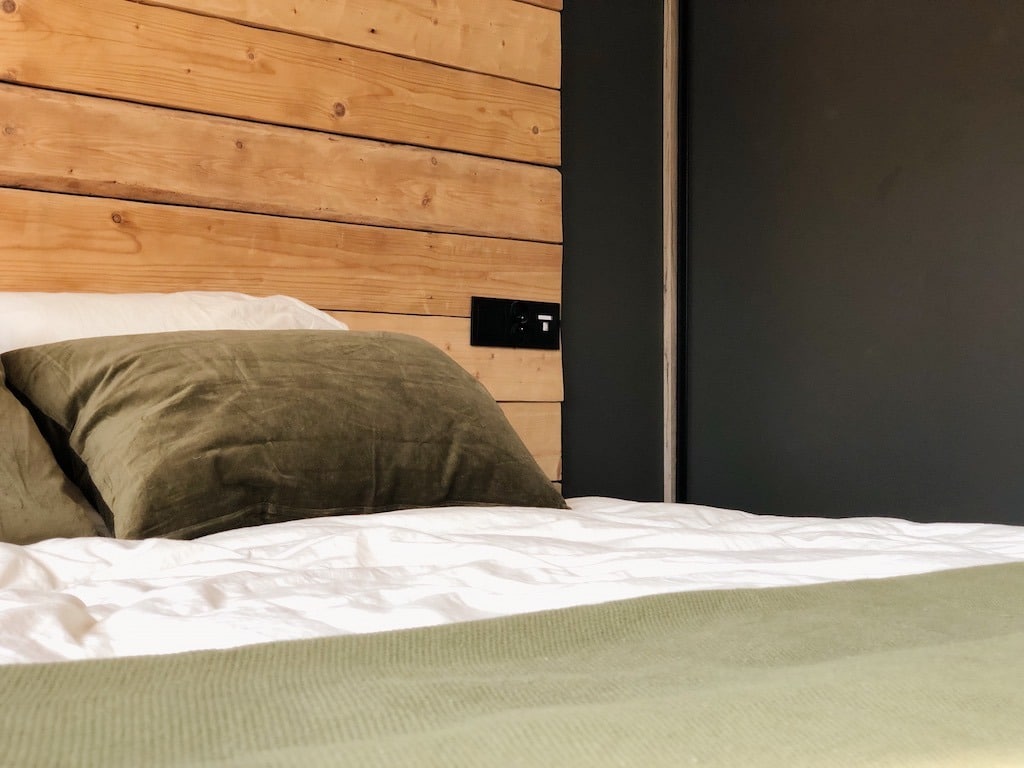 Bed from the pallets 
The bed was made by ourselves. It was a nightmare, cleaning 12 pallets and then painting them was so exhausting! But we love the final effect. Also the sofa in the living room is made based on the pallets. We bought a mattress and pillow in Ikea. We chose really carefully the mattress as it was so important for us to have a healthy position during the sleep. Also pillows, we really use two of them which are ergonomic pillows, another two are more for decor and used between legs ha ha. For bedsheets I usually buy cotton or linen ones from Ikea. I also try to keep them in one plain colour, for now we have grey, white and beige bed sheets. By the way, do you know that you should change your bedsheet every week? How often do you do it? We also have new plaid in grey colour from Ikea which you can see on some of the pictures. Some of the pictures have decor pillows on the pallets, I got rid of them since they are not from natural materials, instead I add a natural basket for blankets. As you can see, we have sheep skin on two sides, which gives a lot of cosiness and protect us from raw pallets. Ahh, I also added lights around the bed frame so it can be super cosy.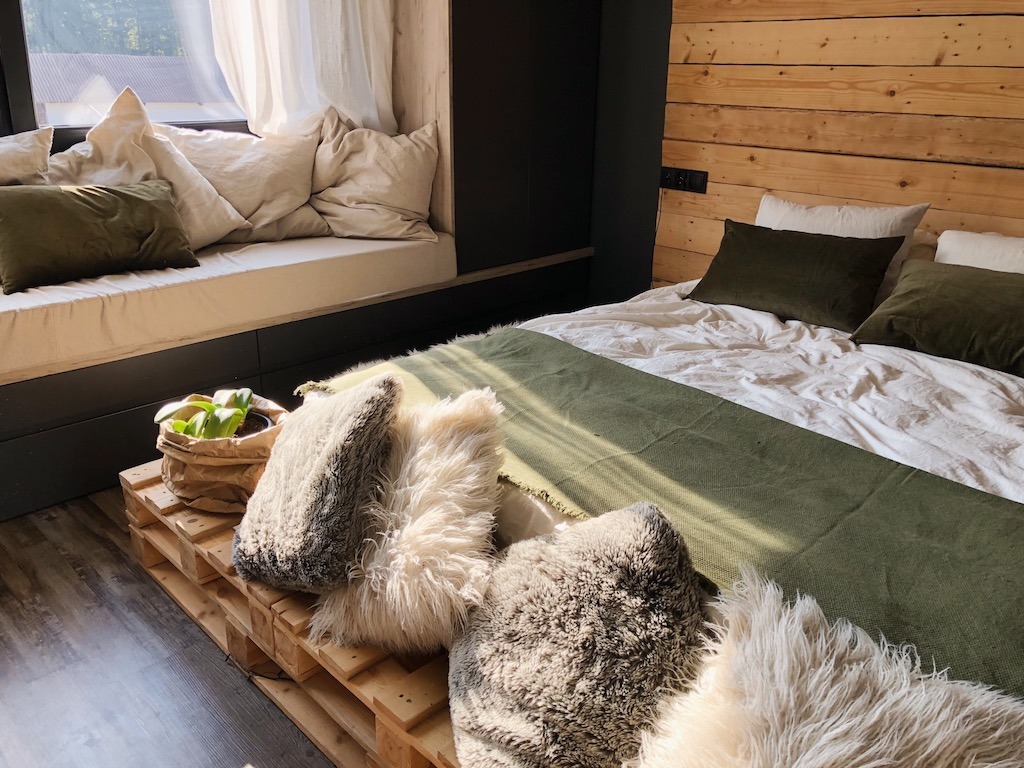 ---
SUBSCRIBE TO INTERIOR DESIGN NEWSLETTER!
Would you like to get information when new interior design article is available?
Subscribe to the newsletter and be up to date!
---
Before and after of our bedroom decor
Ok, are you ready for before and after pictures? Do you wanna see how this room looked like before? Scroll it down!
How it was before…
How it was planned…
And how it is after…
It is the first version of our bedroom. We are still lacking lamps and side tables next to the bed, we want to add more thicker curtains and probably have more variants of bedsheets. But I really like the fact that we still have things to do, so we can enjoy the first version now and later new will come.
I hope you enjoyed our bedroom decor in our interior design series, please comment this post with your feedback and if you think someone else should read it, just share <3 For the next post I have prepared for you an article about our favourite place – living room. For the reminder – have you already checked previous article from this series – dining room.
---
PIN ME!

Zaneta loves challenges so deciding about career path she has chosen typical male industry. Woman who codes. Every 1-2 years she lives in different part of the world. Gym dates is something what she specialised in. Healthy lifestyle, extreme sports and motorbikes have stolen her hear years ago.