4
MIN READ
Lately, my friend shared with me a link to an interview about Instagram with Bonnie Tsang. The video takes 1.5 hours but it is totally worth it. However, for those who don't have time and also for myself to keep important points, I decided to make this short blog post with the most important information I extracted from this YouTube live video. I will not summarise the video itself, I will just point out the most important Instagram tips.
Check out the full video above or enjoy my take away points.
Different type of social media based on Bonnie Tsang
The biggest learning tip I took from this video is about the different types of social media and how to use them. Moreover, I realised that there are two types of roles on social media platforms:
Choose between two roles – be an expert or be an inspiration.
IG is about connecting with people, show behind the scenes, how did you create your product, what did you eat, with whom do you hang out with. It is about getting onto a personal level.
FB is about your news.
Behance is where you show your work.
Pintrest is about showing your interests.
Every social platform is different and you should use them differently.
Tools for Instagram used by Bonnie Tsang
There are several tools which Bonnie recommend:
Snapseed (picture editing – free).
Vsco (picture editing – paid).
Unum (schedule your posts and check overview of your feed – free).
Jane (Chinese app for editing insta stories with layout, videos and text).
Picture Editing
Bonnie takes time to make sure her pictures align with her brand. However, currently with all experiences it takes her around 5-10 minutes to edit her shots.
Find your own look and colour scheme.
Keep the background neutral.
Correct the colour, remove any yellow tone as it is not appreciated by the IG community.
Use window light.
Be natural with your pictures, don't ask your friend to wait before starting to eat for you to take pictures, ask them to start eating and then take a couple of shots.
Try to use bright images, natural colours or a cooler tone instead of a warmer tone.
Take a lot of pictures and just delete the ones you don't want, don't keep them all.
Express yourself by your pictures.
Instagram Account based on Bonnie Tsang
The points below is some general advice regarding your IG account itself.
IG description
Make sure you have an instagram description.
Add your website link to the description.
Make sure that people understand what you do after checking your description.
Followers and following
Don't follow so many people, for example for every 600 followers, follow 80 accounts. Following so many people means that you are "too easy".
Make sure you follow relevant people, do not follow random accounts.
Choose the right followers by not using popular hashtags as you will reach a big audience who will not hire you.
When you have less followers, keep personal and business together.
Posts
Through your posts explain yourself, the process of your work, the purpose of taking certain shots.
Tell the story behind your post, followers want to learn from you.
Tell more stories!
Express yourself by your posts.
Your IG shouldn't be your portfolio, that is not what IG is about.
Engage, make it more personal.
Don't make it only about your work.
Hashtags
You don't need to do so many hashtags, keep it clean for a business account. For influencers add more hashtags.
Create your own hashtags so your posts can be found easily.
Captions
Writing is really important. The caption should be long enough and give some value.
IG is not only about the visual aspect.
The system of posting
The way you post pictures is really important.
Make a system, schedule your calendar to connect with people. For example, on Monday post about your work, on Tuesday about the food you eat, on Wednesday post a shot from behind the scenes and so on.
Post your picture in events so you know what your feed looks like.
Think about it overall, not just about one post.
Plan ahead, don't post randomly.
How to get your first 10k followers?
During the interview someone on Facebook asked what is the process of getting the first 10k followers. Here are the answers Bonnie gave:
Do not follow everyone back.
Fill your first 9 pictures and then go and follow the right people.
Follow people, unfollow, follow the right people again.
Clean your feed, even from 2 years back.
Answer to comments, answer to DMs.
InstaStories
It is also a big part of your account.
Use a nice frame and layout.
Add videos.
InstaStories should look really pretty.
General Tips
Get over your fear – you are doing it for yourself, people who look at you will not give you money, a certain shot can.
Create conversation with your followers.
Multiple photos are great for algorithms. That day each time you login, you see every picture one by one, it keeps popping up.
Sponsorship only if it alines with your profile.
When you grow your account, you can get as much as 5k-10k USD for a post.
Using an iPhone and natural light is totally enough.
---
I hope you enjoyed my summary of the interview. If you like it, share it. I would love to hear your feedback and your tips.
More article related to technology and business.
---
PIN ME!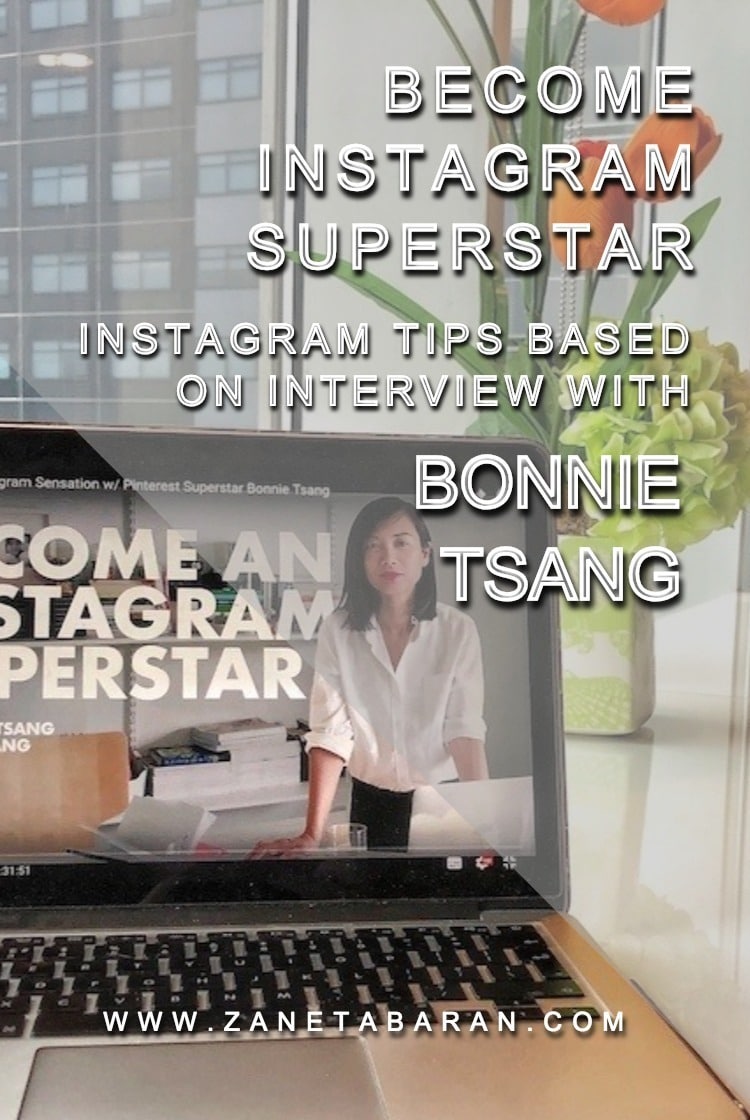 ---
Editor – Natasha Jay O'Neil, please contact Natasha directly for queries related to her services.
Zaneta loves challenges so deciding about career path she has chosen typical male industry. Woman who codes. Every 1-2 years she lives in different part of the world. Gym dates is something what she specialised in. Healthy lifestyle, extreme sports and motorbikes have stolen her hear years ago.