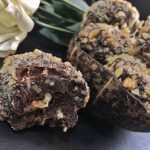 When I got an idea to prepare homemade Raffaello, straight away I thought about Ferrero Roche as well, I need to try to do them two! I look through my kitchen and check if I have anything what I can use for this recipe. In this way I have created homemade Ferrero Roche which was one of the snacks for birthday party of my boyfriend. After the party I kept it in the freezer for a few more days. Let's try homemade, Ferrero Roche – healthy, keto, low carb, sugar free, hazelnut balls.
Keyword:
Chocolate, Coconut Flour, Peanut Butter
4

oz

(115 g) of dark chocolate

1/2

cup

of unsweetened dark cacao

3

tablespoons

of coco sugar or coco syrup or sweetener for keto and no sugar recipe

1

cup

of chopped hazelnuts

8

whole hazelnuts

1/2

teaspoon

of vanilla extract

3

tablespoons

of coconut oil

3

tablespoons

of unsweetened peanut butter

1/2

cup

of coconut flour
Chop hazelnuts into really small pieces to get 1 cup of chopped hazelnuts if you haven't done it yet.

Melt dark chocolate with coconut oil. Just put to microwave for 30 seconds, mix and microwave for another 30 seconds.

Mix melted chocolate with cacao, coco sugar or sweetener, 1/2 cup of chopped hazelnuts, vanilla extract, peanut butter and coconut flour.

Mix till smooth mass.

Put the mixture to the freezer for 10-20 minutes.

Get the whole hazelnuts and cut them into half.

Get the mass from the freezer and start scooping out small balls using tablespoon or two tablespoons to make it easier.

Form balls using your hands. You can first wet your hands with coconut oil, it makes it easier to form balls.

While forming the balls, add one half hazelnuts per balls in the middle and form till mixed together.

Spread 1/2 cup of chopped hazelnuts on the chop-board and cover balls in it.

Transfer homemade Ferrero Roche to the fridge or freezer for 30 minutes before serving.
Keep Ferrero Roche in the fridge or freezer for a few days maximum. I always eat them straight from the freezer but you can out them out for a few minutes before serving.
Feel free to form bigger or smaller balls. Be creative!