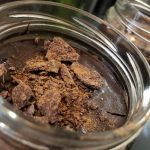 Let me make it clear from the beginning, it is not my recipe. It is the recipe of my boyfriend. I love when he prepares meals. First of all, he is an expert in all nutritions, science and bodybuilding related topics. He doesn't just prepare the food, he knows what ingredients he should use to achieve a full nutritious meal or snack, which currently our bodies needed. And on top of that, he makes it extremely delicious. This recipe is an example of his creation. Chocolate, homemade chocolate. I am pretty sure you have cravings for chocolate really often. At least, I am one of these people who will eat the whole chocolate bar in one go. So imagine my happiness when he served this chocolate on Saturday night.
Keyword:
Chocolate, Coconut Milk, Healthly, Keto
2

eggs

1

whey spoon

of isolate protein

2

spoons

of collagen

1

full tablespoon

of cinnamon

2

pinches

of Himalayan pink salt

2/3

cup

of unsweetened cacao

1/2

can

of coconut milk

2

tablespoons

of coco syrup or any sweetener for keto diet

2-3

pieces

of unsweetened chocolate small bars

optional
Beat eggs in the bowl.

Add protein, collagen, cinnamon, salt, cacao, coconut milk and syrup or sweetener and mix using a fork or spoon.

Transfer to the jars or bowls. You can also use cups.

Leave in the freezer for around 3 hours.

Transfer to the fridge and keep it in the fridge for a while before serving.

Cut pieces of chocolate bars into small bits and add onto the top.

Serve. Optionally add another topping or just serve alone.
Keep in the fridge.
If you want more of a solid texture, then keep it longer in the freezer.
You can add nuts or coconut shrimps on the top.