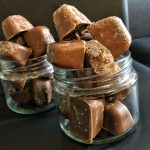 You cannot image how quick this recipe is and how sweet these chocolates are! We had a friend coming round this afternoon, so I thought I would make something sweet. I didn't want to spend the whole Saturday in the kitchen, so I searched Google for some quick inspirations and here we are. Fat bombs – perfect for a sweet craving or to share with friends or family.
1/2

cup

of coconut oil

6

tablespoons

of unsweetened peanut butter

2

tablespoons

of coconut sugar or sweetener for keto diet

4

tablespoons

of unsweetened cocoa powder

2

tablespoons

of chia seeds

2

tablespoons

of coco syrup or sweetener if you are not sure about your brand of coco syrup

cinnamon

vanilla extract
Mix coconut oil and peanut butter in the bowl and microwave for 30 seconds.

Take an ice tray and fill each section with chia seeds, just cover the bottom.

Fill sections with mixture, around 2 tablespoons for each.

Spread top with chia seeds and cinnamon.

Refrigerate for 1 hour.

Transfer onto a plate and enjoy!
Keep in the refrigerator.