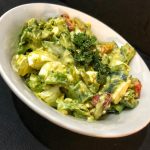 I came back home after work and I needed to eat something really quickly. I still had my homemade avocado dip in the fridge and a couple of eggs. I managed to make a quick salad, full of healthy fat and low carbs. It tastes amazing and you can make a healthy and light dinner within 5 minutes. The inspiration for this salad came from one of our polish salads, which we call "salatka jarzynowa". In the original recipe we use mayo which I don't eat, so I made my own healthier version.
Course:
Appetizer, Breakfast, Side Dish
Keyword:
Avocado, Eggs, Salad, Vegetarian
5

tablespoons

homemade avocado dip

if you use natural yogurt instead, use half of avocado, I skipped avocado as it is already included in my dip

1

tablespoon

of apple cider

2

teaspoons

of chia seeds

4

leaves

of lettuce

1/2

tomato

10

slices

of cucumber

1/2

green pepper

1/2

red pepper

3

boiled eggs

1

handful of olives

salt, pepper, chilli, turmeric
Add a pinch of salt and eggs to boiling water and boil for 5-10 minutes.

Chop tomato, lettuce, olives, peppers, cucumber and boiled eggs.

Add all ingredients to the bowl and mix together.

Add avocado dip, chia seeds and apple cider. Mix together.

Serve in a smaller bowl, optionally you can add keto bread from my previous recipe.

Enjoy!
You can also add my ricotta cheese dip to this salad. Both of them are full of healthy fat and really healthy.
Feel free to add other vegetables, whatever you like and have in the fridge.
Moreover, I like to chop quickly and produce random sizes. So my pieces are not perfect, however feel free to chop bigger or smaller pieces, depending on what you like.