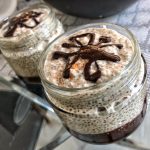 This dessert is super quick and extremely delicious. As you probably can see, I am a big fan of coconut products. I am trying to use coconut products as much as possible, starting from coconut oil, coconut flour and coconut milk to coconut soap and coconut conditioner. Everything without any additional ingredients. I also love chia seeds and add it to everything. In this way, this dessert became one of my favourite ones.
Keyword:
Chia Seeds, Peanut Butter
2

cups

of coconut milk

1/2

cup

of chia seeds

1/2

teaspoon

of vanilla extract

1/4

cup

of coco syrup

more if you like more sweet desserts or sweetener

2

tablespoons

of peanut butter

2

tablespoons

of coconut sugar

or sweetener to avoid sugar optional

cinnamon

2

tablespoons

of coconut oil

optional

1/8

of a dark chocolate bar

optional
Mix the coconut milk, chia seeds, coconut sugar, coco syrup, peanut butter, vanilla extract and cinnamon in the jar.

Shake the jar for 1-2 minutes.

Refrigerate for 4-6 hours. I kept it in for around 6 hours, shaking one more time after 3 hours.

Melt the dark chocolate with the the coconut oil in the microwave for 40 seconds.

Prepare some fancy jars and spread a little bit of chocolate at the bottom.

Transfer the mixture into jars and decorate with a little bit of melted dark chocolate.

Enjoy!
The puddings can stay in the fridge for 2-3 days.