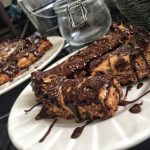 This recipe was a big surprise. I was trying to make cheesecake but as I don't have a proper oven, I managed to make cheesecake bars which worked pretty well for our overnight trip to one of Filipino islands. I would like to hear your experiences after trying this recipe. I am really curious if you achieve a fluffy cheesecake or thick bars. Let me know!
Keyword:
Bars, Cheesecake, Peanut Butter
Coconut Cheesecake Crust
Preheat the oven to around 200°C.

Mix all the ingredients for the crust in the bowl until they become a smooth mixture.

Line pan with baking paper.

Press the dough into the bottom of the prepared pan.

Bake for 5-10 minutes or until crust becomes golden brown.

In the meantime, prepare filling.
Keto Cheesecake Filling
Beat the cream cheese for a while in the bowl and then add coconut sugar or sweetener.

Continue beating and adding the other ingredients one by one.

Beat until it is all combined together.

Pour the filling into the pan over the crust.
Baking and Topping
Bake for around 45 minutes so you can still slightly jiggle the cheesecake around, or 1 hours and 10 minutes for bars - that's the most important part - I don't have a proper oven, so I needed to move around my cheesecake several times to be baked all over so I ended up making bars.

After baking, let it cool down for an hour or so.

Transfer pan to fridge and let them cool down for 12 hours.

After 12 hours, transfer cheesecake onto plate.

Spread peanut butter and melted unsweetened cacao bars.

Divide into smaller bars.
Bars can stay in the fridge for 2-3 days.
Feel free to add fruits or nuts on the top if you don't care too much about the sugar level.