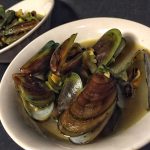 Since I have been living in the Philippines I am trying to enjoy cheap and amazing seafood. I haven't eaten many mussels before, but since my boyfriend has prepared this soup for me, I am totally in love with this recipe. It is a really easy soup, with so many health benefits and great for light lunch or dinner.
Keyword:
Healthly, Keto, Mussel
Servings
:
1
middle size of soup pot
1/4

kg

mussels

2

handful

of spinach

1

clove

garlic

1

white onion

10

slices

of raw ginger

2

chilli peppers

salt

pepper

5

cups

of water
Slice or chop garlic clove, spinach, white onion, chilli pepper and ginger.

Preheat middle size soup pot with olive oil on medium heat.

Place chopped garlic, spinach, onion, chilli pepper and ginger into soup pot and fry for a couple of minutes until they become a nice gold brown.

Clean mussels and add to the soup pot.

Add pinch of salt and pepper or any other spices that you like to the pot.

Stir for 5 minutes.

Add cups of water and cook for 8-10 minutes on medium heat.

Enjoy!
Onions are allowed on keto diet in moderation. Especially they are totally fine with seafood. Make sure that you use middle size onion and you restrict yourself to the maximum 50 grams of carbs allowed the day of eating the soup.