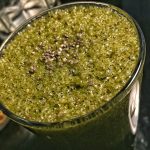 I have read so many comments that people around the world are struggling with intaking enough vegetables in their diet. Salads are my favourite meals but at some point I got really tired of them so I decided to figure out something else. I don't like smoothies with vegetables so I was searching long enough to find inspiration for vegetable smoothies sweet enough for my needs. I don't eat so many fruits because of their amount of sugar, however I do eat vegetables. To be honest, I do not struggle with intaking vegetables, but I do struggle with drinking them as smoothie. Why did I decide to make a smoothie then? Liquid is digested much better by our body, so it is a great idea for the last meal of the day.
Course:
Breakfast, Drinks, Snack
Keyword:
Healthly, Smoothie, Vegetables
1

handful of camote tops

sweet potatoes leaves, one of the famous Filipino vegetables

4

leaves

of lettuce

2

tablespoons

of lime or lemon

1

serving of cherry flavour BCAA

of course, you can use any other flavour but it seems like cherry flavour fits perfectly with green vegetables

2

tablespoons

of coco syrup or coconut sugar

optional, sometimes I add coco syrup and coconut sugar, sometimes just coco syrup for more keto oriented version

12

ice cubes

it is much better with ice cubes, add more if you wish to have more ice-cream texture

2

cups

of water

add more if you want more smoothie, I usually add more to fill up my blender

2

teaspoons

of chia seeds

cinnamon

optional
Clean vegetables under the water and chop them into smaller pieces.

Add water to blender and add all ingredients one by one while blending.

Done! Add chai seeds on the top for decoration.

Enjoy!
Feel free to add fruits if you do not care so much about the sugar level.
I highly recommend BCAA by Scivation, I am in love with this product