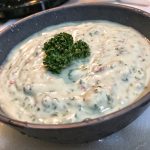 Lately I have prepared couple of new healthy recipes and realised that I am missing something, some dressing or sauce. I have googled for inspiration like always and came up with delicious sauce based on coconut milk which is one of the most import ingredients on my keto diet. This white sauce is a great dressing for salads, sauce for healthy keto pizza or my cauliflower fritters. You can keep it in the fridge for couple of days. Actually I prefer it after couple of days as sauce become more thick and you can spread it on a sandwich or use as alternative for butter or avocado pure.
Keyword:
Coconut Milk, Healthly, Keto, Sauce, Vegetarian
Servings
:
1
small jar or bowl
3

tablespoons

freshly squeezed lime juice

alternatively lemon

1/2

can of coconut milk

more or less, depends how much you want to make

1

clove

garlic

more if you are lover of garlic as myself

1/3

cup

of cilantro

alternatively coriander or any other herbs

1

medium chilli pepper

alternatively serrano or jalapeno

1

tablespoons

of coconut or olive oil

2

pinches

of salt

or any other spieces

2

pinches

of pepper

or any other spieces
Chop garlic, cilantro, chilli papper

Add coconut milk, chopped garlic, cilantro and chilli pepper to blender or food processor

Blend for awhile till you get smooth pure, alternatively mix all ingredients in bowl if you don't have blender or food processor

Add lime juice, oil, salt and pepper

Mix all together and keep in the fridge for awhile before serving

Enjoy!
You can keep in the fridge for couple of days
Feel free to add more salt, pepper, chilli or garlic, all depends on your preferences
It is a great dressing for salads, topping for pizza or any meat and fish