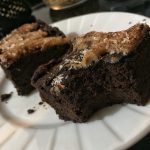 Brownie as a birthday cake? Why not! While I was ;ooking for ideas for my boyfriend's birthday cake, I managed to find this great recipe for keto chocolate brownie. It is pretty awesome, delicious and soft! It is also full of healthy fat and it is based on avocado. By the way, avocados are one of the greatest fruits ever I hope you will love it as much as me and my boyfriend.
Keyword:
Brownie, Chocolate, Healthly, Keto
1

bar of unsweetened dark chocolate

100g

2

eggs

2

medium ripe avocados

2

teaspoons

of coconut oil

1/2

cup

of coconut flour

1/2

cup

of unsweetened cacao powder

1/2

cup

of coconut sugar or stevia for less carbs

choose stevia for keto version

1/4

teaspoon

salt

1/2

teaspoon

of baking soda

2

tablespoons

of peanut butter

optional

coconut shrims

optional

cinnamon

optional
Preheat oven to 180 C, I made this cake in little electric toaster oven.

Mash avocados in the bowl into a pure.

Melt the chocolate and coconut oil (around 30 sec in the microwave) and add to the avocados pure.

Add eggs, coconut sugar or stevia, coconut flour, unsweetened cacao powder, baking soda and salt. Stir to combine, ideally ask your boyfriend, father, husband to do it for you, it makes life much more easier

Transfer and spread mixture to baking pan lined with baking paper earlier.

Bake for around 25-30min or until inserted stick will come out clean, do not bake longer as it will not be that soft anymore

When it is ready, let it chill for 30 minutes and then drizzle peanut butter and coconut shrims on the top of brownie, add a little bit cinnamon or any other topping you wish.

Enjoy!
Be creative! Add nuts or dried fruits on the top of brownie, whatever you can and wish to eat.
Brownie can last in the fridge for around 3 days.