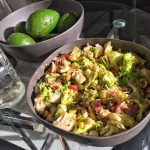 Salads, I love salads. Can be anything more quicker and easier to prepare than salads? Maybe, but I am definitely big fan of salads in any variations. Let me introduce you quick salad for breakfast, lunch or dinner with anything what you have in the fridge. The salad is super healthy and delicious. It also great for keto diet as it includes a lot of healthy fat from eggs and avocados.
Keyword:
Healthly, Keto, Salad
1

head of lettuce

1

handful of olives

2

tomatos

1

green and 1 red pepper

1

red onion

7

boiled eggs

1/2

can of mushrooms

2

cans of tuna in olive oil

skip for vegetarian version

1

piece

of white cheese

1/2

can

of corn

skip for keto version

1/2

can

of beans

skip for keto version

1

ripe avocado

salt, pepper, chilli

1

teaspoon

of mustard

without added sugar
Add pinch of salt and eggs to boiling water and boil for 10minutes

Chop onion, tomato, lettuce, olives, pepper

Cut white cheese, avocado and eggs to smaller pieces

Add all indigents to the big bowl and mix together, don't forget about seasoning, there is no need to add olives oil as tuna contain enough oil for making salad nicely soft

Serve in the smaller bowl, optionally you can add keto bread from my previous recipe

Enjoy!
Feel free to use whatever you have in the fridge. Be creative!
I am not too picky about chopping and cutting, bigger or smaller pieces are the same great for me, so on my pictures you will see random size of ingredients. Time is more important and meal is the same delicious, so have fun with your family instead ?
Vegetarian: For vegetarian version skip tuna, the salad will be still full of healthy fat