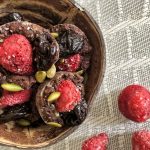 It is 5am in Gdansk, Poland. I just arrived yesterday from the Philippines for the conference and obviously I got jet lag. Instead of wasting time I decided to write for you my latest recipe which I prepared while still in Manila. It will be strawberry chocolate cups. Perfect for quick, healthy, sugar free and keto dessert.
Keyword:
Berries, Chocolate, Coconut Milk
Prepare cups, I used silicone one, but you can also use any other cups.

Melt chocolate with coconut oil in microwave for 2 minutes.

Mix melted chocolate with coconut milk, protein whey and collagen.

Transfer mixture to the cups.

Add berries or nuts on the top.

Transfer to the fridge for 30 minutes.

Before serving let cups spend around 10 minutes in the room temperature.
Be creative! Add different berries or nuts.
You can also play with the texture, add more or less coconut milk. Add or not protein whey or collagen. Play with it.