Imagine travelling as a backpacker to the Philippines. Are you looking for an affordable place to stay on Siquijor island? Have you ever thought about glamping on the beach? At a beautiful place with colourful sunsets, cosy tents, amazing and friendly staff and somewhere also extremely Instagrammable?
Then check this place out, I cannot recommend it more. Welcome to Glamping Siquijor.
Where to stay when travelling to Siquijor?
Let me give you a sneak peak into the paradise of Instagram influencers. Let's have a trip to the Philippines. A place better than any backpackers hostel in Siquijor.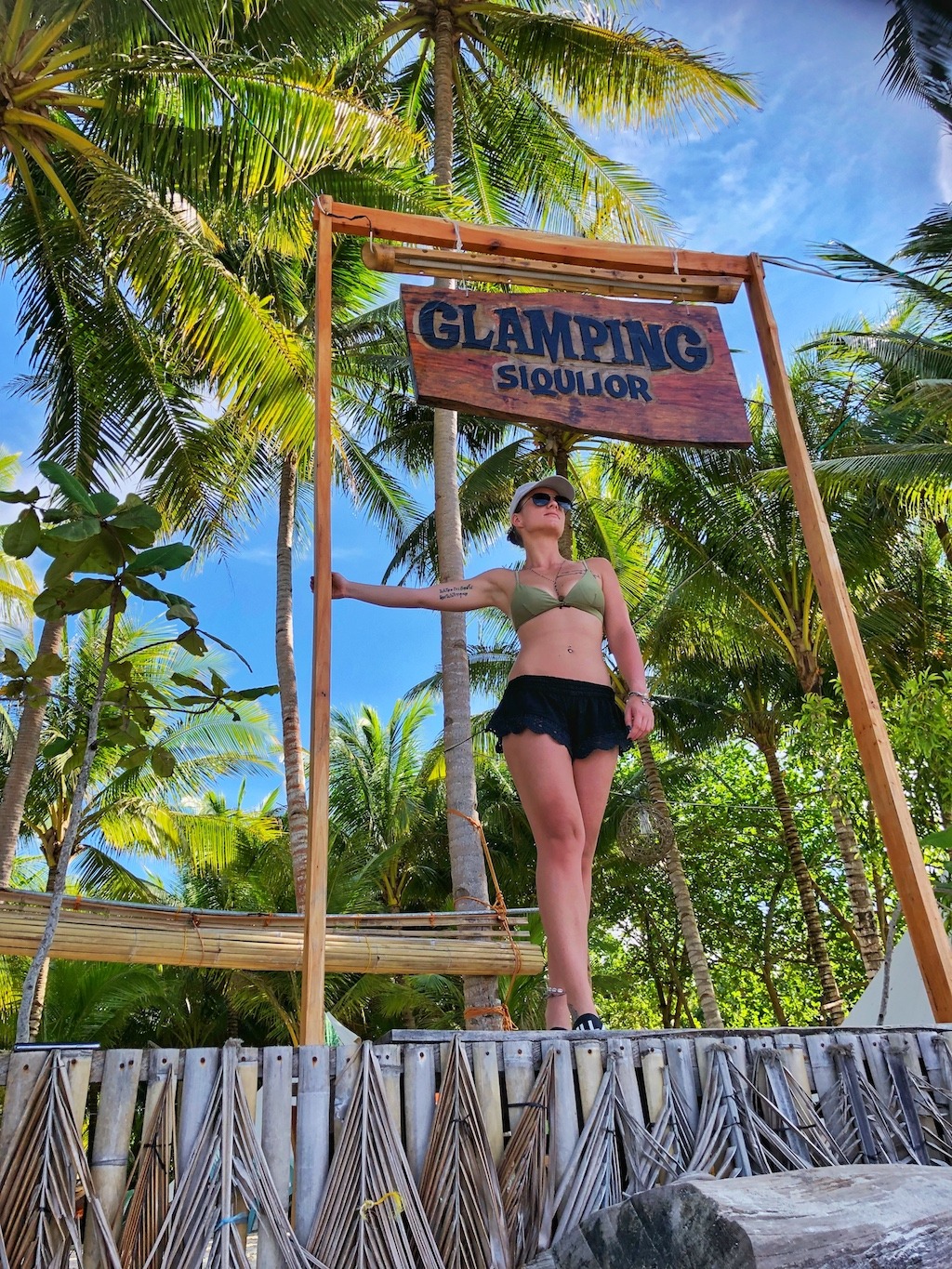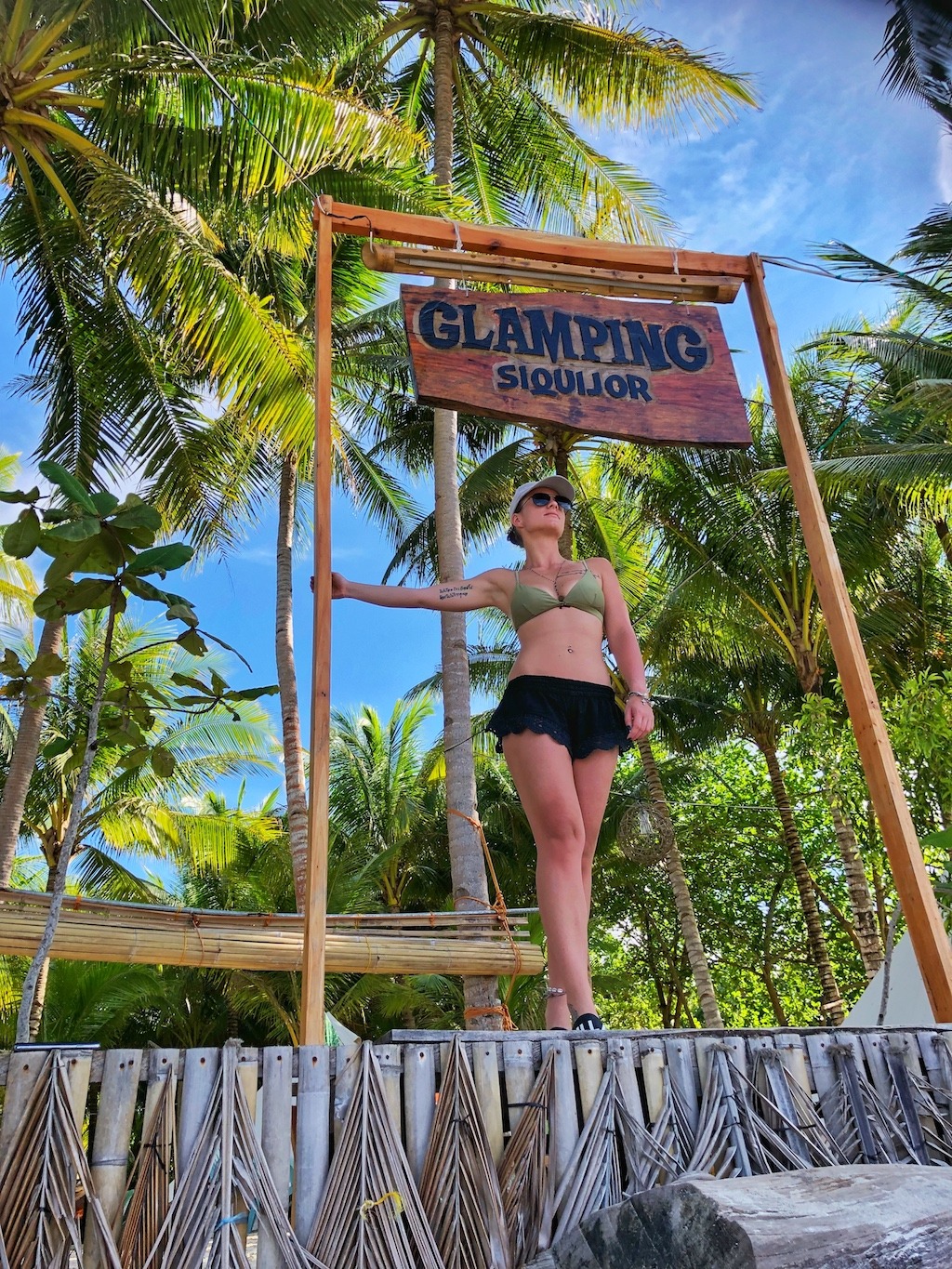 Glamping Siquijor Location
The place is located around 20 mins away from the port by motorbike. Solangon, San Juan, Siquijor, 6227, Philippines is the address. I recommend renting a motorbike at the port for 350 pesos per day. The tricycle to the glamping site costs already 250 pesos one way, so renting a motorbike is much more beneficial. While driving, just keep an eye on the right-hand side, where you will see huge billboards showing tents on the beach. Here you are – A place to stay in Siquijor!
Glamping Siquijor

Costs
The prices vary based on different tents. Those on the first row on the beach cost more. We paid 2000 pesos per night and we were on the second row. The glamping site provides towels and a hot shower, which makes it a much better place to stay in Siquijor for backpackers and foreigners.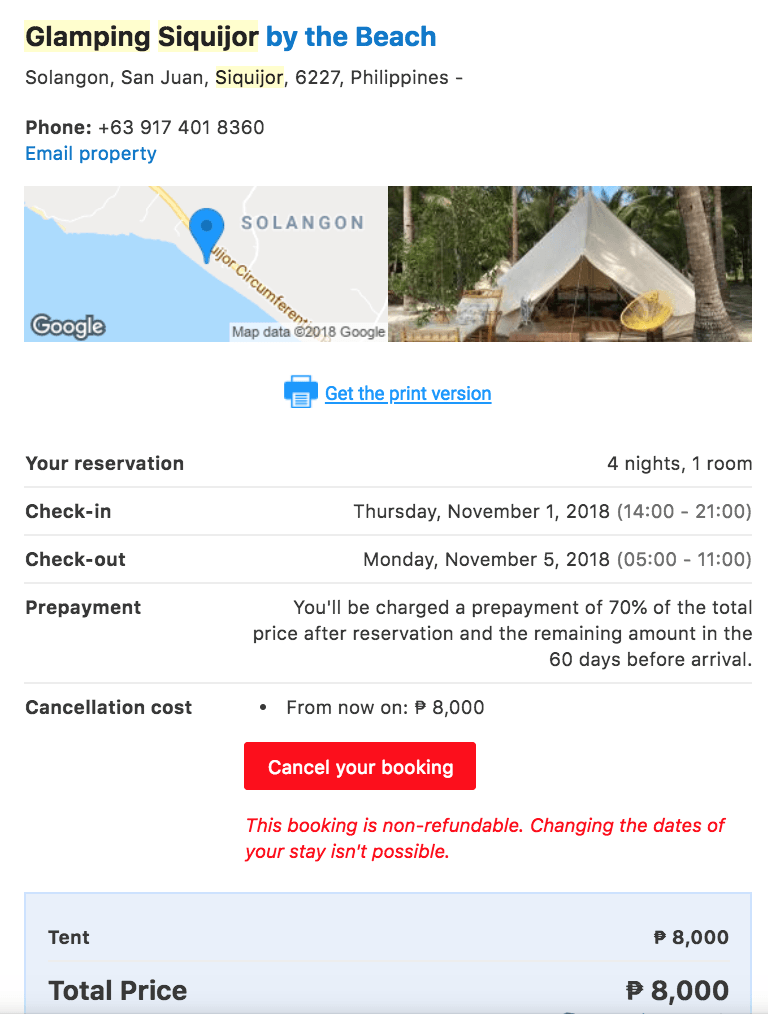 Glamping Siquijor

Tents Conditions
The tents are lovely. Yes, you can see some dirt but that is so normal on the beach. In the tent you have a huge bed, which can be replaced with mattresses. You also have a fan and a lamp. It looks lovely. In front of your tent you can find a table and chairs where you can relax with a book. You can use the communal showers which are amazing, really clean, with hot water and made with a beach theme. It is the perfect place to stay in Siquijor for family, friends and couples.
Glamping Siquijor

Food
To be honest I cannot remember if the site has a restaurant since we ate out. However, I know that the price included breakfast which included coffee, tea, donuts or banana cubics. By the way, banana cubics are my favourite one, you need to try it! Pretty simple but delicious. The place also had a bonfire and barbecue places which you could use for preparing your own fresh fish. Pretty cool, isn't?
Glamping Siquijor

Place
This place is extremely cute. The rows of tents, beautiful sunsets, beach chairs, hammocks, bonfires, tables and chairs, basketball on the beach. Everything around the palm trees. It is just the cutest place ever. Good vibes in the air, helpful staff and the beauty of this beach front loft? is everything that you could need for a relaxing holiday.
Glamping Siquijor A

ttractions
I know that the place has some specific tours but we like to explore on our own, so we never used their options. However, the place is an attraction on its own. You can find nice Instagrammable spots, you can chill with friends around the bonfire at night, you can read a book on the hammock or have your own fresh barbecue with fishes from locals. Take a speaker and relax on the beach chairs. Take a long romantic walk along the beach. Enjoy. Relax!
Where to find and book this place?
Check out Glamping Siquijor via Booking.com or Glamping Siquijor Website.
You can also call
 +63 917 401 8360
or send an email
glampingphilippines@gmail.com.
Also check them out on Facebook Siquijor Glamping.
---
PIN ME!

---
Other articles about the Philippines
---
Editor – Natasha Jay O'Neil, please contact Natasha directly for queries related to her services.
Zaneta loves challenges so deciding about career path she has chosen typical male industry. Woman who codes. Every 1-2 years she lives in different part of the world. Gym dates is something what she specialised in. Healthy lifestyle, extreme sports and motorbikes have stolen her hear years ago.