6
MIN READ
Kitchen interior design – from small and closed into big and opened. In our industrial, natural, cosy style. Concrete on the walls, anthracite matte on the kitchen fronts, wooden style kitchen counter top, wooden cutting boards, glass food containers, fresh flowers in the bottles, candles. Welcome to our kitchen!

I didn't expect that…
We used to cook a lot in the Philippines, however when we moved to Poland we slowed a little bit down. Before our kitchen makeover I didn't know that family and friends will enjoy that much of our new kitchen! We have people around a few times a week, they cook, they bake, they make a mess. But hey, I do have dishwasher and I don't mind it haha. To be honest that's the best decision which I ever could make – dishwasher!! It got to the point that I bought a few new kitchen tools for guys so they cook their pizza, BBQ, chicken wings, the whole chicken, so they can bake their cakes and muffins. I have never expected that our kitchen will have that many visitors. I actually love it, we are not getting bored and someone always cooks for us!
Tell me more about your choices Ze…
Let me tell you a little bit more about our interior design style in the kitchen. Let's talk about layout, colours, functionality and more. Let's go!
Open vs Close Kitchen
Let's start from the most common question – are you having open or close kitchen? Open and it was one of the best decision during our renovation. Since we cook a lot we have possibility to spend this time together even I am reading a book on the sofa in the living room and Zyd is cooking our dinner. We have evenings with friends and family where we cook and watch UFC. Open kitchen was and is the best option for us. And No, we don't have a problem with smell – we actually have a lot of nice smelly sticks and candles around for keeping good memories through smell in fact.
What about layout?
Our kitchen has rectangular shape with one big window opposite to the entrance wardrobe. Walking into the kitchen from hall, you walk into the window. The mirror on the main wardrobe gives amazing reflection of the morning sun coming through the window. On the left hand side you have induction hob with space for rice cooker (hello, I have Asian in the house!) on one side and space for cutting boards and putting hot pans on the other side. Just below the window you can find big black matte sink with some space around. On the ride hand side you can see the living room and little bar with two hockers. On this side as well you can find covered oven, fridge and more cupboards, it is all finished with wardrobe in the hall. Remember that induction hob, sink, fridge and oven should be in triangle shape position (each of these elements should be placed in the corner of triangle, in our case fridge and oven are on one corner, sink on second one and induction hob on the last one) for easier use of the kitchen.
… and kitchen equipment? Functionality?
I have read a lot that matte colour on the kitchen fronts is so wrong and I will keep cleaning all the time. And you know what? I don't clean all the time but I am fine with it haha. My kitchen fronts look alright, at the first look it looks totally fine, of course when you look from the different angle you will see fingerprints but it doesn't really bother me.
For the kitchen equipment we choose all in black colour and we covered it as much as possible. We are totally fine with size of the fridge, even it is a little bit smaller than standard fridge. We are also happy with the oven – I am using it all the time – and its great functionalities. I am just choosing the program and that's it. Induction hob was a challenge for me at the beginning because none of the pans were working but then I have quickly learnt how to deal with it. The sink is great as well, it is big and we can clean it everything, even big oven pan which I hate clean by the way! And my favourite element – dishwasher! I cannot imagine live without it now. We do one cleaning per day and it works great. All other equipments are all black, such as rice cooker, pans, plates and so on.
Sockets! We have them everywhere, a lot of them. That's my favourite thing. I can even plug my usb charger in the kitchen.
---
SUBSCRIBE TO INTERIOR DESIGN NEWSLETTER!
Would you like to get information when new interior design article is available?
Subscribe to the newsletter and be up to date!
---
Cupboards and drawers. We keep our trash bins in the drawer below the sink and I love this solution. No trash out, everything is clean and sorted. Also we have 5 small bins over there to already segregate our trash. We have plenty of cupboards and drawers which are having smaller drawers inside. Ahh, I almost forgot. We also have magic corner, the special thing for the corners in the kitchen, I keep there big pans and tools which I am not using every day.
What I love about our kitchen is its functionality. Every corner, every drawer, every cupboard is there for certain thing. As I mentioned before, we love invest into functionality and not wasting space and money. For example, the big drawer below the oven is perfect for keeping soft drinks, water and juices.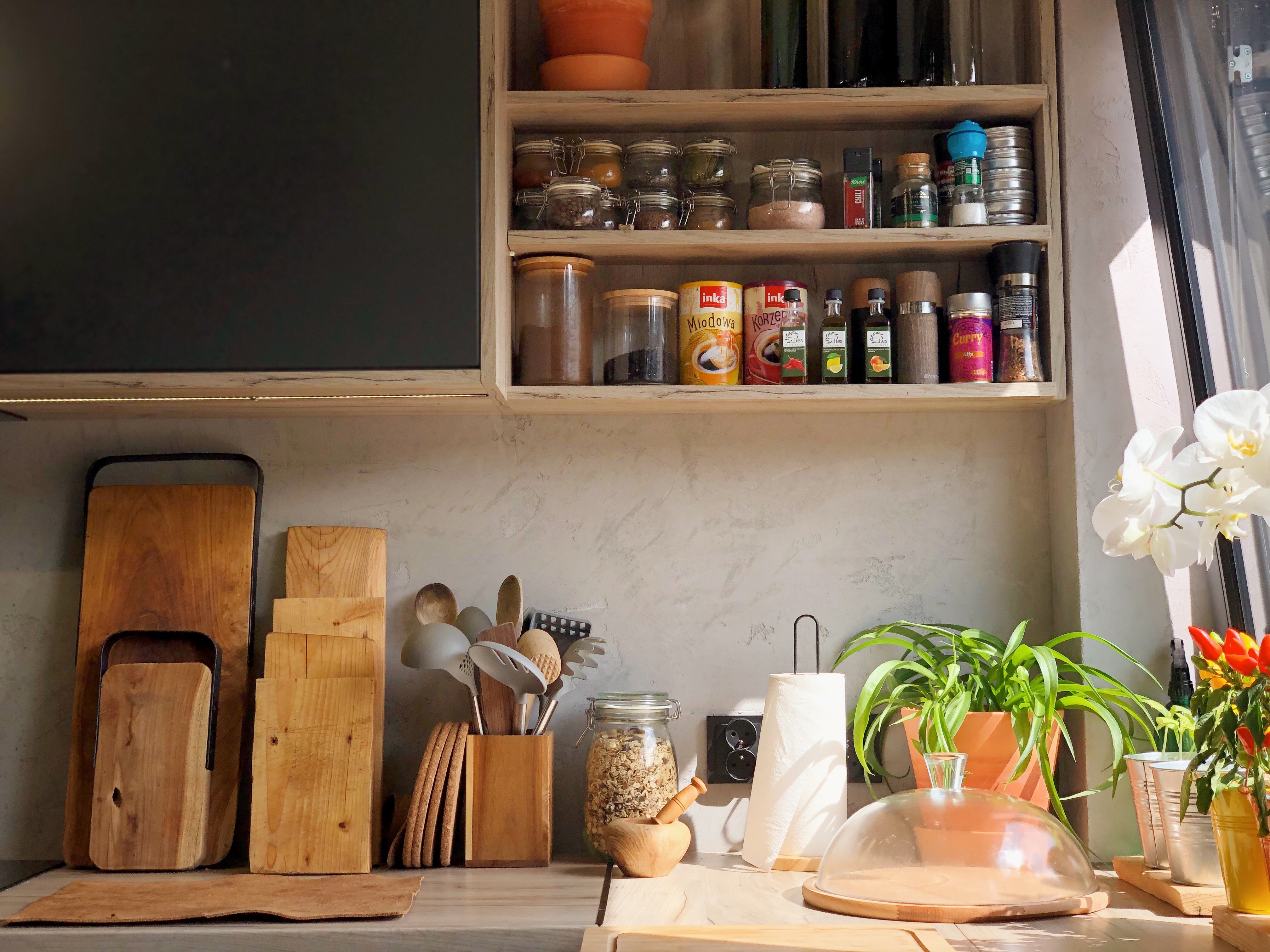 Tell me more about style – colours and materials in kitchen interior design
We love industrial style, full of natural materials, with concrete on the walls, anthracite matte colour and wooden and metal style elements. Thanks to keeping the style across the house the same, all colours and materials flows through the kitchen into the living room. All of it looks like one piece.
The walls are covered in light Magnat Concrete which works just fine in the kitchen. On the floor like everywhere else we have chosen Schnell vinyl panels which are totally alright in the kitchen. I really don't like tiles and I am so happy with our decision. The same like in the hall we have greyish white colour celling and industrial looking lights which can be move across the line. The lights are in cold tones so they give proper light during cooking. We also have two additional lights above the bar and two brown hockers which match their style with rest of the chairs in the house.
Decorations!
I love to keep wooden element on the top of the kitchen. We have open shelfs with a lot of herbs and empty bottles which I love to use as bottles for fresh flowers. We also have a lot of plants which we move around to look for the best spot for each of them. I cannot forget about candles which are everywhere. I love their smell and warmness.
Before and after
Ok, let's get into the main point – before and after pictures. I am so excited to show you it because kitchen is one of my favourite places in the house.
How it was before…
How it was planned…
And how it is after…
I hope you enjoyed our kitchen interior design, please comment this post with your feedback and if you think someone else should read it, just share <3 For the next post I have prepared for you article about bathroom. Man, this bathroom is my favourite one. Every day I feel like I am going to SPA! Ahh and if you are interested in more renovation materials, check out my previous post about entrance hall decor!
---
PIN ME!

Zaneta loves challenges so deciding about career path she has chosen typical male industry. Woman who codes. Every 1-2 years she lives in different part of the world. Gym dates is something what she specialised in. Healthy lifestyle, extreme sports and motorbikes have stolen her hear years ago.